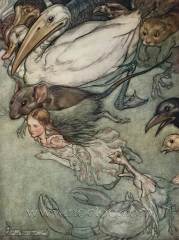 Arthur Rackham (1867 – 1939) was an English book illustrator.
Arthur Rackham is widely regarded as one of the leading illustrators from the 'Golden Age' of British book illustration which encompassed the years from 1900 until the start of the First World War. During that period, there was a strong market for high quality illustrated books which typically were given as Christmas gifts. Many of Rackham's books were produced in a de luxe limited edition, often vellum bound and sometimes signed, as well as a larger, less ornately bound quarto 'trade' edition. This was often followed by a more modestly presented octavo edition in subsequent years for particularly popular books.
Here are the new prints for the most famous children's book in the world by the most famous Golden Age illustrator Arthur Rackham. First edition, published in 1907 by Heinemann, London. The colors are a bit brighter than my old scans and furthermore, it's a classic and worth a visit now and then. Enjoy.