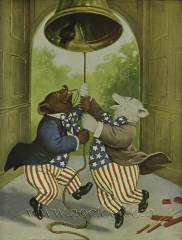 It is a great pleasure for me to present the most popular "Teddy Bears" book of the early 19th century, The Roosevelt Bears aka the "Teddy Bears books" by Eaton Seymour. This book has certainly contribute to popularized the keyword "Teddy Bears" that we all came to know today.
More About Teddy B. And Teddy G. The Roosevelt Bears is the second book in the popular Roosevelt Bears series, first published in 1907 by Edward Stern & Co.
The text is well dated and no longer suitable to today's younger generation, but the wonderful whimsical illustrations survives and it is again with pleasure that I present it to you. Enjoy.