James Fenimore Cooper – American writer 1789-1851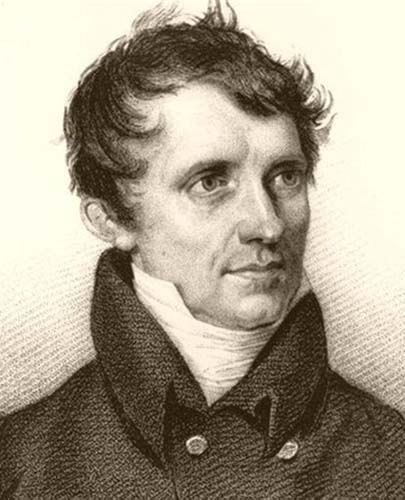 James Fenimore Cooper was born September 15, 1789, in Burlington, New Jersey, which thirteen years earlier had been invaded by the Hes­sians and twelve years earlier had been bom­barded by the British. But bygones were now bygones, and Cooper rode into the world right on the heels of the Constitution of the United States, which had been de­clared in effect on March 4th of his birth- year. In 1790 the elder Cooper moved his family up into the wilds of central New York, where he had extensive land holdings and where he established the settlement of Cooperstown, at the head of Otsego Lake (the Glimmerglass of The Deerslayer).
When he was thirteen years old, Cooper entered Yale College. Two years later he was thrown out. Even for that day, thirteen was a young age to get into college, and fifteen was probably a world's record for getting the grand heave-ho. We shall never know what Cooper did to bring about his downfall—did he set fire to Connecticut Hall, fling an inkhorn at President Timothy Dwight, sneeze in chapel? We only hope that Yale is keeping its personnel records better today than it did in 1804.
James Fenimore Cooper next appears as a seaman on a vessel sailing to England, an apprenticeship which won him a commission in the United States Navy. Two years' service on the Great Lakes followed, and in 1811 he mar­ried Susan De Lancey (of the De Lanceys). They settled down on a Westchester County farm twenty miles north of the city of New York. Came, in due course, the year 1819, and Cooper was reading a current English novel to his wife. "I could write you a better book myself," he said, and Susan told him to go ahead and do it. And he did. The "better book" (at least it was no worse) turned out to be a stilted, uninspired, un­inspiring piece of fiction called Precaution. Anyway you look at it, Precaution was a flop of the first water, but no matter—Cooper had finished playing for the scrubs and was now ready for the big leagues. The follow­ing year, 1820, he produced The Spy, "A Tale of the Neutral Ground" (the No Man's Land, that is, between British-held New York City and the American-held territory up the Hudson during the American Revo­lution). With the appearance of The Spy, American historical fiction was born, and the trail that led to the Leatherstocking Tales was blazed. Two years later, The Pioneers, first of the famous group, was published. It was followed by two non ­Leatherstocking novels, and then came The Last of the Mohicans.
In 1826 the Coopers—husband, wife, and four daughters—went abroad. They spent two years in England (which explains how Bryan Waller Procter came to meet Cooper, and how Cooper came to meet Sir Walter Scott and many other literary notables). Then to France, where the Coopers stayed for five years, and where Cooper began that quarrel with his fellow-Americans which was to continue the rest of his life. Mean­while he kept right on with his novel ­writing; he produced five while overseas.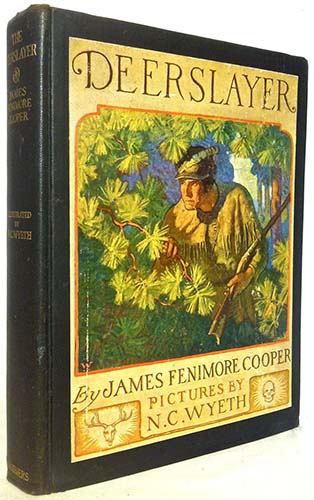 Toward the end of 1833 the Coopers re­turned to America, and "the polemical and litigious Cooper," writes John T. Winterich in his introduction to our scintillant edition of The Deerslayer, "dates from this time. He continued to turn out novels, but some of them had to wait while he let off a blast at something or somebody he disapproved of. He fought libel suits, and he shooed tres­passers off the Cooper estate; no target was too large or too small." Peace came to him (and to his neighbors) with his death at Cooperstown on September 14,1851.
Mark Twain (not yet Mark Twain, but plain Sam Clemens) was looking forward to his sixteenth birthday when Cooper died, and perhaps had never read a line of Cooper. But he got around to him in due course, and he was not amused. His lack of amusement came to a boil in 1897 with an essay called "Fenimore Cooper's Literary Offences," which is as savage an attack as one writer ever made on another. What particularly irked Mark Twain was Cooper's reliance on the broken twig as a device to create suspense, particularly in The Deerslayer: "He prized his broken twig above all the rest of his effects, and worked it the hardest…. Every time a Cooper person is in peril, and abso­lute silence is worth four dollars a minute, he is sure to step on a dry twig. There may be a hundred handier things to step on, but that wouldn't satisfy Cooper…. The Leatherstocking Series ought to have been called the Broken Twig Series."
James Fenimore Cooper spent the last years of his life back in Cooperstown. He died on September 14, 1851, the day before his 62nd birthday. He was buried in the Christ Episcopal Churchyard, where his father, William Cooper, was buried. Cooper's wife Susan survived her husband only by a few months and was buried by his side at Cooperstown.
Source: The Limited Edition Club