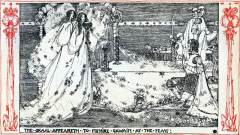 Jessie Marion King (March 20, 1875 – August 3, 1949) was a Scottish illustrator mostly of children's books. She also designed jewellery and fabric, and painted pottery.
The High History of the Holy Graal is perhaps Jessie Marion King's most beautiful illustrated book among the dozen of books she has illustrated. She did the illustrations of many books, covers for books and magazines. Her best is no doubt the Seven Happy Days, a Christmas Special for the Studio Magazine in 1913. Here they are again, all new and better scans to replace the ones I did two years ago.
Some of you may have seen it, others not, it's a good occasion to present one of the best women's illustrator of all time, Jessie M. King. Enjoy !