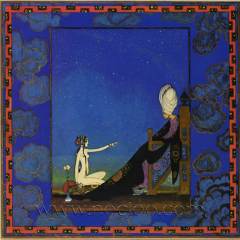 This site is a dedication to the Goldden Age Children's Book Illustrators that wanted to share my passion with all of you. It takes hundreds of hours to scan each of the more than three thousands and  illustrations from hundreds of books. This site doesn't run on ads, just from the sale of prints that I get once in a blue moon.
The print are high quality Giclée print and from the original image scanned directly from the First edition of the book, the highest quality possible. You can easily compare the quality of the print, just look at the original images of the other sites and compare it to here. The colours have changed dramatically, the quality low and doesn't do justice to the original illustrations. Giclee on the other hand, looks like a the original watercolour and perfectly good to frame and put in a warm room.
Your support help me pay for some of the cost of running this site and getting more books to put on for your pleasure.
You can buy a print by clicking on the "cart" icon on the bottom of the image and process to Paypal.
Thank you in advance for your support,
-Minh Lai