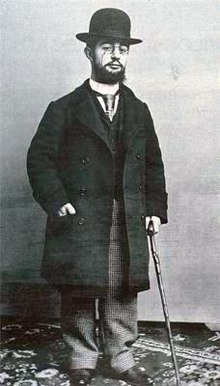 Henri de Toulouse-Lautrec was a French painter, printmaker, draughtsman, caricaturist, and illustrator whose immersion in the colorful and theatrical life of Paris in the late 19th century allowed him to produce a collection of enticing, elegant, and provocative images of the modern, sometimes decadent, affairs of those times. Toulouse-Lautrec was best known for his prints and posters illustrated in the Art Nouveau style of flat, organic forms. Toulouse-Lautrec is among the best-known painters of the Post-Impressionist period, with Paul Cézanne, Vincent van Gogh, and Paul Gauguin.
His color lithographs of advertisements for dance halls, such as the famed Moulin Rouge, brought him great acclaim and popularity, though he was also an accomplished painter. "In our time there are many artists who do something because it is new; they see their value and their justification in this newness," he once reflected. "They are deceiving themselves, novelty is seldom the essential. This has to do with one thing only; making a subject better from its intrinsic nature."
Born Henri Marie Raymond de Toulouse-Lautrec-Monfa on November 24, 1864 in Albi, France to an aristocratic family, he defied convention by pursuing art and studying in Paris with Léon Bonnat and Fernand Cormon. Along with Paul Gauguin and Vincent van Gogh, the artist was linked to avant-garde movements of the early 20th century.
An admirer of Edgar Degas, de Toulouse-Lautrec painted in a naturalist style before turning toward brighter graphic work. Suffering from health problems and congenital disorder that left his legs atrophied, the decadent bohemian lifestyle took its toll on de Toulouse-Lautrec. He died on September 9, 1901 in Saint-André-du-Bois, France at the age of 36.
Today, the Musée Toulouse-Lautrec in Albi houses over 1,000 of his works, while other works can be found in the collections of the Art Institute of Chicago, the Hermitage Museum in St. Petersburg, and The Museum of Modern Art in New York, among others.
Source: Artnet