Cubism is an early-20th-century avant-garde art movement that revolutionized European painting and sculpture, and inspired related movements in music, literature and architecture. Cubism has been considered the most influential art movement of the 20th century.
The movement was pioneered by Pablo Picasso and Georges Braque, joined by Jean Metzinger, Albert Gleizes, Robert Delaunay, Henri Le Fauconnier, and Fernand Léger. One primary influence that led to Cubism was the representation of three-dimensional form in the late works of Paul Cézanne. A retrospective of Cézanne's paintings had been held at the Salon d'Automne of 1904, current works were displayed at the 1905 and 1906 Salon d'Automne, followed by two commemorative retrospectives after his death in 1907. In Cubist artwork, objects are analyzed, broken up and reassembled in an abstracted form—instead of depicting objects from a single viewpoint, the artist depicts the subject from a multitude of viewpoints to represent the subject in a greater context
Synthetic cubism (1912–1919) was a further development of the genre of cubism, in which cut paper fragments – often wallpaper or portions of newspaper pages – were pasted into compositions, marking the first use of collage in fine art.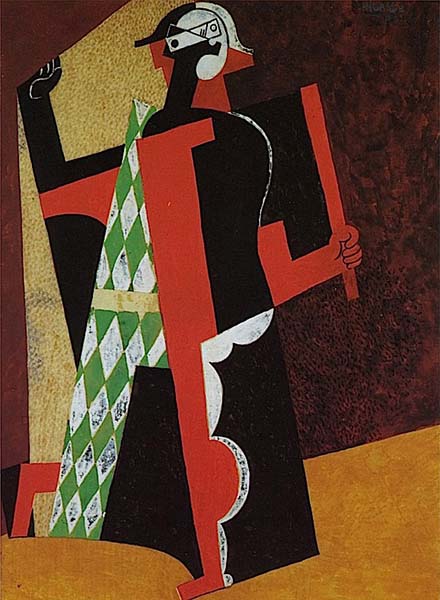 Between 1915 and 1917, Picasso began a series of paintings depicting highly geometric and minimalist Cubist objects, consisting of either a pipe, a guitar or a glass, with an occasional element of collage. "Hard-edged square-cut diamonds", notes art historian John Richardson, "these gems do not always have upside or downside". "We need a new name to designate them," wrote Picasso to Gertrude Stein: Maurice Raynal suggested "Crystal Cubism". These "little gems" may have been produced by Picasso in response to critics who had claimed his defection from the movement, through his experimentation with classicism within the so-called return to order following the war.
After acquiring some fame and fortune, Picasso left Olivier for Marcelle Humbert, whom he called Eva Gouel. Picasso included declarations of his love for Eva in many Cubist works. Picasso was devastated by her premature death from illness at the age of 30 in 1915.
At the outbreak of World War I in August 1914, Picasso was living in Avignon. Braque and Derain were mobilized and Apollinaire joined the French artillery, while the Spaniard Juan Gris remained from the Cubist circle. During the war, Picasso was able to continue painting uninterrupted, unlike his French comrades. His paintings became more sombre and his life changed with dramatic consequences. Kahnweiler's contract had terminated on his exile from France. At this point Picasso's work would be taken on by the art dealer Léonce Rosenberg. After the loss of Eva Gouel, Picasso had an affair with Gaby Lespinasse. During the spring of 1916, Apollinaire returned from the front wounded. They renewed their friendship, but Picasso began to frequent new social circles.
Towards the end of World War I, Picasso became involved with Serge Diaghilev's Ballets Russes. Among his friends during this period were Jean Cocteau, Jean Hugo, Juan Gris, and others. In the summer of 1918, Picasso married Olga Khokhlova, a ballerina with Sergei Diaghilev's troupe, for whom Picasso was designing a ballet, Erik Satie's Parade, in Rome; they spent their honeymoon near Biarritz in the villa of glamorous Chilean art patron Eugenia Errázuriz.
After returning from his honeymoon and in need of money, Picasso started his exclusive relationship with the French-Jewish art dealer Paul Rosenberg. As part of his first duties, Rosenberg agreed to rent the couple an apartment in Paris at his own expense, which was located next to his own house. This was the start of a deep brother-like friendship between two very different men, that would last until the outbreak of World War II.
Khokhlova introduced Picasso to high society, formal dinner parties, and other dimensions of the life of the rich in 1920s Paris. The two had a son, Paulo Picasso, who would grow up to be a motorcycle racer and chauffeur to his father. Khokhlova's insistence on social propriety clashed with Picasso's bohemian tendencies and the two lived in a state of constant conflict. During the same period that Picasso collaborated with Diaghilev's troupe, he and Igor Stravinsky collaborated on Pulcinella in 1920. Picasso took the opportunity to make several drawings of the composer.
In 1927, Pablo Picasso met 17-year-old Marie-Thérèse Walter and began a secret affair with her. Picasso's marriage to Khokhlova soon ended in separation rather than divorce, as French law required an even division of property in the case of divorce, and Picasso did not want Khokhlova to have half his wealth. The two remained legally married until Khokhlova's death in 1955. Picasso carried on a long-standing affair with Marie-Thérèse Walter and fathered a daughter with her, named Maya. Marie-Thérèse lived in the vain hope that Picasso would one day marry her, and hanged herself four years after Picasso's death.
Pablo Picasso's Artworks:

Synthetic cubism: 1912–1919