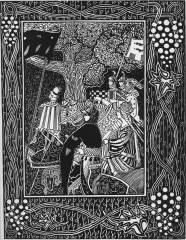 William Brown Macdougall (1868-1936), British illustrator. His first books, the Book of Ruth and the Book to Job, first published in 1896 is clearly his best works. His decorated borders showed a clear influence by Aubrey Beardsley (La Morte d'Arthur) and William Morris and his Kelmscott Press.
Macdougall 's career as an illustrator is particularly short and prolific (1896-1898). During that period, he illustrated and decorated eight books. Some of his best works includes Rossetti's The Blessed Damozel and Keats's Isabella. Although the decorations of Nibelungs are less elaborated than 'Isabella' or 'Job', his inventive handling of the natural form is present and clearly marked. We'll be adding more works by this great illustrator in the near future.
Presting the illustrations from the First British edition of The Fall of the Nibelungs, illustrated by W.B. Macdougall , published by J.M. Dent, London 1897.