Arthur Rackham – British Illustrator, 1867-1939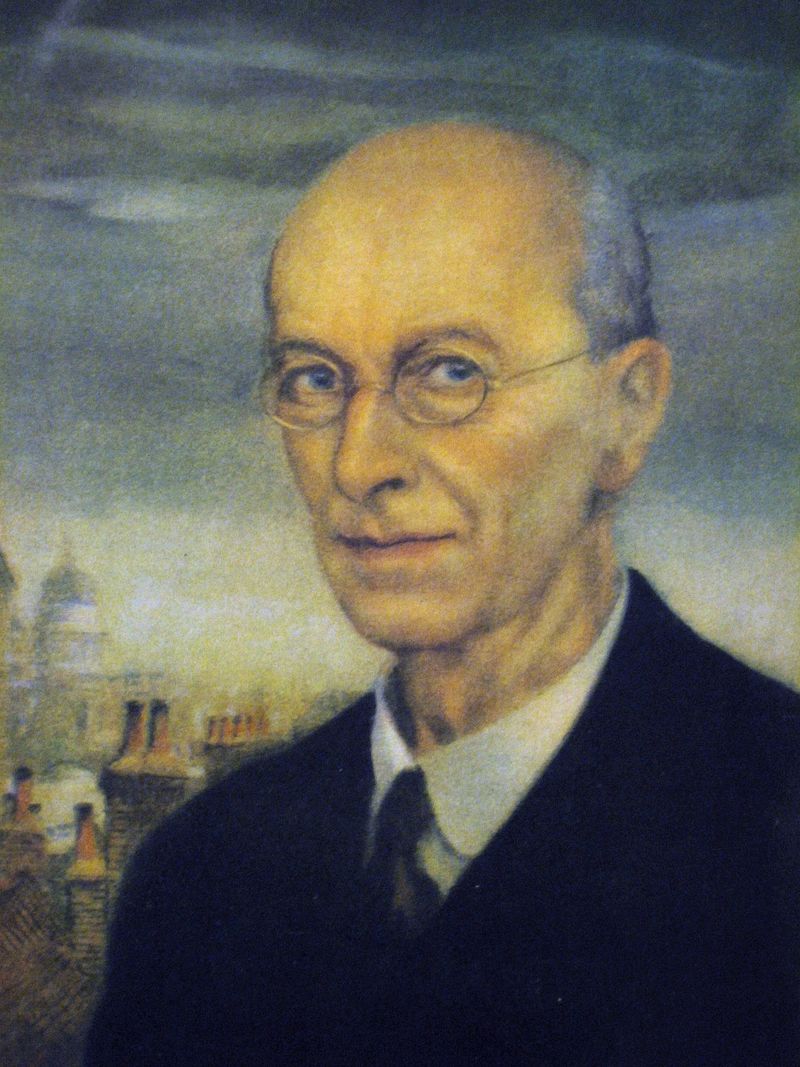 Of all those illustrators to follow in the footsteps of Randolph Caldecott, Walter Crane, and Kate Greenaway, perhaps none had a greater sense of mystery and magic than Arthur Rackham. Yet Rackham had a conventional training as an insurance. Like Caldecott, he loved drawing from a young and knew that he wanted someday to be an artist, therefore studied nights at Lambeth School of Art and working by day for the Westminster Fire Office.
Like Caldecott, however, Rackham's approach to his work was painstaking and methodical rather than spontaneous. He was just as careful in planning his training and his life; his move from clerk to illustrator took more an eight years. Rackham sold his first drawings to illustrated papers in London in 1891 when he was twenty four, but he didn't leave the insurance office until 3, when he was hired to work full-time as an illustration for the Westminster Budget, a London newspaper.
Arthur Rackham found the work there hard and later declared s period the worst time of his life. The newspaper's rigid schedules demanded quick sketches rather than careful work Rackham preferred. Rackham also believed that photography was going to supplant illustration in newspapers, giving him anxiety over the future of his livelihood. The sheer volume of work re-wired by the newspaper, however, provided him with valuable practice.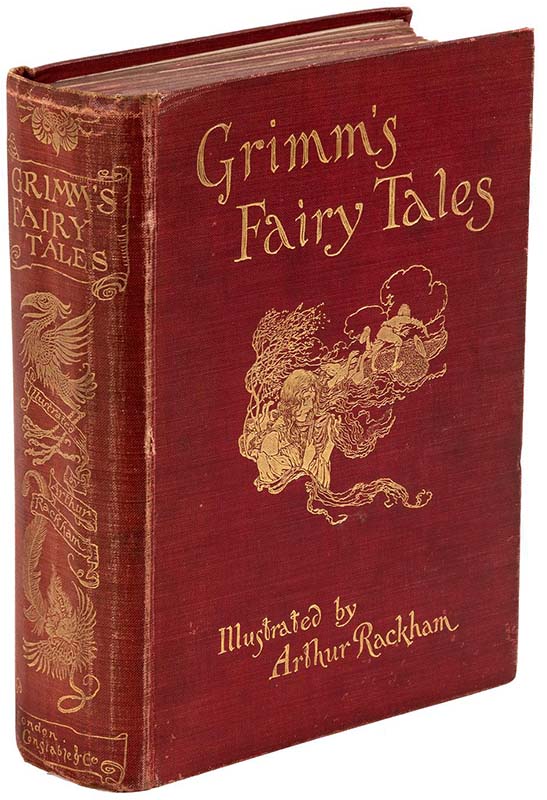 At the age of twenty-seven Rackham was given a commission for a travel book on the United States called the Other Side. The success of this book was followed other commissions, and although he had not yet achieved his unique and distinctive style, his work was good and in enough demand that in 1896 he was finally able to resign his job on the Westminster Budget. By the end of the 1800s, as he entered his thirties, he had illustrated nine books, among them Mary and Charles Lamb's Tales from Shakespeare (1899).
It may be that love was the catalyst that released his full artistic talents, for it was only in 1900, after meeting his future wife, painter Edyth Starkie, that he felt encouraged to follow his natural inclination to draw worlds of fantasy and magic. That same year he illustrated The Fairy Tales from the Brothers Grimm (1900), tales he remembered fondly from his own childhood, with one full-color illustration and ninety-nine drawings in black and white. This book was an overwhelming success and was reprinted twice. It was so popular that in 1909 he illustrated it again, this time with forty colored pictures and fifty-five in black and white.
Arthur Rackham approached each picture in a similar manner, carefully drawing his subject in pencil until he was satisfied with the result and then inking over the pencil lines in India ink. For his color pictures he used transparent watercolors and laid down wash upon delicate wash. This technique gave his pictures an ethereal, other worldly quality and was especially suited to subjects of fantasy that he so loved.
During this time the process of photo separation and reproduction of original artwork had been refined, making it possible to print color illustrations much more easily, although each illustration had to be printed separately on special paper and pasted into the book. As a result, deluxe art book editions became highly prized in the years before the First World War. Because he worked mostly in single-page illustration rather than in fully illustrated books, Rackham's style lent itself to this method of reproduction, and he benefited both financially and artistically.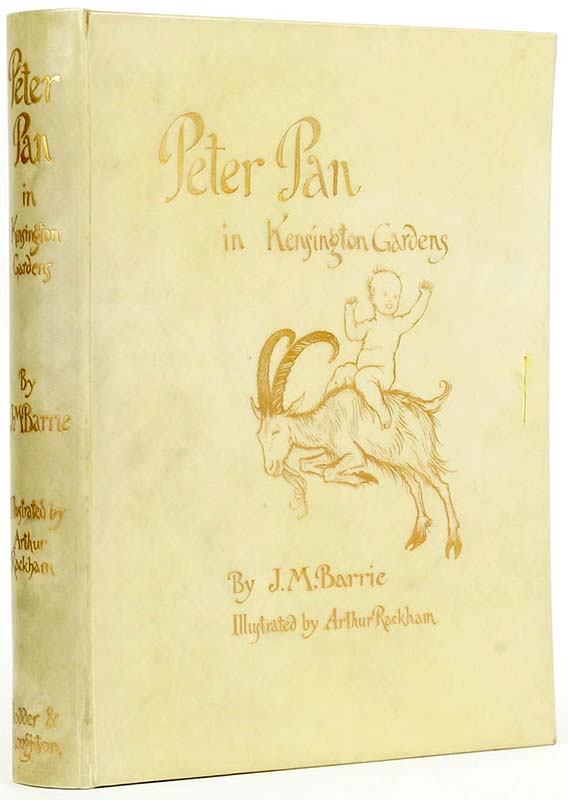 In 1905 Rackham contributed fifty-one illustrations to Washington Irving's Rip Van Winkle. When the original art was exhibited in London, almost all the paintings were sold, and a signed, limited edition of 250 copies was sold out even before the exhibition ended. His illustrations for J. M. Barrie's Peter Pan in Kensington Gardens (1906) enjoyed similar success and brought Rackham international fame.
Despite his financial and professional success among collectors, Rackham never lost his quiet, unassuming manner, his love for magic, or his appeal to children. He firmly believed that children would benefit from the imaginative, the fantastic, and the playful in their art and in their books, and he showed the greatest respect for his child audience in all his works. In the thirty-three rears that followed the publication of Peter Pan in Kensington Gardens, Rackham went on to illustrate other well-loved stories and enjoyed continued success.
After World War I, however, the market for gift books defined, and the greatest demand for his books turned out to be in America rather than in England. Throughout his career Rackham was not content to remain with a proven style but sought new artistic challenges, illustrating Cinderella (1919) and The Sleeping beauty (1920) in silhouette and experimenting with line and color in Irish Fairy Tales (1920) and The Tempest (1926). He also had the courage to tackle works that were considered sacrosanct, illustrating Lewis Carroll's Alice in Wonderland (1907) and Kenneth Grahame's The Wind in the Willows (1940).
Arthur Rackham considered the opportunity to illustrate The Wind in the Willows a great gift, for he had been offered the original commission but had had to turn it down because of other commitments. He consulted with Kenneth Grahame's widow about the illustrations or the new edition and finally finished the book just weeks before his death. Like his other work, the book is a fine example of his unique vision and his singular way with line and color.
BARBARA KIEFER
Reference:
Silvey, Anita – Children's Books and their Creators, Houghton Mifflin, 1995.
---
List of Books Illustrated by Arthur Racham
Illustrations by Arthur Rackham available in our Art Gallery.