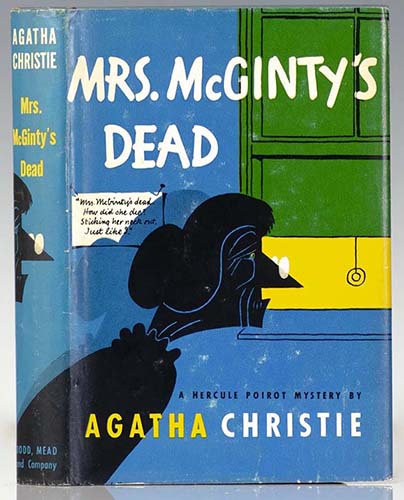 Mrs McGinty's Dead is a work of detective fiction by British writer Agatha Christie, first published in the US by Dodd, Mead and Company in February 1952 and in the UK by the Collins Crime Club on 3 March the same year. The US edition retailed at $2.50 and the UK edition nine shillings and sixpence (9/6). The Detective Book Club issued an edition, also in 1952, as Blood Will Tell.
The novel features the characters Hercule Poirot and Ariadne Oliver. The story is a "village mystery", a subgenre of whodunit which Christie usually reserved for Miss Marple. The novel is notable for its wit and comic detail, something that had been little in evidence in the Poirot novels of the 1930s and 1940s. Poirot's misery in the run-down guesthouse, and Mrs Oliver's observations on the life of a detective novelist, provide considerable entertainment in the early part of the novel. The publication of Mrs McGinty's Dead may be considered as marking the start of Poirot's final phase, in which Ariadne Oliver plays a large part. Although she had appeared in Cards on the Table in 1936, Mrs Oliver's most significant appearances in Christie's work begin here. She appears in five of the last nine Christie novels featuring Poirot, and appears on her own without Poirot at all in The Pale Horse (1961).
The novel is named after a children's game – a sort of follow-the-leader type of verse somewhat like the Hokey-Cokey — that is explained in the course of the novel.
References to other works
When Superintendent Spence arrives to see Poirot, the detective reacts to him as though it has been many years since the case on which they worked. The case in question was, however, the one retold in Taken at the Flood, which is the previous novel in the series, and was explicitly set in 1946. At most, it can only have been six years since they last worked together. Of course, chronologies are difficult to construct, especially with Poirot's career.
Poirot refers in the first chapter to a case in which the resemblance between his client and a soap manufacturer proved significant. This is the case of "The Nemean Lion", first published in the Strand Magazine in November 1939 and later collected in The Labours of Hercules (1947).
Mrs Oliver, who is a very amiable caricature of Dame Agatha herself, remarks about her gaffes in her books. In chapter 12, she mentions one of her novels (actually a thinly veiled reference to Christie's own Death in the Clouds) in which she had made a blowpipe one foot long, instead of six.
"Evelyn Hope" is the name of a poem by Robert Browning that is quoted in the course of the novel. In Taken at the Flood Christie had made a character take the alias of "Enoch Arden", which is a poem by Tennyson.
Plot Summary
[SPOILER ALERT]
Superintendent Spence visits Poirot to ask him to find evidence that would forestall the execution of James Bentley, who has recently been convicted of killing his elderly landlady, Mrs McGinty, for a meager £30. All evidence points to his guilt, but something about Bentley's surly acceptance of his fate just doesn't sit right with the experienced Spence. Poirot agrees to go to the village of Broadhinny and investigate the matter. Taking a room in the Summerhayes' guest house, Poirot finds that Mrs McGinty often worked as a charwoman at various village houses. No one wants to talk to Poirot, most being satisfied that Bentley is guilty.
During the course of his investigations, Poirot discovers that, three days before the murder, Mrs McGinty took a clipping from a notorious Sunday newspaper, containing an article showing photos of females who had disappeared after being involved in decades-old criminal cases. She then wrote to the paper, claiming to have found a photo like one of the women, proving a villager was one of the missing women in disguise. However, her terrible spelling had caused the paper to dismiss her as a simple fame-seeker. Poirot and Spence, using the ages of people in the town, conclude that someone is either Lily Gamboll, who committed murder with a meat cleaver at only 12 years old, or Eva Kane, a governess who had had an affair with her employer, Mr Craig. Craig was later convicted and executed for killing his wife. After being acquitted as an accessory, a pregnant Eva had changed her surname to "Hope" and left the country. Some sources claim she had a daughter named Evelyn, and several women in the town are the right age to be Evelyn, as well.
Shortly afterwards, Poirot discovers an old sugar cutter with traces of blood on it in the Summerhayes' house; the house was never locked, and the hammer was easily accessible to anyone. In an attempt to flush out the murderer, Poirot claims to know more than he does, and is nearly pushed under an oncoming train, proving that the guilty party is still at large. Having acquired originals of the photos used in the article, Poirot shows them to the villagers at a gathering at wealthy Mrs Laura Upward's house. Mrs Upward claims to have seen the photo of Lily Gamboll, but refuses to say where.
Later, Poirot is contacted by Maude Williams, who had worked at an estate agent's with Bentley in another town before Bentley was laid off. She refuses to believe he is capable of murder, and offers to help Poirot. He accepts, and gets her to pose as a maid in the house of Mrs Wetherby, one of the houses Mrs McGinty cleaned. Poirot notices that Mrs Weatherby's daughter by her first marriage, Deirdre Henderson, is rather sulky and defeated, much like Bentley. Deirdre is also the only villager who, like Maude, believes in Bentley's innocence.
During the maid's night off, Mrs Upward's spoiled artistic son, playwright Robin Upward, goes to the theatre with famed mystery writer Ariadne Oliver, whose novel he is planning to dramatize. When they return home, they find Mrs Upward strangled to death. She has evidently had coffee with her murderer, and the lipstick on a coffee cup and perfume in the air points to a woman having committed the crime. Mrs Upward had invited three people to her house that night: Eve Carpenter, Deirdre Henderson and Shelagh Rendell. Only Henderson came, but she found the house dark, and left without speaking to anyone. Any of the three women could be someone from the photographs. Additionally, the postmistress's assistant, Edna, saw someone with blonde hair enter the house; Carpenter and Rendell (who both refuse to cooperate with the police) are blonde, but Henderson is brunette.
A book is discovered in the Upward house with Evelyn Hope's signature written on the flyleaf, suggesting Mrs Upward was actually Eva Kane, further confusing the situation. Poirot then finds a photo in a drawer in the Summerhayes' house, and realizes it must be the photo Mrs McGinty saw. It is of Eva Kane, and has the inscription "my mother" on the back. Recognizing the handwriting, Poirot gathers the suspects together and abruptly accuses Robin Upward of the murders, startling him into a confession.
Robin Upward is Eva Kane's son, Evelyn Hope (at the time, Evelyn was still often given to male children); the real Robin Upward had died young, while Mrs Upward lived elsewhere. Too proud to be pitied as a childless widow, Mrs Upward took in impoverished young men to take Robin's place, although she treated them more as a patron would a protégé, and dropped them if they turned out less than satisfactory. Evelyn Hope had been the most successful "son", and had been living with her at the time she moved to Broadhinny; he was assumed by most to really be her son Robin, although Mrs Summerhayes, herself an adopted child, deduced the truth. Mrs McGinty found the photo of Eva Kane while working at the Upward house, and assumed the photo was of Mrs Upward as a young woman.
Evelyn/Robin, realizing that any scandal would put an end to his use of Mrs Upward's money, stole the sugar hammer and killed Mrs McGinty before she could tell too many people of her "discovery". He framed Bentley by stealing the £30, correctly assuming Bentley would panic and incriminate himself. The night of the party, Mrs Upward had recognized Eva Kane's photo as that of Evelyn/Robin's mother, whose backstory Evelyn/Robin had falsified to her. She wanted to confront Evelyn/Robin by herself, so she pointed to the photo of Lily Gamboll to put Poirot off the scent.
Evelyn/Robin however, suspected the truth; pretending to forget something the night of the play, he left Mrs Oliver waiting in the car and went back inside, killing Mrs Upward to inherit her money. He planted the evidence, and made the three calls in a disguised voice, to make it appear as if a woman had committed the crime. He later planted the photo at Mrs Summerhayes' house to incriminate her. However, Poirot had gone through the drawer a short time earlier, and the photo had not been in it then; it had been put in afterwards, and only Evelyn/Robin had been free to do so at the time in question.
Further revelations are also made. Eve Carpenter wanted to conceal her true roots from her aristocratic husband, which was why she would not co-operate in the investigation. Spence discovers that Shelagh Rendell has been receiving poison pen letters claiming her husband Dr Rendell murdered his first wife. Poirot heavily suspects that it was Dr Rendell, and not Evelyn Hope, who tried to push him under the oncoming train, afraid of the old scandal being raked up. Maude Williams turns out to be Maude Craig; despite the jury deciding otherwise, both Maude and the police are convinced her mother Mrs Craig was actually murdered by Eva Kane, and that Mr Craig, having gotten Eva pregnant, chivalrously took the blame. Maude was the blonde who came to see Mrs Upward, as she had been trying to trace Eva Kane through Evelyn, whose true identity Maude knew. However, Maude found Mrs Upward's body, realized she might be accused of murder, and left quietly. She admits this to Poirot, who agrees to keep it a secret and wishes her good luck in her life.
Deirdre Henderson is revealed to have been mistreated by her stepfather and forced to care for her hypochondriac mother (who pretends to be an invalid) because Deirdre has money of her own, left to her by her father, that they do not want to lose the use of. She also has some romantic feelings for Bentley, and he for her. Bentley is freed, though he is still too bewildered and sulky over events to show proper gratitude. However, Spence is convinced they have closed the case at last, much to Poirot's relief.
Publication history
1952, Dodd Mead and Company (New York), February 1952, Hardback, 243 pp
1952, Collins Crime Club (London), 3 March 1952, Hardback, 192 pp
1952, Walter J. Black (Detective Book Club), 180 pp (Dated 1951)
1953, Pocket Books (New York), Paperback, 181 pp
1957, Fontana Books (Imprint of HarperCollins), Paperback, 188 pp
1970, Pan Books, Paperback, 191 pp
In the US, the novel was serialised in the Chicago Tribune in its Sunday edition in thirteen parts from 7 October to 30 December 1951 under the title of Blood Will Tell.
Mrs McGinty's Dead – First Edition Book Identification Guide
The books are listed in the order of publication. While the majority of Agatha Christie's books were first published in the UK. There are many titles that were first published in the US. The title of the book may differs from the UK edition in some cases.
| Year | Title | Publisher | First edition/printing identification points |
| --- | --- | --- | --- |
| 1952 | Mrs McGinty's Dead | Dodd, Mead & Co, NY, [1952] | First edition. Copyright 1952 stated on the copyright page. No statement of later printings Red cloth lettered in silver. Price $2.50. |
| 1952 | Mrs McGinty's Dead | William Collins & Sons, London, [1952] | First edition. "1952" on single line stated on the copyright page. No statement of later printings. Red cloth lettered in black. Price 9/6. |
Note about Book Club Editions (BCE) and reprints:
UK: You can see statements of later reprint dates or of book club on the copyright page.
US: The US reprint publishers usually use the same sheets as the first edition and are harder to identify by looking at the title page or the copyright page. One may identify a BCE by looking at the DJ, which doesn't have a price on top of the front flap and a "Book Club Edition" imprint at the bottom. If the dust jacked is clipped at both the top/bottom of the front flap. You can safely assume it's a BCE . If the book is missing the dust jacket. Later BCE editions can be identified by its plain boards, while first printings are issued in quarter cloth.
Please refer to the gallery for detailed images of true first edition bindings and dust jackets.
Mrs McGinty's Dead – First Edition Dust Jacket Identification Guide
First edition bindings and various dust jacket printings identification.
Reference: