Padraic Colum – Irish author, 1881-1972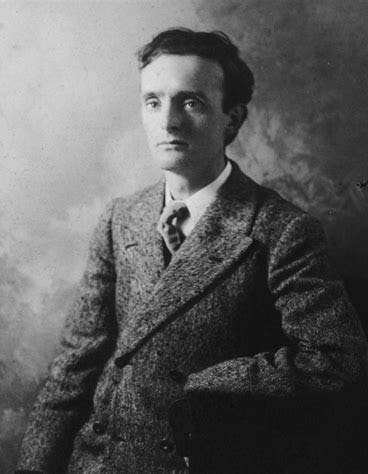 In the early part of the twentieth century, Padraic Colum belonged to the Dub­lin literary circle whose members included J. M. Synge and William Butler Yeats. During this time, Colum had his first poetry published, founded and edited The Irish Review, and also founded the Irish National Theatre— now the Abbey Theatre—where his play The Land en­joyed great success in 1905.
Born in Longford, Ireland, Padraic Colum spent much of his childhood in County Cavan, where his family lived with a grandmother while their father sought work in the United States. This grand­mother's love of traditional storytelling had a profound influence on the author's career. After working a few years as a railway clerk, he began publishing volumes of poetry and plays for adults.
Padraic Colum's first novel, however, was written for chil­dren. A Boy in Eirinn (1913) tells of Finn O'Donnell, an Irish boy sent to live with relatives after his father is imprisoned and his mother finds work in the United States. The depiction of an Irish childhood provides a vivid picture of that country's past, but Finn's story is frequently interrupted by chapters consisting of folk­tales that are related to the boy. One lengthy chapter contains the complete text of a play that Finn sees. Indi­vidually, these components are interesting, but they are detrimental to the flow of the novel.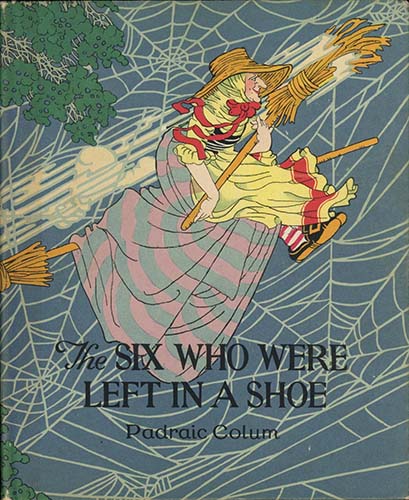 Padraic Colum came to the United States in 1914, and tried to retain his knowledge of the Irish language by translating traditional folk stories into English. When an editor from the New York Tribune asked if he had any material for the children's page of the newspaper, Colum submit­ted one of his translations and found a new career adapting folktales and legends for young readers. The Golden Fleece and the Heroes Who Lived before Achilles (1921), a retelling of Greek myths, was an Honor Book for the first Newbery Medal.
Colum wrote two other Newbery Honor Books: The Voyagers: Being Legends and Romances of Atlantic Discovery (1925) is a collection of tales about Prince Henry the Navigator, Ponce de Leon, Columbus, the island of Atlantis, and other matters connected with the Atlantic Ocean. The Big Tree of Bunlahy: Stories of My Own Countryside (1933) contains tra­ditional Irish tales about leprechauns and magic.
All three titles written in rhythmic prose are particularly suited to reading aloud, but the leisurely plots are so overcrowded with episodes that the books have a chop­py, uneven quality Dated writing also undermines some of the author's "folk romances," which include The Girl Who Sat by the Ashes (1925), a. variation on the Cinderel­la story. Most of Colum's retellings have their origins in Greece and Ireland, although he also traveled to Hawaii to collect island legends, which he published in two vol­umes for adults, At the Gateways of the Day (1924) and The Bright Islands (1925).
Padraic Colum's other adult works include plays, poetry, novels, and nonfiction such as Our Friend James Joyce (1958); a memoir Colum and his wife, Mary, wrote about the great Irish writer. But Colum was best known for his children's books. The legends he retold are time­less in appeal, though a dated writing style prevents them from being widely read today.
§ P.D.S.
Source: Children's Books and their Creators, Anita Silvey.
---
Padraic Colum Selected Bibliography
(1902) The Saxon Shillin' (Play)
(1903) Broken Sail (Play)
(1905) The Land (Play)
(1907) Wild Earth (Book)
(1907) The Fiddlers' House (Play)
(1910) Thomas Muskerry (Play)
(1912) My Irish Year (Book)
(1916) The King of Ireland's Son (New Sample of old Irish Tales)
(1917) Mogu the Wanderer (Play)
(1918) The Children's Homer, (Novel) Collier Books
(1920) The Boy Apprenticed to an Enchanter, (Novel) The Macmillan Company
(1920) Children of Odin: Nordic Gods and Heroes
(1920) The Boy Who Knew What The Birds Said
(1921) The Golden Fleece and the Heroes Who Lived Before Achilles,(Novel), Ill. by Willy Pogany The Macmillan company
(1923) The Six Who Were Left in a Shoe (Children's Story)
(1923) Castle Conquer (Novel)
(1924) The Island of the Mighty: Being the Hero Stories of Celtic Britain Retold from the Mabinogion, Ill. by Wilfred Jones, The Macmillan Company
(1924) At the Gateways of the Day (Tales and legends of Hawaii)
(1924) The Peep-Show Man, The Macmillan Company
(1925) The Bright Islands (Tales and legends of Hawaii V2)
(1929) Balloon (Play)
(1930) Old Pastures
(1932) Poems (collected) Macmillan & Co
(1933) The Big Tree of Bunlahy: Stories of My Own Countryside (Children's stories) Ill. by Jack Yeats
(1937) Legends of Hawaii
(1937) The Story of Lowry Maen (Epic Poem)
(1943) The Frenzied Prince (Compilation of Irish Tales)
(1957) The Flying Swans (Novel)
(1958) Our Friend James Joyce (Memoir) (With Mary Colum)
(1963) Moytura: A Play for Dancers (Play)
(1965) Padraic Colum Reading His Irish Tales and Poems (Album, Folkways Records)