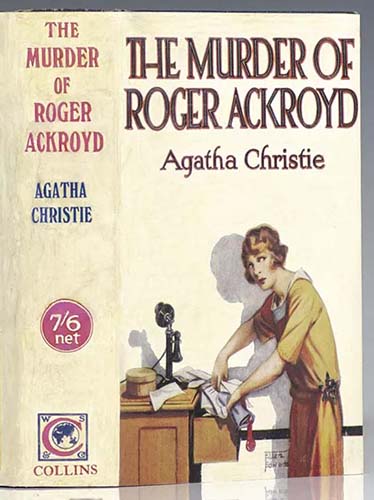 The Murder of Roger Ackroyd is a work of detective fiction by British writer Agatha Christie, first published in June 1926 in the United Kingdom by William Collins, Sons and in the United States by Dodd, Mead and Company. It is the third novel to feature Hercule Poirot as the lead detective. The UK edition retailed at seven shillings and sixpence and the US edition at $2.00.
Poirot retires to a village near the home of a friend, Roger Ackroyd, to pursue a project to perfect vegetable marrows. Soon after, Ackroyd is murdered and Poirot must come out of retirement to solve the case.
In 2013, the British Crime Writers' Association voted it the best crime novel ever. It is one of Christie's best known and most controversial novels, its innovative twist ending having a significant impact on the genre. Howard Haycraft included it in his list of the most influential crime novels ever written. The short biography of Christie which is included in 21st century UK printings of her books calls it her masterpiece.
In 2022, the book entered the public domain in the United States.
Plot Summary
[SPOILER ALERT]
The book's narrator, Dr James Sheppard, introduces himself and explains these are his memoirs of a murder which happened in his town. In King's Abbot, wealthy widow Mrs Ferrars unexpectedly commits suicide, distressing her fiancé the widower Roger Ackroyd. At dinner that evening in Ackroyd's home of Fernly Park, his guests include his sister-in-law Mrs Cecil Ackroyd and her daughter Flora, big-game hunter Major Blunt, Ackroyd's personal secretary Geoffrey Raymond, and Dr James Sheppard, whom Ackroyd invited earlier that day. During dinner, Flora announces her engagement to Ackroyd's stepson, Ralph Paton. After dinner, Ackroyd reveals to Sheppard in his study that Mrs Ferrars had confided in him that she was being blackmailed over the murder of her husband. He then asks Sheppard to leave, wishing to read a letter from Mrs Ferrars that arrives in the post, containing her suicide note. Once home, Sheppard receives a call and leaves for Fernly Park again, after informing his sister that Parker, Ackroyd's butler, has found Ackroyd murdered. But when Sheppard arrives at Fernly Park, Parker denies making such a call; yet he, Sheppard, Raymond, and Blunt find Ackroyd dead in his study, stabbed to death with a weapon from his collection.
Hercule Poirot, living in the village, comes out of retirement at Flora's request. She does not believe Paton killed Ackroyd, despite him disappearing and police finding his footprints on the study's window. Poirot learns a few important facts on the case: all in the household, except parlourmaid Ursula Bourne, have alibis for the murder; while Raymond and Blunt heard Ackroyd talking to someone after Sheppard left, Flora was the last to see him that evening; Sheppard met a stranger on his way home, at Fernly Park's gates; Ackroyd met a representative of a dictaphone company a few days earlier; Parker recalls seeing a chair that had been in an odd position in the study when the body was found, that has since returned to its original position; the letter from Mrs Ferrars has disappeared since the murder. Poirot asks Sheppard for the exact time he met his stranger. He later finds a goose quill and a scrap of starched cambric in the summer house, and a ring with the inscription "From R" in a goldfish pond in the gardens.
Raymond and Mrs Ackroyd later reveal they are in debt, but Ackroyd's death will resolve this as they stood to gain from his will. Flora admits she never saw her uncle after dinner; she was taking money from his bedroom. Her revelation throws doubts on everyone's alibis, and leaves Raymond and Blunt as the last people to hear Ackroyd alive. Blunt reveals he is secretly in love with Flora. Poirot calls a second meeting, adding Parker, the butler; Miss Russell, the housekeeper; and Ralph Paton, whom he had found. He reveals that the goose quill is a heroin holder belonging to Miss Russell's illegitimate son, the stranger whom Sheppard met on the night of the murder. He also informs everyone that Ursula secretly married Paton, as the ring he found was hers; it was discarded after Paton chastised her for informing his uncle of this fact, which had led to the termination of her employment. Poirot then proceeds to inform all that he knows the killer's identity, confirmed by a telegram received during the meeting. He does not reveal the name; instead he issues a warning to the killer. When Poirot is alone with Sheppard, he reveals that he knows him to be Ackroyd's killer.
Sheppard was Mrs Ferrars' blackmailer and murdered Ackroyd to stop him knowing this; he suspected her suicide note would mention this fact, and so he took it after the murder. He then used a dictaphone Ackroyd had, to make it appear he was still alive when he departed, before looping back to the study's window to plant Paton's footprints; Poirot had noted an inconsistency in the time he mentioned for the meeting at the gates. As he wanted to be on the scene when Ackroyd's body was found, he asked a patient earlier in the day to call him some time after the murder, so as to have an excuse for returning to Fernly Park; Poirot's telegram confirmed this. When no-one was around in the study, Sheppard removed the dictaphone, and returned the chair that concealed it from view to its original place. Poirot tells Sheppard that all this information will be reported to the police in the morning. Dr Sheppard continues writing his report on Poirot's investigation (the novel itself), admitting his guilt and wishing his account was that of Poirot's failure to solve Ackroyd's murder. The novel's epilogue serves as his suicide note.
Publication history
1926, William Collins and Sons (London), June 1926, Hardback, 312 pp (Seven shillings and sixpence)
1926, Dodd Mead and Company (New York), 19 June 1926, Hardback, 306 pp ($2.00)
1927, William Collins and Sons (Popular Edition), March 1927, Hardback (Three shillings and sixpence)
1928, William Collins and Sons (Cheap Edition), February 1928 (One shilling)
1932, William Collins and Sons, February 1932 (in the Agatha Christie Omnibus of Crime along with The Mystery of the Blue Train, The Seven Dials Mystery, and The Sittaford Mystery), Hardback (Seven shillings and sixpence)
1939, Canterbury Classics (William Collins and Sons), Illustrated hardback, 336 pp
1939, Pocket Books (New York), Paperback (Pocket number 5), 212 pp
1948, Penguin Books, Paperback (Penguin 684), 250 pp
1957, Fontana Books (Imprint of HarperCollins), Paperback, 254 pp
1964, Modern Author series (William Collins and Sons), Hardback, 254 pp
The novel received its first true publication as a fifty-four part serialisation in the London Evening News from Thursday, 16 July, to Wednesday, 16 September 1925, under the title, Who Killed Ackroyd? Like that paper's serialisation of The Man in the Brown Suit, there were minor amendments to the text, mostly to make sense of the openings of an instalment (e.g., changing "He then…" to "Poirot then…"). The main change was that the book has twenty-seven chapters whereas the serialisation has only twenty-four. Chapter Seven of the serialisation is named The Secrets of the Study whereas in the book it is Chapter Eight and named Inspector Raglan is Confident.
In the US, the novel was serialised in four parts in Flynn's Detective Weekly from 19 June (Volume 16, Number 2) to 10 July 1926 (Volume 16, Number 5). The text was heavily abridged and each instalment carried an uncredited illustration.
The Collins first edition of 1926 was Christie's first work placed with that publisher. "The first book that Agatha wrote for Collins was the one that changed her reputation forever; no doubt she knew, as through 1925 she turned the idea over in her mind, that here she had a winner." HarperCollins, the modern successor firm to W. Collins Sons & Co. Ltd., remains the UK publishers of Christie's oeuvre.
The Murder of Roger Ackroyd – First Edition Book Identification Guide
The books are listed in the order of publication. While the majority of Agatha Christie's books were first published in the UK. There are many titles that were first published in the US. The title of the book may differs from the UK edition in some cases.
| Year | Title | Publisher | First edition/printing identification points |
| --- | --- | --- | --- |
| 1926 | The Murder of Roger Ackroyd | William Collins & Sons, London, [1926] | First edition. "Copyright, 1926" stated on the copyright page. No statement of later printings. Navy blue cloth, lettered in orange. Price 7/6. |
| 1926 | The Murder of Roger Ackroyd | Dodd, Mead & Co, NY, 1926 | First American edition. Date on the title & copyright page matches. No statement of later printings. Decorative gray cloth, lettered in black and red. Price $ 2.00. |
Note about Book Club Editions (BCE) and reprints:
UK: You can see statements of later reprint dates or of book club on the copyright page.
US: The US reprint publishers usually use the same sheets as the first edition and are harder to identify by looking at the title page or the copyright page. One may identify a BCE by looking at the DJ, which doesn't have a price on top of the front flap and a "Book Club Edition" imprint at the bottom. If the dust jacked is clipped at both the top/bottom of the front flap. You can safely assume it's a BCE . If the book is missing the dust jacket. Later BCE editions can be identified by its plain boards, while first printings are issued in quarter cloth.
Please refer to the gallery for detailed images of true first edition bindings and dust jackets.
The Murder of Roger Ackroyd – First Edition Dust Jacket Identification Guide
First edition bindings and various dust jacket printings identification.
Reference: