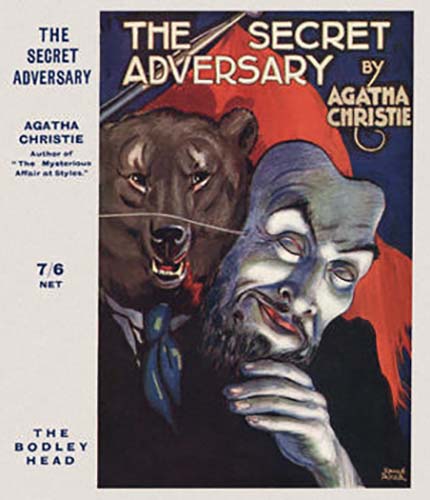 The Secret Adversary is the second published detective fiction novel by British writer Agatha Christie, first published in January 1922 in the United Kingdom by The Bodley Head and in the United States by Dodd, Mead and Company later in that same year. The UK edition retailed at seven shillings and sixpence (7/6) and the US edition at $1.75.
The book introduces the characters of Tommy and Tuppence who feature in three other Christie novels and one collection of short stories; the five Tommy and Tuppence books span Agatha Christie's writing career. The Great War is over, and jobs are scarce. Childhood friends Tommy Beresford and Prudence "Tuppence" Cowley meet and agree to start their own business as The Young Adventurers. They are hired for a job that leads them both to many dangerous situations, meeting allies as well, including an American millionaire in search of his cousin.
Plot Summary
[SPOILER ALERT]
In 1919 London, demobilised soldier Tommy Beresford reunites with his childhood friend and war volunteer Prudence "Tuppence" Cowley. Out of work and money, they form "The Young Adventurers, Ltd". Their first client, a Mr Whittington, makes Tuppence a suspiciously generous offer. Remembering a seemingly unrelated anecdote of Tommy's, when Whittington asks Tuppence her name, she gives him the alias "Jane Finn." A shocked Whittington offers her £50 hush money and disappears. Carter, an old friend of Tommy's from British intelligence, tells them that Jane Finn was a British agent who disappeared while attempting to deliver a secret treaty to the American embassy in London. Tommy and Tuppence agree to find her, but Carter warns them about an enemy agent known only as "Mr Brown." Also searching for Jane Finn is her cousin Julius Hersheimmer, an American multimillionaire.
Tommy and Tuppence's investigation leads them to the home of Mrs Marguerite "Rita" Vandemeyer, a woman with several powerful friends, including Whittington and Sir James Peel Edgerton, K C. Tuppence obtains a job as Mrs Vandemeyer's maid and enlists the help of a young boy working there named Albert. Tuppence hears Mrs Vandemeyer mention Mr Brown and forces her to admit she knows his real identity. Mrs Vandemeyer screams, collapses, and murmurs "Mr Brown" to Tuppence just before dying. Tuppence receives a telegram signed by Tommy and rushes after him.
Meanwhile, Tommy follows Boris Ivanovitch, another of Rita's associates, to a house in Soho, where Tommy is taken prisoner while attempting to eavesdrop on a meeting of Bolshevist conspirators. A young French woman at the house, Annette, arranges his escape, but refuses to leave herself. Tommy returns to the Ritz and finds Tuppence.
Sir James discovers Jane Finn, who has recovered her memory after an accident. She tells them where she hid the treaty, but they find instead a message from Mr Brown. While searching for writing paper in Julius's drawer, Tommy finds a photograph of Annette. Tommy concludes that Annette is the real Jane Finn and the Jane Finn they met was a plant to stop their investigation. He gets an original copy of the telegram sent to Tuppence and sees that her destination was altered on the copy he read. Tommy and Albert proceed to the correct destination.
Hersheimmer arranges for the release of Tuppence and Annette. At Sir James's residence, Jane tells her story: after receiving the packet, she became suspicious of Mrs Vandemeyer. Jane placed blank sheets in the original packet, sealing the treaty inside magazine pages. Travelling from Ireland, she was mugged and taken to the house in Soho. Perceiving the intent of her captors, Jane faked amnesia, conversing only in French. She hid the treaty in a picture frame in her room and has maintained her role as "Annette" ever since. Tuppence suspects that Hersheimmer is Mr Brown. Sir James agrees, adding that the real Hersheimmer was killed in America and that his imposter killed Mrs Vandemeyer. They rush to Soho, recovering the treaty at the house. Sir James identifies himself as the true Mr Brown, and announces his plan to kill them, wound himself, and then blame it on the elusive Mr Brown. Julius and Tommy, who are hiding in the room, overwhelm Sir James. He commits suicide using poison concealed in his ring, the compelling evidence to persuade Mr Carter of his old friend's guilt.
Tommy's role in solving the mystery persuades his estranged rich uncle to support him financially and make Tommy his heir. The novel ends with both Hersheimmer and Jane, and Tommy and Tuppence, engaged to marry.
Publication history
1922, John Lane (The Bodley Head), January 1922, Hardback, 320 pp
1922, Dodd Mead and Company (New York), 1922, Hardback, 330 pp
1927, John Lane (The Bodley Head), February 1927, Hardback (Cheap Edition – two shillings)
1946, Avon Books (New York), Avon number 100, Paperback, 264 pp
1955, Pan Books, Paperback (Pan number 357)
1957, Pan Books, Paperback (Great Pan GP82)
1967, Bantam Books (New York), Paperback
Like its predecessor, The Mysterious Affair at Styles, The Secret Adversary was first published as an unillustrated serialisation in The Times weekly edition (aka The Weekly Times) as a complete and unabridged text in seventeen instalments from 12 August (Issue 2328) to 2 December 1921 (Issue 2343). Christie was paid £50 for the serialisation rights (£2,190 in 2022 currency)
The Secret Adversary – First Edition Book Identification Guide
The books are listed in the order of publication. While the majority of Agatha Christie's books were first published in the UK. There are many titles that were first published in the US. The title of the book may differs from the UK edition in some cases.
| Year | Title | Publisher | First edition/printing identification points |
| --- | --- | --- | --- |
| 1922 | The Secret Adversary | The Bodley Head, London , MCMCCII | First edition. Date "MCMCCII" on the title page. "Printed in Great Britain by Butler & Tanner, Frome and London" stated on the copyright page. No statement of later printings. Decorative black cloth, lettered in green. Price 7/6. |
| 1922 | The Secret Adversary | Dodd, Mead & Co, NY, 1922 | First American edition. Date on the title & copyright page matches. No statement of later printings. Orange cloth lettered in black. Price $ 1.75. |
Note about Book Club Editions (BCE) and reprints:
UK: You can see statements of later reprint dates or of book club on the copyright page.
US: The US reprint publishers usually use the same sheets as the first edition and are harder to identify by looking at the title page or the copyright page. One may identify a BCE by looking at the DJ, which doesn't have a price on top of the front flap and a "Book Club Edition" imprint at the bottom. If the dust jacked is clipped at both the top/bottom of the front flap. You can safely assume it's a BCE . If the book is missing the dust jacket. Later BCE editions can be identified by its plain boards, while first printings are issued in quarter cloth.
Please refer to the gallery for detailed images of true first edition bindings and dust jackets.
The Secret Adversary – First Edition Dust Jacket Identification Guide
First edition bindings and various dust jacket printings identification.
Reference: