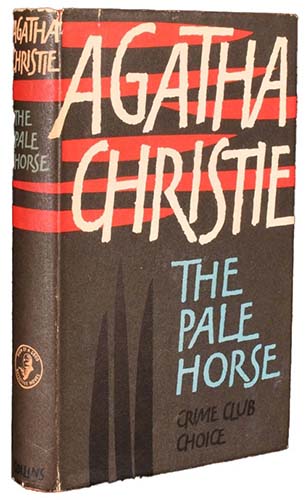 The Pale Horse is a work of detective fiction by British writer Agatha Christie, first published in the UK by the Collins Crime Club on 6 November 1961, and in the US by Dodd, Mead and Company the following year. The UK edition retailed at fifteen shillings (15/- = 75p) and the US edition at $3.75. The novel features her novelist detective Ariadne Oliver as a minor character, and reflects in tone the supernatural novels of Dennis Wheatley who was then at the height of his popularity. The Pale Horse is mentioned in Revelation 6:8, where it is ridden by Death.
This novel is notable as several of her earlier characters reappear in this book. In addition to Ariadne Oliver, Major Despard and his wife Rhoda (who met and fell in love in Cards on the Table) also participate in the plot. Mrs Dane Calthrop from The Moving Finger also reappears in approximately the same role as she played in that book: the rational but devoted Christian who wants the evil stopped.
Mrs Oliver is apprehensive of attending a fete, for reasons that will be apparent to readers of her previous appearance in a Christie novel: Dead Man's Folly.
Mrs Lancaster from By the Pricking of My Thumbs may have been mentioned in a conversation, when one of the characters, David Ardingly, mentions how he met an old lady in a mental home who says exactly the same phrase which chilled Tuppence to the bone, and which had a similar effect on Ardingly. Mrs Lancaster mentioned "ten past eleven", though, while Ardingly's recollection placed the mentioned time at "12.10".
Plot Summary
[SPOILER ALERT]
Mark Easterbrook, the central character of the book and its principal narrator, sees a fight between two girls in a Chelsea coffee bar, during which one pulls out some of the other's hair at the roots. Soon afterwards, he finds out that one of the girls, Thomasina Tuckerton, has died. At dinner with a friend, a woman named Poppy Stirling mentions something called the Pale Horse that arranges deaths, but is suddenly scared at having mentioned it and will say no more.
When Mark encounters the police surgeon, Corrigan, he learns of the list of surnames found in the shoe of a murdered priest called Father Gorman. The list includes the names Corrigan, Tuckerton and Hesketh-Dubois (the same name as Mark's godmother who has recently died of what appear to be natural causes). He begins to fear that the list contains the names of those who are dead or are shortly to die.
When Mark goes to a village fete, organised by his cousin, at Much Deeping,[4] with the famous mystery writer, Ariadne Oliver, he hears about a house which has been converted from an old inn called the Pale Horse. The house is inhabited by three modern "witches", led by Thyrza Grey. Visiting houses in the area, he meets Mr Venables, a man who uses a wheelchair and has no apparent explanation for his substantial wealth.
Mark also visits the Pale Horse, and Thyrza Grey discusses with him the ability to kill at a distance, which she claims to have developed. In retrospect, it seems to Mark that she has been outlining to him a service that she would be willing to provide. As part of the police investigation, a witness, Zachariah Osborne, describes a man seen following Father Gorman shortly before the murder. Later, Osborne tells the police that he has seen the same man in a wheelchair. Even though he finds out that the man, Venables, is crippled by polio, and is incapable of standing due to the atrophy of his legs, Osborne remains certain of his identification and suggests that Venables could have faked his disability.
Mark's girlfriend, Hermia, does not take his growing fears seriously and he becomes disaffected with her. He does, however, receive support from Ariadne Oliver, and from a vicar's wife, Dane Calthrop, who wants him to stop whatever evil might be taking place. Mark also makes an ally of Katherine "Ginger" Corrigan, a girl whom he has met in the area, and who successfully draws Poppy out about the Pale Horse organisation. Ginger obtains from Poppy an address in Birmingham, where Mark meets Mr Bradley, a disbarred lawyer, who outlines the means by which the Pale Horse functions without breaking the law – that Bradley bets someone will die within a certain period of time and the client bets otherwise. If the person in question does die within that time, the client must pay. (One client who refused fell in front of an oncoming train and was killed).
With the agreement of Inspector Lejeune and the co-operation of Ginger, Mark agrees to solicit the murder of his first wife, who will be played by Ginger. At a ritual of some kind at the Pale Horse, Mark witnesses Thyrza apparently channel a malignant spirit through an electrical apparatus. Shortly afterwards, Ginger falls ill and begins to decline rapidly. In desperation, Mark turns to Poppy again, who mentions that friend (Eileen Brandon) resigned from a research organisation called CRC (Customers' Reactions Classified) that seems to be connected with the Pale Horse. When Mrs Brandon is interviewed, she reveals that both she and Mrs Davis worked for the organisation, which surveyed targeted people about what foods, cosmetics and proprietary medicines they used.
Ariadne Oliver contacts Mark with a key connection that she has made: another victim of the Pale Horse (Mary Delafontaine) has lost her hair during her illness. The same thing happened to Lady Hesketh-Dubois, and Thomasina's hair was easily pulled out during the fight. Moreover, Ginger has begun to shed her own hair. Mark recognises the symptoms are of thallium poisoning, not some sort of satanic assassination.
It is revealed that Osborne has been the brains behind the Pale Horse organisation, and that black magic element was a piece of misdirection on his part. The murders were committed by replacing products the victims had named in the CRC survey with poisoned ones. Osborne's clumsy attempt to implicate Venables was a vital mistake. After Osborne's arrest, Mark and Ginger, who is recovering, become engaged.
Publication history
1961, Collins Crime Club (London), 6 November 1961, Hardback, 256 pp
1962, Dodd Mead and Company (New York), 1962, Hardback, 242 pp
1963, Pocket Books (New York), Paperback
1964, Fontana Books (Imprint of HarperCollins), Paperback, 191 pp
The novel was first serialised in the British weekly magazine Woman's Mirror in eight abridged instalments from 2 September to 21 October 1961 with illustrations by Zelinski.
In the US a condensed version of the novel appeared in the April 1962 (Volume LXXIX, Number 4) issue of the Ladies Home Journal with an illustration by Eugenie Louis.
The Pale Horse – First Edition Book Identification Guide
The books are listed in the order of publication. While the majority of Agatha Christie's books were first published in the UK. There are many titles that were first published in the US. The title of the book may differs from the UK edition in some cases.
| Year | Title | Publisher | First edition/printing identification points |
| --- | --- | --- | --- |
| 1961 | The Pale Horse | William Collins & Sons, London, [1961] | First edition. "© Agatha Christie, Ltd., 1961" stated on the copyright page. No statement of later printings. Red cloth lettered in black. Price 15s. |
| 1962 | The Pale Horse | Dodd, Mead & Co, NY, [1961] | First American edition. Copyright 1958 stated on the copyright page. No statement of later printings. Red boards lettered in white. First published in 1962, but copyright date 1961. Price $ 3.75. |
Note about Book Club Editions (BCE) and reprints:
UK: You can see statements of later reprint dates or of book club on the copyright page.
US: The US reprint publishers usually use the same sheets as the first edition and are harder to identify by looking at the title page or the copyright page. One may identify a BCE by looking at the DJ, which doesn't have a price on top of the front flap and a "Book Club Edition" imprint at the bottom. If the dust jacked is clipped at both the top/bottom of the front flap. You can safely assume it's a BCE . If the book is missing the dust jacket. Later BCE editions can be identified by its plain boards, while first printings are issued in quarter cloth.
Please refer to the gallery for detailed images of true first edition bindings and dust jackets.
The Pale Horse – First Edition Dust Jacket Identification Guide
First edition bindings and various dust jacket printings identification.
Reference: