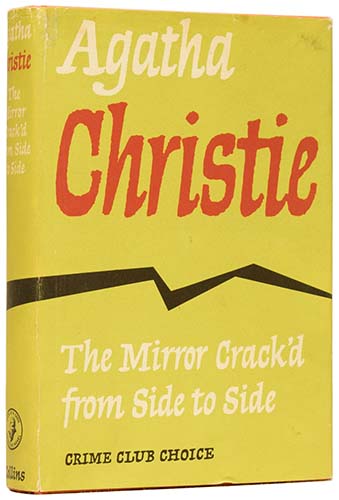 The Mirror Crack'd from Side to Side, a novel by Agatha Christie, was published in the UK in 1962 and a year later in the US under the title The Mirror Crack'd. The story features amateur detective Miss Marple solving a mystery in St. Mary Mead.
The title comes from the poem The Lady of Shalott by Alfred, Lord Tennyson The Lady of Shalott.
Out flew the web and floated wide- 

The mirror crack'd from side to side; 

"The curse is come upon me," cried.

 The Lady of Shalott.
Plot Summary
[SPOILER ALERT]
Jane Marple falls while walking in St. Mary Mead. She is helped by Heather Badcock, who brings her into her own home to rest. Over a cup of tea, Heather tells Miss Marple how she once met the American actress Marina Gregg, who recently moved into the area and bought Gossington Hall from Miss Marple's friend Dolly Bantry.
Marina and her latest husband, film producer Jason Rudd, host a fête in honour of St John Ambulance. Guests include Mrs Bantry, actress Lola Brewster, Marina's friend Ardwyck Fenn, and Heather with her husband Arthur. Heather corners Marina and launches into a long story about how they met years ago while Marina was visiting Bermuda, where Heather worked at the time. Heather had been ill, but being such big fan of Marina's she left her sickbed to meet her favourite star and get her autograph. Mrs Bantry, standing nearby, notices a strange look cross Marina's face during Heather's monologue. A short while later, Heather collapses and dies.
When Mrs Bantry recounts the events to Miss Marple, she uses lines from the poem "The Lady of Shalott" (in which a curse falls upon the heroine of the poem) to describe the look she observed on Marina's face. Detective-Inspector Frank Cornish of the local police begins to investigate the case, learning that the drug had been in a daiquiri given to her by Marina after she spilled her own drink. Cornish hands the case over to Chief-Inspector Dermot Craddock, of Scotland Yard, when the latter is assigned to it in response to the county's request for assistance.
Craddock delves into the complicated past of the presumed target, Marina. Desperate to have a child, she had adopted three before giving birth to a mentally disabled son and suffering a nervous breakdown as a result. One of the adopted children, Margot Bence, was at Gossington Hall on the day of the fête. Despite bad feeling towards her adoptive mother she denies putting the drug into Marina's drink.
Two more people are killed while the investigation continues: Ella Zielinsky, Jason's social secretary, dies after the atomizer she uses for her hay fever is poisoned with cyanide; and Giuseppe, Marina's butler, is shot that night after spending the day in London and depositing £500 into his bank account. Ardwyck Fenn tells Craddock he received a phone call days before, accusing him of killing Heather, and that he recognized the anonymous caller as Zielinsky when she sneezed. Meanwhile, Marina and Jason both suspect that Marina is being targeted for death; she has been receiving a series of threatening notes, and a cup of coffee served to her proves to contain arsenic.
Miss Marple's cleaner, Cherry Baker, tells Miss Marple that her friend Gladys Dixon, who was a server at Gossington Hall on the day of the fête, believes Marina deliberately spilled Heather's drink, and that she was going to meet Giuseppe before he died. After Gladys suddenly departs for a holiday in Bournemouth, Miss Marple travels to Gossington Hall to discover Marina has died in her sleep from an overdose.
Miss Marple talks to Jason and explains to him and DI Craddock how she has deduced that Marina must have been the murderer. Heather had been sick with German measles when she sought Marina's autograph in Bermuda. Marina, in the early stages of pregnancy at the time, had contracted the disease, which led to her baby being born disabled, and her own subsequent nervous breakdown. The look on Marina's face, observed by Mrs Bantry at the fete, was triggered by Marina looking at a picture of a Madonna and Child on the wall behind Heather, and finally realising what had happened. Overcome with emotion, Marina put the Calmo in her own daiquiri, jolted Heather's arm to make her spill her drink, and then gave Heather the drugged cocktail as a replacement. To cover her crime, Marina tried to convince everyone she had been the target of a murder attempt, writing the threatening notes herself and putting the arsenic into her own coffee. She killed Ella and Giuseppe after they guessed her involvement and Giuseppe blackmailed her. Miss Marple had sent Gladys away to protect her from becoming Marina's next victim.
Miss Marple implies that she believes Jason administered Marina's overdose to prevent her from taking another life. He simply comments on his wife's beauty and the suffering she endured as the story ends.
Publication history
1962, Collins Crime Club (London), 12 November 1962, Hardback, 256 pp
1963, Dodd Mead and Company (New York), September 1963, Hardback, 246 pp
1964, Pocket Books (New York), Paperback
1965, Fontana Books (Imprint of HarperCollins), Paperback, 192 pp
The Star Weekly Novel, a Toronto newspaper supplement, serialised the novel in two abridged instalments from 9–16 March 1963 under the title The Mirror Crack'd with each issue containing a cover illustration by Gerry Sevier.
The Mirror Crack'd from Side to Side – First Edition Book Identification Guide
The books are listed in the order of publication. While the majority of Agatha Christie's books were first published in the UK. There are many titles that were first published in the US. The title of the book may differs from the UK edition in some cases.
| Year | Title | Publisher | First edition/printing identification points |
| --- | --- | --- | --- |
| 1962 | The Mirror Crack'd from Side to Side | William Collins & Sons, London, [1962] | First edition. "© Agatha Christie, Ltd., 1962" stated on the copyright page. No statement of later printings. Red cloth lettered in black. Price 15s. |
| 1963 | The Mirror Crack'd | Dodd, Mead & Co, NY, [1962] | First American edition. Copyright 1961 stated on the copyright page. No statement of later printings. Grey boards lettered in green. Published in 1963, but copyright date 1962. Price $ 3.75. |
Note about Book Club Editions (BCE) and reprints:
UK: You can see statements of later reprint dates or of book club on the copyright page.
US: The US reprint publishers usually use the same sheets as the first edition and are harder to identify by looking at the title page or the copyright page. One may identify a BCE by looking at the DJ, which doesn't have a price on top of the front flap and a "Book Club Edition" imprint at the bottom. If the dust jacked is clipped at both the top/bottom of the front flap. You can safely assume it's a BCE . If the book is missing the dust jacket. Later BCE editions can be identified by its plain boards, while first printings are issued in quarter cloth.
Please refer to the gallery for detailed images of true first edition bindings and dust jackets.
The Mirror Crack'd from Side to Side – First Edition Dust Jacket Identification Guide
First edition bindings and various dust jacket printings identification.
Reference: