Marjorie Kinnan Rawlings – American author, 1896-1953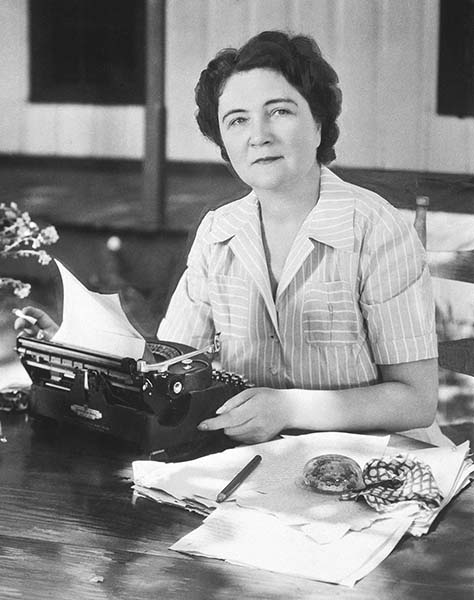 Marjorie Kinnan Rawlings discovered her literary voice in Florida, where she produced several classic works of American fiction. Although her best writing concerned rural regions, the author was born and raised in Washington, D.C., where her father was a patent attorney.
Rawlings developed an early interest in writing and had a story published in the Washington Post at age eleven. She attended the Univer­sity of Wisconsin in Madison, where she edited the school literary magazine and met her first husband. The author's early work experiences include writing publici­ty for the YWCA, editing a magazine, reporting for the Louisville Courier-Journal in Kentucky and the Roches­ter Journal in New York, and writing poetry for a news­paper syndicate.
In 1928 Rawlings left her husband and used an inher­itance to purchase a seventy-two-acre orange grove in Cross Creek, in rural Florida. Rawlings immersed her­self in the backwoods atmosphere, exploring nature and spending time with country people, who told her stories and took her hunting. Inspired by the locale, she be­gan writing stories of rural fife, including the classics "Jacob's Ladder" and "Gal Young Un."
Her first novel, South Moon Under (1933), which con­cerns the life of a Florida moonshiner, was followed by her masterpiece, The Yearling (1938), illustrated by N.C. Wyeth, the story of twelve­year-old Jody Baxter, who lives in the Florida scrub country with his pragmatic mother and kindly, story­telling father. Marjorie Kinnan Rawlings beautifully describes the natural setting and the poor, yet proud families who reside there. Jody adopts an orphaned fawn, which is named Flag by the tragic, mystical Fodder-wing, youngest son of the wild Forrester clan.
During the course of one year, against a background that includes farming, hunting, a community feud, a week-long rainstorm, Christmas, and many other events, Jody tames the fawn and the two grow to be close companions. But when Flag begins to trample and eat the family's crops, the yearling deer must be killed, and Jody runs away from his family. He soon returns home, with the newfound awareness that he is no longer a "yearling'' himself, he has left child­hood behind.
Marjorie Kinnan Rawlings's evocative descriptions of rural Florida and its people make The Yearling regional fiction at its best, yet the novel is universal in its depiction of the human experience. The book was awarded the Pu­litzer Prize and made into a 1946 motion picture star­ring Gregory Peck and Jane Wyman as Jody's parents, Although originally published for adults, it is now pri­marily read and enjoyed by children.
Rawlings wrote only one work expressly for children. Published posthumously, The Secret River (1955) is a timeless story about Calpumia, an aspiring young poet who journeys from her Florida home to a secret river, where she catches some much-needed fish for her father to sell. Although the dialogue is occasionally sentimen­tal, there is a magical quality to this gentle, allegorical tale, which was named a Newbery Honor Book. Among Rawlings's other works is the autobiographical Cross Greek (1942); actress Mary Steenburgen portrayed Rawl­ings in the 1983 film adaptation.
The last decade of the twentieth century marked a renewed interest in the life and writings of the author, suggesting that Marjorie Kinnan Rawlings's evocative stories of rural Florida will continue to be widely read and enjoyed in the twenty-first century.
P.D.S.
Source: Children's Books and their Creators, Anita Silvey.
---
Marjorie Kinnan Rawlings Selected Works
Novels and Story Collections
1928 Blood of My Blood
1933 South Moon Under
1935 Golden Apples
1938 The Yearling
1940 When the Whippoorwill
1942 Cross Creek
1942 Cross Creek Cookery
1947 "Mountain Prelude"
1949 "The Friendship"
1950 Jacob's Ladder
1953 The Sojourner
1955 The Secret River