Charles Henry Bennett – British Illustrator (1828-1867)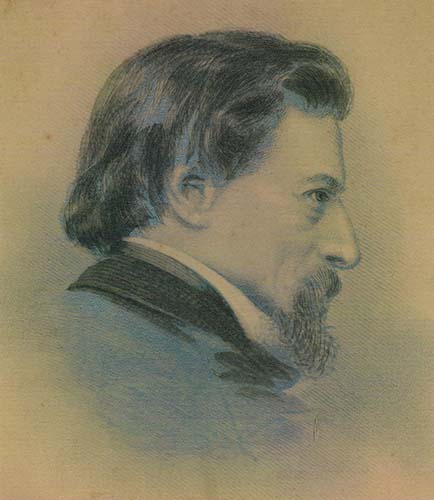 Charles Henry Bennett (1829-1867) was born in Covent Gar­den, London. To provide inspiration and models for some of his best art, he later recalled from childhood the highly indi­vidualized faces of the crowds who frequented the open market place. Bennett was largely self-taught. His first sketches appeared in the comic magazine Diogenes in 1853. Like many other artists of the day, he designed pictorial paper covers for the cheap, popular adult fiction of the 1850s.
He wrote and illustrated children's books not only to support but also to please his numerous offspring. Charles H. Bennett excelled at caricature because of his nimble wit and exuberant fancy. Shadows (1856) — noted on the title-page of Old Nurse's Book — presented comical human figures casting clever animal silhou­ettes and was the artist's first success. This style of 'illusion' picture book was so popular with the young and so fragile in construction that few have survived. In 1857 Bennett adapted and illustrated, with originality and sophistication, The Fables of Aesop and Others Translated into Human Nature.
His most serious work was a sequence of character studies which he drew and etched for John Bunyan's Pilgrim's Progress. Unable to interest a publisher, Bennett appealed to Charles Kingsley whose Westward Ho! had been published in 1855. Impressed by Bennett's artwork, Kingsley offered the prestige of his name by writing a preface to Pilgrim's Progress which immediately secured Longmans & Co. as publishers in 1860. Mrs. Kingsley later described Bennett as 'a man of genius'. In 1865 Bennett joined the staff of Punch where his facile pen and biting satire, directed against contemporary politicians, assured him a warm welcome. Through this association he col­laborated with Richard Doyle in illustrating Mark Lemon's Fairy Tales (1868). Lemon was a founder and editor of Punch Magazine. Much of Bennett's work was engraved by Joseph Swain, the magazine's chief engraver.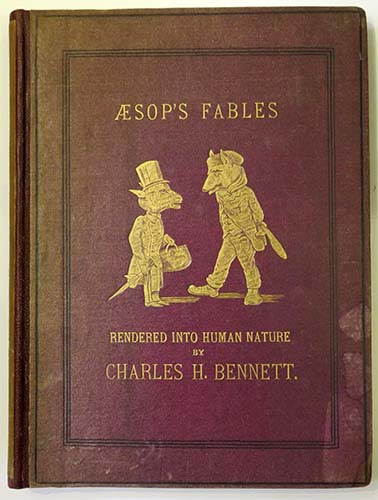 Charles H. Bennett suffered from chronic ill health and died suddenly at the age of thirty-seven, leaving his young family in financial difficulties which were ameliorated by the generosity of his colleagues, who organized a benefit evening of amateur theatri­cals. An obituary in Punch praised him as a man 'the power of whose hand was equaled by the goodness of his heart'.
In Old Nurse's Book of Rhymes, Jingles and Ditties (1858) Bennett selected and whimsically illustrated, with a wealth of comic detail, the traditional nursery rhymes. His designs, drawn directly on wood, were engraved by Edmund Evans and then hand-coloured. The verses are arranged alphabetically by initial letter. The title-page imprint connects the publishers, Griffith and Farran, to their famous predecessors, John Newbery and John Harris — a proud tradition. Charles Bennett's letter of dedication to Sydney Rogers probably is addressed to the young son of his fellow author-artist, William Harry Rogers (1825-1873). The front cover binding design, gold embossed on red pebbled cloth, is signed JL, the initials of John Leighton (1822-1912), a notable Victorian artist.
Source: English Illustrated Books for Children, edited by Margaret Crawford Maloney.
Books Illustrated by Charles Henry Bennett
Fables of Aesop (1857)
Old Nurse's Book of Rhymes, Jingles and Ditties (1858)
The Faithless Parrot (1858)
Birds, Beasts and Fishes (1859)
Proverbs with Pictures (1859)
The Nine Lives of a Cat (1860)
Little Breeches (1863)
The Book of Blockheads (1863)
Nursery Fun: the Little Folks' Picture Book (1863)
The Frog who Would A-Wooing Go (1864)
The Sorrowful Ending of Noodledoo (1865)
The Adventures of Young Munchausen (1865)
The Sad History of Greedy Jem (1865)
Lightsome and the Little Golden Lady (1867)
Mr. Wind and Madam Rain (1867)