Marcia Brown – American Author and Illustrator 1918-2015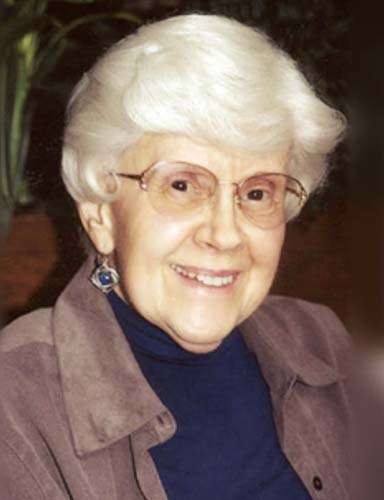 Of the thirty books Marcia Brown has writ­ten, translated, and illustrated, three have won Caldecott Medals and six have been named Caldecott Honor Books, an unprecedented achievement and proof of her success in por­traying the spirit of a story; Brown always wanted to illustrate children's books, particu­larly individual folk and fairy tales. After gradu­ating from the New York College for Teachers in 1940, she taught English and drama for three years before deciding to immerse herself in chil­dren's literature. At a time when the Central Li­brary in New York was the seminal hub of chil­dren's literature, she was hired into the New York Public Library system. Marcia Brown worked as an assistant librarian from 1943 to 1948, telling sto­ries, mounting exhibits, and meeting people involved in children's books from all over the world. During her tenure there, she continued taking art lessons with the hope of becoming a writer and an illustrator. This, plus her love of art, reading, and travel, provided the founda­tions for her stories.
Her first book, The Little Carousel (1946), focuses on a child's loneliness when he is left at home by himself. Barbara Bader has noted that at a time when picture books addressed "arche­types and universals," Brown's book saw the "personal and circumstantial." Stone Soup, win­ner of the 1948 Caldecott Medal, was the first of many folk and fairy tales Brown would illustrate. Brown firmly believes in the power of story as one of the building blocks children need in de­fining their personalities and in the power that pictures have in making tales memorable. Be­cause she believes that children need heroes with whom they can identify, she has presented ordi­nary people who achieve extraordinary feats a poor boy becomes Lord Mayor of London (Dick Whittington and His Cat, 1950); a penniless son becomes the Marquis of Carabas (Puss in Boots, 1952); a stepdaughter goes to the prince's ball (Cinderella, or the Little Glass Slipper, winner of the 1955 Caldecott Medal).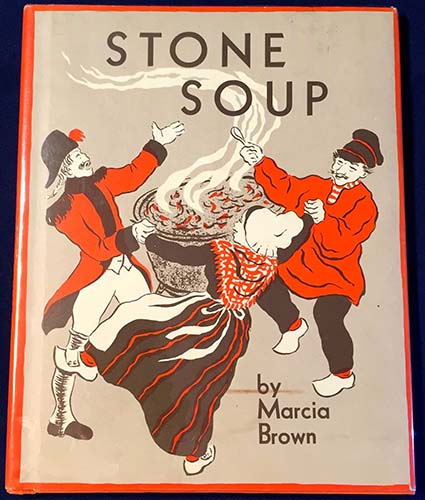 Further, Marcia Brown believes that "fairy tales are revelations of sober everyday fact. They are the abiding dreams and realities of the human soul," She also believes that an illustrator must feel the rhythm of the story in order to "interpret. . . and intensify its meaning." Brown has always been faithful to this creed; her hallmark is the originality she brings to her art. She has used wash and fine, pastels and ink, gouache and wa­tercolors, and linoleum cuts in her interpreta­tions: each time, she let the story dictate the me­dium. To evoke the endurance and spirit of fable, Brown turned to woodcuts for stories such as Once a Mouse, winner of the 1962 Caldecott Medal, Backbone of the King (1966), and The Blue Jackal (1977).
Because she believes in the vi­tal importance of passing down folklore from generation to generation, she was enthralled by a poem by the Swiss-born French writer Blaise Cendrars, which became Shadow, winner of the 1983 Caldecott Medal and her most powerfully illustrated book. This tale, inspired by African storytelling, reaches back and taps man's primal fear of die dark, hauntingly pulling ghosts, past and present, in and out of the subconscious. Through Shadow, Marcia Brown has created the dance Of dare eternal spirit of man, again1, successfully weaving timelessness through her work. In 1992 she won the Laura Ingalls Wilder Award for the body other work.
S.R.
Source: Children's Books and their Creators, Anita Silvey.
Marcia Brown Bibliography
The Little Carousel (Scribner's, 1946)
Stone Soup: An Old Tale, 1947
The Trail of Courage: A Story of New Amsterdam, 1948
Henry, Fisherman: A Story of the Virgin Islands, 1949
Face of Ennui, 1949
Dick Whittington and his Cat, 1950
Skipper John's Cook, New York: Junior Literary Guild and Charles Scribner's Sons, c1951
Puss in Boots, 1952
The Steadfast Tin Soldier, 1953
Anansi, the Spider Man: Jamaican Folk Tales, Philip Manderson Sherlock, author, 1954
Cinderella, or the Little Glass Slipper, 1954
The Flying Carpet, 1956
God's Voice in the Folklore: Nonsense Rhymes and Great Legends, 1956
Three Billy Goats Gruff, 1957
Felice, 1958
Peter Piper's Alphabet: Peter Piper's Practical Principles of Plain and Perfect Pronunciation, 1959
Tamarindo!, 1960
Once a Mouse…: A Fable Cut in Wood, 1961
A Budget of Lively Exploits, or H.M. Indefatigable: Being the Merry History of Helen Masten behind the Library Lions, 1961
The Wild Swans, 1963
The Conquest of Mexico: A Study in Historiography, 1965
Backbone of the King: The Story of Paka'a and his son Ku, 1966
Neighbors, 1967
How, Hippo!, 1969
Giselle, or The Wilis, 1970
The Bun: A Tale From Russia, 1972
The Snow Queen, 1972
All Butterflies: An ABC, 1974
Bougainville: The Establishment of a Copper Mine, 1974
From Tiger to Anansi, 1975
American Picture Books from Noah's Ark to The Beast Within, 1976
The Blue Jackal, 1977
Giselle: A Role for a Lifetime, 1977
A Man's Reach: The Autobiography of Glenn Clark, 1977
Listen to a Shape, 1979
Touch Will Tell, 1979
Walk With Your Eyes, 1979
Shape and Form, 1979
Touch and Feel, 1979
Look and See, 1979
Shadow, 1982 — Caldecott Medal winner
Le Roman Féminin d'Haïti: Forme et Structure, 1985
Narragansett Bay Issue Assessment: Public Perceptions, 1987
L'Acteur Féminin dans Amour: Colère et Folie de Marie Chauvet, 1987
Sing a Song of Popcorn: Every Child's Book of Poems, 1988
The Sea of Gold and Other Tales from Japan, 1988
Of Swans, Sugarplums, and Satin Slippers: Ballet Stories for Children, 1991
Feminist Perspectives: Six Women from the South discuss Gender in the Development Process, 1993
75 Years of Children's Book Week Posters: Celebrating Great Illustrators of American Children's Books, 1994
How the Ostrich Got its Long Neck: A Tale from the Akamba of Kenya, 1995
We Were Innocent: Eight Vignettes, 1997
Act It Out! Teacher's Planning Guide, 1997
Arthur and the Lost Diary: A Chapter 9 Book, 1998
Here Light Opens, 2000
Arthur and the Pen-Pal Playoff: A Chapter 6 Book, 2001
Vittoria Colonna, Gaspara Stampa, and Louise Labé: Their Contribution to the Development of Renaissance Sonnet, 2002
Brand Me, Inc., 2004
Calculate with Confidence, 2016