Laura Ingalls Wilder – American author, 1867-1957.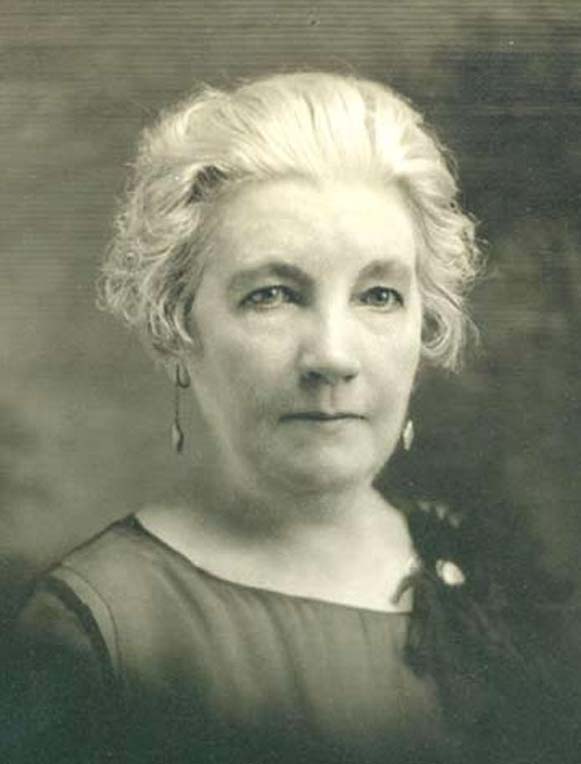 American author, 1867-1957. Laura Ingalls Wilder's Little House books chronicle life in the Midwest from 1870 to 1894. Written in the third person, with Wilder as principal protagonist, the books are rich in the social history which surrounds the effects of the Homestead Act and last phase of American westward expansion.
Readers of the Little House books learn the intricacies of frontier house-building, agriculture, home economics, entertainment, schooling, and railroad and town build­ing. In addition to Wilder's vivid descriptions of daily life in the pioneer era, her books recount the necessity of family solidarity versus an uncertain wilderness and the virtues of independent living far removed from gov­ernment control.
Laura Ingalls Wilder's career as a children's author started in 1932, when at sixty-five she published her first book, Little House in the Big Woods. The book described the Ingalls family's life in the forest near Pepin, Wisconsin, where the first two children, Mary and Laura, were born. The parents, Charles and Caroline Ingalls, were infected with the "go west" spirit of the post-Civil War period.
They took their family to the area near Independence, Kansas, described in Little House on the Prairie (1935), but later returned north to Walnut Grove, Minnesota, in On the Banks of Plum Creek (1937). Wilder omitted two years from her saga (1876 to 1878), but resumed the story with her family's journey west to Dakota Territory in 1879 in By the Shores of Silver Lake (1939). The Long Win­ter (1940) and Little Town on the Prairie (1941) docu­ment homesteading and the building of the town of De Smet, South Dakota.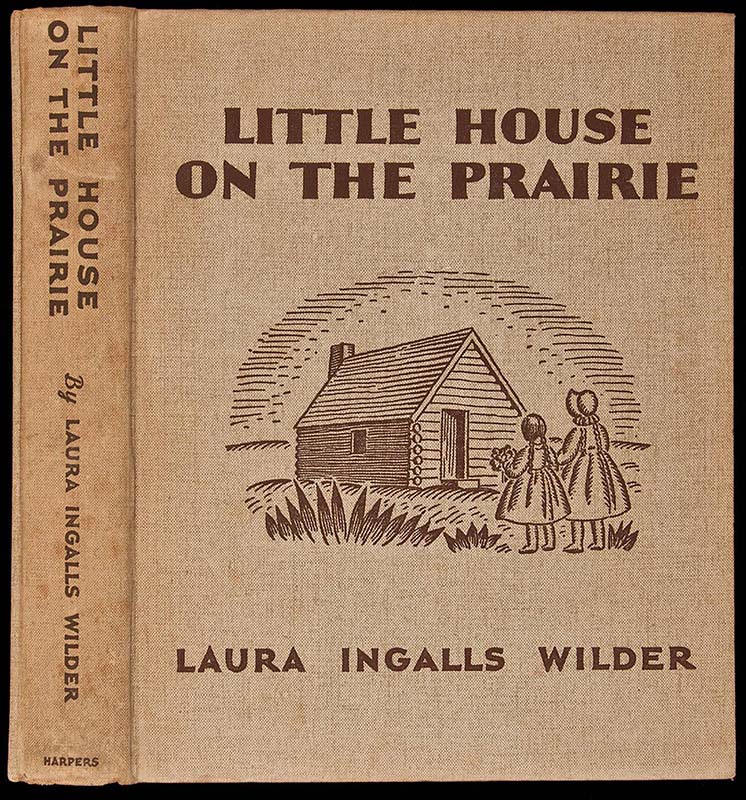 While the early books of the Little House series are written for middle-grade children, the later ones show a decidedly more complex plot structure and character development as Laura Ingalls enters young adulthood. The last of the series, These Happy Golden Years (1943), relates Laura's teaching career, courtship, and marriage to Almanzo Wilder in 1885. Chronologically, Wilder's second published book was Parmer Boy (1933), which is the story of her husband's boyhood near Malone, New York, The Wilder boys, Almanzo and Royal, reappear as homesteaders in the last four books, with Almanzo assuming the male protagonist role, in place of of Pa Ingalls.
As farmers, Laura and Almanzo Wilder homesteaded near De Smet from 1885 to 1889. Their hardships with weather, disease, and other disasters make up the plot of The First Four Years (1971), published from an unpol­ished first draft fourteen years after Wilder's death. Its worth is largely informational, and it pales in compari­son to the detailed, skillfully told earlier books in the series. The book introduces the only Wilder child to survive to adulthood, Rose (1886-1968). Rose Wilder Lane edited her mother's travel diary of her 1894 jour­ney from South Dakota to Mansfield, Missouri, in On the Way Home (1962).
The Wilders moved to the Mis­souri Ozarks, settling on Rocky Ridge Farm, which became the permanent family home. Laura Wilder's activities, in addition to her role as a farm wife, included the management of the Mansfield Farm Loan Associa­tion in the 1920s, numerous community betterment projects, and approximately fifteen years (1911-1926) as a country journalist. Wilder's essays, features, poetry, and interviews were printed regularly by The Missouri Ruralist and also appeared in McCall's, Country Gentle­men, and other regional publications. Some of these contributions are gathered in A Little House Sampler (1989).
Rose Wilder left the family farm for a more liberating career in business and journalism. Her influence on her mother's writing is evident in West from Home (1974). which consists of letters Wilder sent to her husband while visiting their journalist daughter in San Francisco in 1915. The Wilder-Lane writing collaboration has been examined with use of their manuscripts, letters, and the daughter s diaries.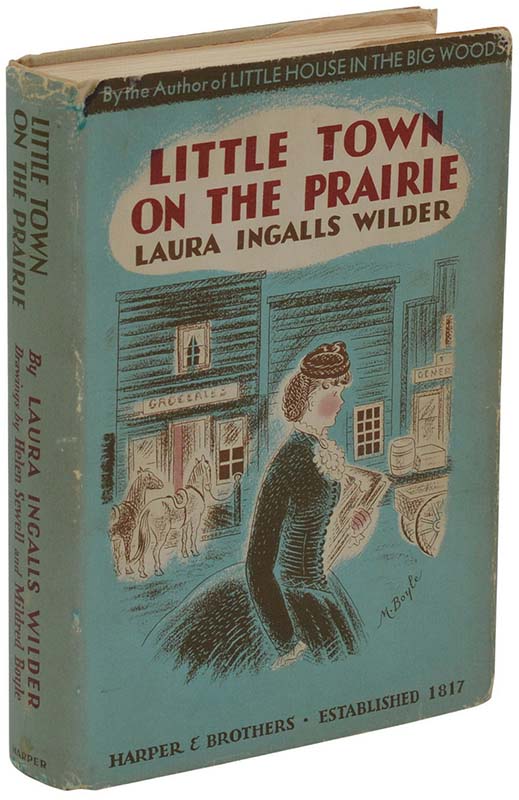 In addition to her own work as a biographer, short story writer, foreign correspondent, and novelist, Lane successfully managed and promoted her mother's Little House books during the 1930s and 1940s. She alternated between tutor, publicist, intermediate agent, and editor through the twelve-year writing process of the Wilder titles. Wilder was accurate in later describing the books as truthful and autobiographical in content, but her daughter's skilled hand helped greatly in transforming memoir into compelling fiction. Editorial staff at Har­per and Brothers found little need for revision on the Wilder manuscripts; essentially, that role was assumed by Lane, sub rosa.
The Little House books brought immediate accolades to their author; although none earned Newbery Medals, five were runners-up for that honor. The books enjoyed a grassroots popularity, and, because of their value as Americana, they quickly became entrenched in school curricula, where they show no signs of diminishing popularity. In 1993, a conservative estimate of Little House book printings topped forty million copies. They are also widely translated into foreign languages.
Fol­lowing World War II, the United States State Depart­ment ordered the translation of Wilder titles into Ger­man and Japanese for inclusion in education programs in those countries. The books have remained perennial­ly popular in Japan. Although Wilder's meticulous, descriptive prose style diminishes the need for illustra­tions, Garth Williams's 1953 drawings for the Little House series provided sensitive, graphic, and authentic art to enhance the author's words. His artwork replaced that of Helen Sewell and Mildred Boyle, which had appeared in earlier editions.
In 1954 the American Library Association created the Laura Ingalls Wilder Award, first to honor Wider, and later to recognize creators of children's books whose cumulative work represents significant contributions to the field. Wilder was widely honored for her work dur­ing her lifetime and beyond. Libraries, schools, parks, highways, and streets bear her name. The settings of her books and her former homes are all preserved or me­morialized. But Wilder's greatest tribute is the contin­ued reading of her Little House books, which seem to Cross all barriers of age, language, or nationality. Her life and writings make her perhaps the quintessential Amer­ican pioneer.
§ William Anderson
Source: Children's Books and their Creators, Anita Silvey.
---
List of Laura Ingalls Wilder Books
Little House books
The eight "original" Little House books were published by Harper & Brothers with illustrations by Helen Sewell (the first three) or by Sewell and Mildred Boyle.
Little House in the Big Woods (1932)—named to the inaugural Lewis Carroll Shelf Award list in 1958
Farmer Boy (1933)—about Almanzo Wilder growing up in New York
Little House on the Prairie (1935)
On the Banks of Plum Creek (1937)
By the Shores of Silver Lake (1939)
The Long Winter (1940)
Little Town on the Prairie (1941)
These Happy Golden Years (1943)