Norton Juster – American Author 1929-2021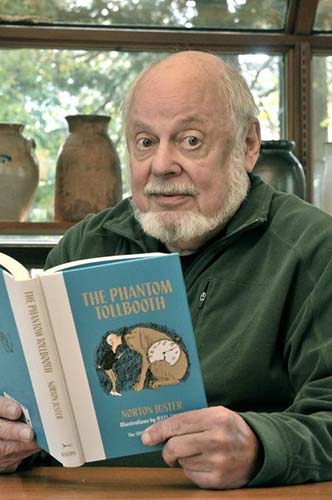 Juster Norton's The Dot and the Line (1963), a small alle­gorical book detailing the precarious romance of a straight line and a round dot who learn to accept their differences and adapt in order to get along, has always been popular with adults and children. Alberic the Wise and Other Jour­neys (1965) contains three brief fantasy stories about searching for fulfillment in life. Juster is best known, however, for his first book, The Phantom Tollbooth (1961), which is a favorite fantasy among children.
When young Milo, bored with life and its possibilities, drives his small electric car past the toy tollbooth that has mysteriously appeared in his room, he enters a world ruled by words and numbers. An architect by trade, Juster Norton has dis­played considerable skill in building with words; by depicting common sayings, phrases, and cliches literally, he has thrown a spotlight on the idiosyncrasies of human behavior and created a believable, though absurd, secondary world. Populated by an unforgettable cast of characters, including Tock the Watchdog, whose body is an alarm clock; Kakofonous A. Dischord, Doctor of Dissonance, and his assistant, the awful Dynne; and two unique, oversize insects called Humbug and the Spelling Bee, the Kingdom of Wisdom has problems so outrageous that Milo becomes determined to help.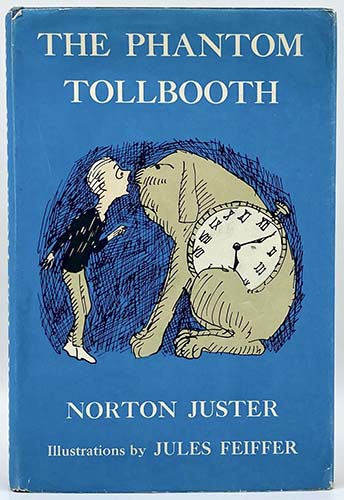 His journey to rescue Rhyme and Reason, twin sisters banished by their feuding brothers, King Azaz of Dictionopolis and the Mathemagician, ruler of Digitopolis, takes him from one fantastic region of the land to another. The broad humor and magnificent wordplay carry the reader swiftly through a text that possesses a strong thematic base. Although perhaps too directly stated at times, the stress on communication and cooper­ation — the elements obviously lacking in this fantasy world — and on the importance of con­tinually seeking knowledge for its own sake will always be pertinent. Highlighting the pitfalls into which individuals so easily fall, the fabulous farce ultimately reaffirms creativity, inquisitive­ness, and optimism.
A.E.D.
Source: Children's Books and their Creators, Anita Silvey.
Norton Juster Bibliography
The Dot and the Line: A Romance in Lower Mathematics (1963)
Stark Naked: A Paranomastic Odyssey (1969), illus. Arnold Roth
Alberic the Wise and Other Journeys (1972)
So Sweet to Labor: Rural Women in America 1865-1895 (editor) (1979) — non-fiction
Otter Nonsense (1982), illus. Eric Carle
As: A Surfeit of Similes (1989)
A Woman's Place: Yesterday's Women in Rural America (1996)— non-fiction
The Hello, Goodbye Window (Michael Di Capua Books, 2005), illus. Chris Raschka
Sourpuss and Sweetie Pie (2008), illus. Chris Raschka
The Odious Ogre (2010), illus. Jules Feiffer
Neville (2011), illus. G. Brian Karas