Endless Night is a crime novel by Agatha Christie, first published in the UK by the Collins Crime Club on 30 October 1967 and in the US by Dodd, Mead and Company the following year. The UK edition retailed at eighteen shillings (18/-) and the US edition at $4.95. It was one of her favourites of her own works and received some of the warmest critical notices of her career upon publication.
Plot Summary
[SPOILER ALERT]
The story begins with Michael Rogers, a twenty-two year old, telling the reader about his time as a chauffeur and how he met the architect Rudolf Santonix. He plans to one day have a house built by Santonix. Mike is poor though, and so can't afford to hire Santonix to build the house he wants. Michael explains that he's a "rolling stone"; he isn't content doing just one thing and so has held down many different jobs over the years. One day he wants to settle down in his dream house with his dream woman, but for now he can't imagine settling down.
Mike is walking along a village road near the Gipsy's Acre property one day when he falls in love with the grounds. He fantasises about one day building a house there with the woman he loves. Curious to see what an auction is like, he goes to the auction for the property. Several people are interested in buying it, but the bid doesn't go high enough and no one ends up getting the property rights. Michael suspects that this is because of the supposed gipsy's curse over the property.
While lurking on the grounds, he meets Fenella (Ellie) Guteman by chance, a wealthy heiress who wants to escape from her world of snobby friends, begging relatives, and restrictive financial advisors. She introduces herself as Fenella "Goodman," not wanting him to know her true identity as an heiress. They get along quite well and it seems like love at first sight. He shares his dream of owning the acre with her and she seems to reciprocate and encourage the idea. Ellie also mentions her lovely hired companion, Greta Andersen. Apparently, Greta has acted like a best friend to her for several years now and is described as very efficient. Mike appears incredibly jealous of their close relationship, despite never actually having met Greta before.
Mike then sees Ellie on and off over the next few weeks before she has to travel abroad for her twenty-first birthday. While away from Ellie, Michael discovers that the property he wants has finally been bought. He also returns to his mother's house to ask her for money to marry Ellie. It's quite clear that he doesn't like his mother and she doesn't like him. The situation reads as though she simply disapproves of his spontaneous lifestyle, but Michael claims that his mother knows him all too well. He leaves without the money.
When Ellie returns, she reveals to Mike that she is in fact, one of the wealthiest women in America and that she was the person who bought Gipsy's Acre. She wants to marry him and fulfil his dream of building a beautiful house there. She doesn't even mind leaving her home and family in America to move to England for him. Their marriage is a small event without much fanfare, behind her family's back. Michael is poor and Ellie fears that her family would not approve of him. She is correct, and once they find out, they are highly disapproving of Mike. They even fire Greta for helping arrange the secret marriage. Regardless, Ellie refuses to leave Michael.
Once married, they hire Santonix to build a mansion for them on the acre. After it's finished, Santonix remarks that this will probably be the last house he ever builds due to his failing health. On the night they move in, a rock is thrown through their window, telling them to leave the acre. Ellie is shaken by the incident, but not enough to want to move. Ellie entertains the idea of inviting Greta to live with them at the acre, feeling bad for getting her fired, but Michael doesn't like the idea.
Mike and Ellie discover a small alcove near the cliffs on their property. They fix it up and build a small folly there, but they don't tell anyone about it, using it as a secret getaway area just for them.
The newlywed couple spend the next few weeks meeting the villagers. Major Phillpot stands out as a man wealthy in land but not money, seen as the "god" of the village; he becomes close with Michael. Claudia Hardcastle is another villager of note; she rides horses and becomes good friends with Ellie. They start riding horses together regularly. Ellie reveals that although she is naturally allergic to horses, she takes pills to calm her allergies before riding. She offers them to Claudia, who is also mildly allergic. Later, it is revealed that Claudia is Santonix's half sister and used to be married to one of Ellie's lawyers, Stanford Lloyd.
Meanwhile, an old gipsy woman, Mrs Lee, continues to warn Mike and Ellie of a curse and instructs them to leave the house they built. Ellie grows increasingly wary of her, so much so that Michael goes to the police station to inquire about Mrs Lee. He learns from an officer there, that in the past, Mrs Lee had been bribed with money to terrify other residents. Mike wonders if someone is doing that again.
In the meantime, much to Ellie's chagrin, her American family refuses to leave her alone. Her step mother, Cora, has even moved across the ocean to be in the same country as her. Ellie's lawyers also keep in constant contact with her. Some of them claim it's because she is fragile and needs to be protected, since she has a bad heart. Her head lawyer, Mr Lippincott (known to Ellie as 'Uncle Andrew') is especially concerned over her marriage to Michael.
When Ellie injures her ankle, she needs someone to help take care of her and she finally convinces Michael to let Greta stay with them. Ellie begins to worry about Michael and Greta, as they don't appear to like each other and even get into a very heated argument one night.
Michael's mother comes to visit them at Gipsy's Acre, having never met Ellie before. She wants to see her daughter-in-law. Michael has made it clear that he doesn't want his mother to visit the house or see Ellie, so they meet in private. Ellie only mentions this later in passing to Michael, but he becomes enraged that they met behind his back. She finds his anger curious.
One day, like normal, Ellie goes out horse riding in the morning. She goes alone because Claudia is going shopping with Greta at the outlets that day. Before she leaves, Mike invites Ellie to lunch later with him and Major Phillpot. She accepts their invitation. Mike then goes into town with Major Phillpot and attends an auction for various items. Being rich now, he's able to afford whatever he wants and outbids several others to buy a small gift for Ellie. After the auction, he thinks he sees two people resembling Claudia and one of Ellie's lawyers driving away in a car. He thinks it odd, since Claudia was supposed to be shopping at the outlets and the lawyer was supposed to be in America.
While at lunch with Major Phillpot, Mike begins to worry about the fact that Ellie has not yet joined them. She never turns up to lunch with Mike and Phillpot; when Mike rings back to Gipsy's Acre, he learns that she hasn't yet returned from her morning ride, which she should have come back from by lunchtime. Mike and Phillpot search the forest around the house; eventually, Mike discovers her dead body, having sustained no apparent injuries. The local police determine that Ellie died of shock when she was thrown from her horse. Several witnesses come forward, claiming that they saw a woman in the woods the same time Ellie was riding her horse. Based on this, authorities believe it was Mrs Lee who scared the horse on purpose and murdered Ellie by accident, not knowing she had a heart condition.
At the inquest, it is revealed that a gold lighter was found in the alcove with the initial 'C' on it. It could either belong to Claudia Hardcastle, her riding companion, or Cora, her stepmother. The inquest is left incomplete though, due to the fact that Mrs Lee does not show up in court. Mrs Lee is deemed missing.
After the inquest, Michael travels to America to attend Ellie's funeral with her family and collect the inheritance. While there, he hears that Mrs Lee has been found dead in a quarry, and Claudia Hardcastle has also died while out riding her horse. He wonders if it can be a coincidence.
From Mr Lippincott, he also officially learns that Claudia used to be married to Stanford Lloyd, another one of Ellie's lawyers (the one he thought he saw her with that day). Mr Lippincott asks Mike if he ever knew Greta before meeting Ellie. Michael says no. Mr Lippincott says that he has a letter for Michael, but that he'll send it in the mail so he gets it when he arrives back in England.
Before returning to England, Mike goes to visit Santonix on his deathbed in California, his failing health having worsened over the course of the novel. Before Santonix dies, he screams, "You should have gone the other way!" Feeling disturbed by this, Mike returns to the UK on a sea voyage, giving him time to reflect.
When he finally returns to his dream home, he opens the door to his dream woman: Greta Andersen. He reveals how he and Greta had met many years earlier in Germany. They had fallen in love and devised a plan to take Ellie's money. Greta fixed it so Ellie would meet Michael at the Gipsy's Acre auction that day. In reality, he already knew exactly who Ellie was. Mike and Greta pretended not to know each other and even hate each other so no one would suspect them. They plan to get married and share Ellie's wealth now that she's gone, the cover story being, both of them were so close to Ellie, no one else could understand the loss except each other.
In reality, they killed Ellie with cyanide, putting it inside her allergy pills that she took prior to her horse ride. Mike was the one who paid Mrs Lee to frighten Ellie and raise suspicion of the heart shock theory and the possible curse. To eliminate Mrs Lee as a witness, Michael and Greta pushed her into a quarry. Claudia Hardcastle was unintentionally poisoned after finding and taking some of Ellie's pills in the alcove. She was the one who left the lighter by accident. It is also implied that Santonix, given his proximity to Mike during the false courtship and marriage, was suspicious of Mike's true intentions.
Michael and Greta celebrate what they have done, but when Michael opens the letter from Mr Lippincott, he is horrified to find a picture of himself and Greta years ago in Germany. He becomes paranoid that everyone knows the plot he and Greta formulated. He starts to lapse and sees Ellie everywhere he looks. Greta tries to assure him that it is nothing, but, in a fit of psychotic rage, he strangles Greta.
Shortly afterwards, the police and the local doctor arrive, their suspicions aroused by Claudia Hardcastle's death. They find him sitting with Greta's corpse, slowly losing his sanity.
It is revealed that after Mike was arrested, he wanted to write down the entire story from his perspective; the novel is the account written down by Mike. He then recounts all of the bad things he has done; as a child, he drowned his friend in a pond to steal his watch. As a young adult, he let another friend bleed to death after a mugging just so he could steal all of the money on his person. He always hated his mother because he thought that she was suspicious of him. She was the only person (perhaps other than Santonix) who could see through him. This is why he was angry that Ellie had met his mother: he was worried his mother might reveal his true character to her.
He wonders if he could have ever actually been happy with Ellie and why he threw his chance with her away. He wonders if he ever did love her. The novel ends.
Publication history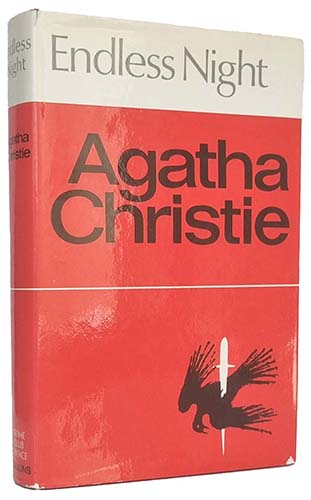 The novel was published in 1967. Christie later said she normally wrote her books in three to four months but wrote Endless Night in six weeks. The novel is dedicated "To Nora Prichard from whom I first heard the legend of Gipsy's Acre." Nora Prichard was the paternal grandmother of Mathew, Christie's only grandson. Gipsy's Acre was a field located on a Welsh moorland. The Times Literary Supplement of 16 November 1967 said, "It really is bold of Agatha Christie to write in the persona of a working-class boy who marries a poor little rich girl, but in a pleasantly gothic story of gypsy warnings she brings it all off, together with a nicely melodramatic final twist."
1967, Collins Crime Club (London), 30 October 1967, Hardcover, 224 pp
1968, Dodd Mead and Company (New York),
1968, Hardcover, 248 pp 1969, Pocket Books (New York), Paperback, 181 pp
1970, Fontana Books (Imprint of HarperCollins), Paperback, 192 pp
In the US, the novel was first serialised in two parts in The Saturday Evening Post from 24 February (Volume 241, Number 4) to 9 March 1968 (Volume 241, Number 5) with illustrations by Tom Adams.
Endless Night – First Edition Book Identification Guide
The books are listed in the order of publication. While the majority of Agatha Christie's books were first published in the UK. There are many titles that were first published in the US. The title of the book may differs from the UK edition in some cases.
| Year | Title | Publisher | First edition/printing identification points |
| --- | --- | --- | --- |
| 1967 | Endless Night | William Collins & Sons, London, [1967] | First edition. "© Agatha Christie, Ltd., 1967" stated on the copyright page. No statement of later printings. Red cloth lettered in gold. Price 18s. |
| 1968 | Endless Night | Dodd, Mead & Co, NY, [1968] | First American edition. "First published … 1967" stated on the copyright page. Green yellow cloth, blue spine, lettered in gold. Price $ 4.95. |
Note about Book Club Editions (BCE) and reprints:
UK: You can see statements of later reprint dates or of book club on the copyright page.
US: The US reprint publishers usually use the same sheets as the first edition and are harder to identify by looking at the title page or the copyright page. One may identify a BCE by looking at the DJ, which doesn't have a price on top of the front flap and a "Book Club Edition" imprint at the bottom. If the dust jacked is clipped at both the top/bottom of the front flap. You can safely assume it's a BCE . If the book is missing the dust jacket. Later BCE editions can be identified by its plain boards, while first printings are issued in quarter cloth.
Please refer to the gallery for detailed images of true first edition bindings and dust jackets.
Endless Night – First Edition Dust Jacket Identification Guide
First edition bindings and various dust jacket printings identification.
Reference: