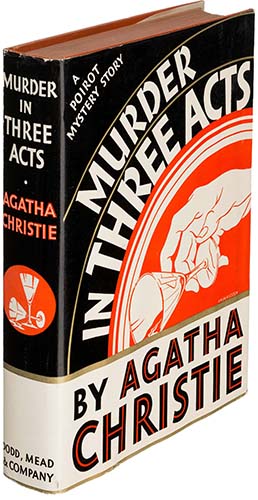 Three Act Tragedy is a work of detective fiction by British writer Agatha Christie, first published in the United States by Dodd, Mead and Company in 1934 under the title Murder in Three Acts and in the UK by the Collins Crime Club in January 1935 under Christie's original title. The US edition retailed at $2.00 and the UK edition at seven shillings and sixpence (7/6) (approximately equivalent to $41 in 2021 and approximately equivalent to £28 in 2021 respectively).
The book features Hercule Poirot, supported by his friend Mr Satterthwaite, and is the one book in which Satterthwaite collaborates with Poirot. Satterthwaite previously appeared in the stories featuring Harley Quin, in particular those collected in The Mysterious Mr Quin (1930).
References in other works
Colonel Johnson alludes to the events of this story in part 3, section V of Hercule Poirot's Christmas. Poirot refers to the events of this novel in The A.B.C. Murders (1936) when he and Arthur Hastings reunite after not seeing each other for several years. Poirot is telling Hastings about his experiences since retiring. He relates that he was almost "exterminated" himself recently by a murderer who was "not so much enterprising as careless".
Plot Summary
[SPOILER ALERT]
Renowned stage actor Sir Charles Cartwright hosts a dinner party at his home in Cornwall. His guests include: Hercule Poirot; psychiatrist Sir Bartholomew Strange; Hermione "Egg" Lytton Gore and her mother; Captain Dacres and his wife Cynthia; the playwright Muriel Wills; Egg's friend Oliver Manders; Mr Satterthwaite; and Reverend Babbington and his wife. When the Reverend Babbington suddenly dies after sipping one of the cocktails being served, Cartwright believes it was murder, though Strange finds no poison in his glass. Some time later, Poirot is in Monte Carlo and hears news from Satterthwaite and Cartwright that Strange died from nicotine poisoning after drinking a glass of port wine, despite there being no trace in the glass. With the exception of the three men, Strange's guests are the same ones who attended Cartwright's party. Both Satterthwaite and Cartwright return to England to investigate the murders. They learn that prior to the party, Strange had sent his usual butler away for two months, and that he exhibited strange behaviour as if expecting something. A temporary replacement he hired named Ellis has since disappeared, with Satterthwaite and Cartwright finding drafted blackmail letters from Ellis in his room. Babbington's body is soon exhumed, showing he too died from nicotine poisoning.
Cartwright, Satterthwaite and Egg partner to investigate the deaths, joined by Poirot as a consultant. Each guest has a possible motive or suspicious circumstances surrounding Strange's death, but no connection to Babbington. When Wills is interviewed, she recalls noticing Manders apparently drop a newspaper cutting on nicotine, and that Ellis had a birthmark on one hand; she later disappears. Poirot stages a party where he demonstrates how the poisoned glasses were substituted by the murderer while everyone's attention was on the victim. He then receives a telegram from Mrs De Rushbridger, a patient at Strange's Yorkshire sanatorium, who arrived on the day Strange died. Poirot and Satterthwaite go to meet her, but find that she has in turn been murdered. Learning that Cartwright's servant, Miss Milray, is hastily heading to Cornwall, Poirot follows her to find out why.
Upon his return, Poirot assembles Cartwright, Satterthwaite and Egg, eventually denouncing Cartwright as the killer. Cartwright wants to marry Egg, but already has a wife who resides in a lunatic asylum. As he cannot divorce her under British law, he decided to conceal this knowledge by murdering Dr Strange, his oldest friend and the only one who knew about the marriage. After his party, Cartwright convinced Strange to let him assume the role of his butler as a joke, and then poisoned him during his party and planted the nicotine cutting on Manders after tricking him into being at Strange's home. He falsified Ellis's blackmail letters, then travelled to Monte Carlo the day after to establish his alibi. The first murder was a dress rehearsal for the second to test whether the glass could be switched unseen, and the victim was selected at random. The only safe guests were Cartwright; Strange, who disliked cocktails; and Egg, to whom Cartwright gave a safe glass. Mrs De Rushbridger was used by Cartwright as a red herring to distract from Strange's behavior towards "Ellis", and he killed her to divert suspicion and prevent her revealing her ignorance of the case.
Poirot reveals that the nicotine came from rose spray distilled by Cartwright at an old tower near his Cornwall residence; the equipment was found by him when Miss Milray went to destroy it. His suspicions about Cartwright were based on several facts; Cartwright was the most likely to have poisoned the cocktail, his passport book shows his return to England to play Ellis, Miss Milray's actions were motivated by a secret love for her employer, Miss Wills noted Cartwright's similarity to Ellis and was spirited away by Poirot to protect her, and the telegram supposedly from Mrs De Rushbridger was addressed to Poirot when she knew nothing of his involvement. Cartwright flees, but Poirot says that he will "choose his exit" of public trial or suicide.
(In certain American editions, Poirot tells Cartwright that doctors and policemen are awaiting him in the next room. Cartwright, unable to believe someone as important as himself has failed, tries to prove Poirot a liar and is arrested when he opens the door.)
The shocked Egg is picked up by Manders, whom she initially cared for before Cartwright appeared. In the aftermath, Satterthwaite remarks how terrible it was that anyone, himself included, could have drunk the poisoned cocktail. Poirot remarks there was an even more terrible possibility: "It might have been me."
Publication history
1934, Dodd Mead and Company (New York), Hardback, 279 pp
1935, Collins Crime Club (London), January 1935, Hardback, 256 pp
1945, Avon Books (New York), Paperback, (Avon number 61), 230 pp
1957, Fontana Books (Imprint of HarperCollins), Paperback, 192 pp
1961, Popular Library (New York), Paperback, 175 pp
1964, Pan Books, Paperback (Pan number X275), 203 pp
The novel's true first publication was the serialisation in the Saturday Evening Post in six instalments from 9 June (Volume 206, Number 50) to 14 July 1934 (Volume 207, Number 2) under the title Murder in Three Acts, with illustrations by John La Gatta. This novel is one of two to differ significantly in American editions (the other being The Moving Finger), both hardcover and paperback. The American edition of Three Act Tragedy changes the motive of the killer, but not so significantly as to require adjustment in other chapters of the novel.
In 1935 the novel became Christie's first title to sell 10,000 copies in its first year.
Murder in Three Acts – First Edition Book Identification Guide
The books are listed in the order of publication. While the majority of Agatha Christie's books were first published in the UK. There are many titles that were first published in the US. The title of the book may differs from the UK edition in some cases.
| Year | Title | Publisher | First edition/printing identification points |
| --- | --- | --- | --- |
| 1934 | Murder in Three Acts | Dodd, Mead & Co, NY, [1934] | First edition. "Copyright, 1934" stated on the copyright page. No statement of later printings. Orange cloth lettered in black. Price $ 2.00. |
| 1935 | Three Act Tragedy | William Collins & Sons, London, [1934] | First English edition. "Copyright, 1935". No statement of later printings. Orange cloth lettered in black. Price 7/6. |
Note about Book Club Editions (BCE) and reprints:
UK: You can see statements of later reprint dates or of book club on the copyright page.
US: The US reprint publishers usually use the same sheets as the first edition and are harder to identify by looking at the title page or the copyright page. One may identify a BCE by looking at the DJ, which doesn't have a price on top of the front flap and a "Book Club Edition" imprint at the bottom. If the dust jacked is clipped at both the top/bottom of the front flap. You can safely assume it's a BCE . If the book is missing the dust jacket. Later BCE editions can be identified by its plain boards, while first printings are issued in quarter cloth.
Please refer to the gallery for detailed images of true first edition bindings and dust jackets.
Murder in Three Acts – First Edition Dust Jacket Identification Guide
First edition bindings and various dust jacket printings identification.
Reference: