Roger Duvoisin – Swiss-born American author and illustra­tor, 1904-1980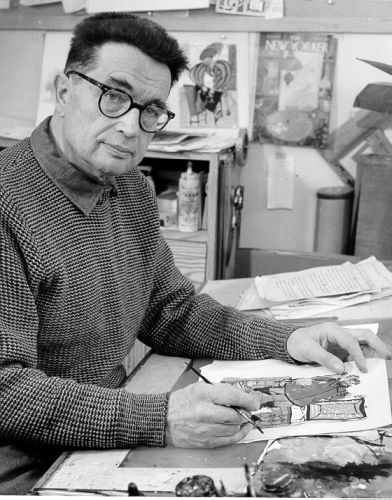 The internationally popular books by Roger Antoine Duvoisin are praised for the author's skillful art and writing and his sure sense of what delights children. A prolific children's book creator, Duvoisin created over forty of his own books and illus­trated more than one hundred forty written by others. He was one of the few who understood and mastered the unity found only in the finest children's literature.
As a child, Roger Duvoisin loved to draw, laboring to make his images lifelike. He was encouraged by his father, an architect, and his godmother, a well-known painter of enamels. After art school he began to paint murals and stage scenery, to make posters and illustra­tions. He became manager of an old French pottery plant, then turned to textile design, the occupation that brought him to the United States. When the textile firm folded, during the Depression, Duvoisin decided to remain in the United States, turning his diverse skills to children's books and magazine illustration.
Roger Duvoisin's books all have a compelling graphic quali­ty. The hallmarks are fine craftsmanship, a strong sense of composition and design, and humor. Of the books he illustrated for other writers, he is probably best known for the popular "Happy Lion" series, written by his wife, Louise Fatio. Equally notable is his 1948 Caldecott Medal-winning art in White Snow, Bright Snow, by Alvin Tresselt, part of a series about weather. Every book provided new challenges, which Duvoisin eagerly embraced.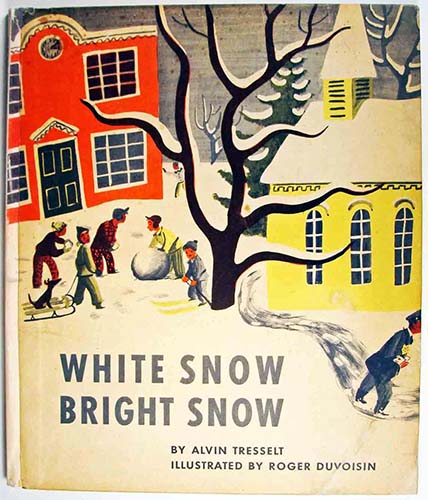 In addition to his artistic mastery, Duvoisin was a skilled writer. He is respected for his translation and illustration of medieval European folktales, such as The Crocodile in the Tree (1973), and for his alphabet book, A for Ark (1952). But it is his homely animal tales that established him as a premier bookmaker. His delight­fully original characters—personable animals such as Petunia the goose, Veronica the hippo, and Donkey- Donkey—are drawn with an economical humorous line and graced with understated color.
Their escapades, the way they strut, poke, and race across the page, create drama and capture the sympathy of the reader. And Duvoisin's text is part of the book's unity, reinforcing the rhythm and pacing of the page. It is this consum­mate professional bookmaking, from sketch to text, from layout to jacket design, that sets him apart from many other children's book creators. Duvoisin believed, "A beautiful book is a beautiful object which the child may learn to love."
More recent illustrated books use fewer pages and employ tighter plots, so Duvoisin's stories can seem both overly long and repetitious. And, unfortunately, Duvoisin felt it important to do more than "merely entertain." He valued "that little sneaking desire to teach and to moralize, to pass on to children what we think of our world," a trait now dismissed as didactic. Still, Roger Duvoisin's art remains fresh, and his work has lasting appeal, largely because of his affection and respect for his audience. Children still respond to his sense of free­dom, friendly humor, and playfulness, and his charac­ters remain some of the best loved of all time.
S.A.B.
Source: Children's Books and their Creators, Anita Silvey.
---
Roger Duvoisin Books
Donkey–Donkey (1934)
And There Was America (1938)
Fairy Tales from Switzerland. The Three Sneezes and Other Swiss Tales (1941)
The Christmas Whale (1945)
Petunia (1950)
Petunia and the Song (1951) Petunia's Christmas (1952)
The Talking Cat and Other Tales of French Canada by Natalie Savage Carlson (1952)
Petunia Takes A Trip (1953)
The Night Before Christmas (1954)
Easter Treat (1954)
Happy Lion (1954)
The House of Four Seasons (1956)
Petunia, Beware! (1958)
Day and Night (1960)
The Happy Hunter (1961)
The Miller, His Son, and Their Donkey (1962)
Our Veronica Goes to Petunia's Farm (1962)
Spring Snow (1963)
Veronica's Smile (1964)
Petunia, I love You (1965)
Hide and Seek Fog (1965)
The Crocodile In The Tree (1972)
Jasmine (1973)
Petunia's Treasure (1975)
Crocus (1977)
Snowy and Woody (1979)