Sir Quentin Blake – British Author & Illustrator 1932-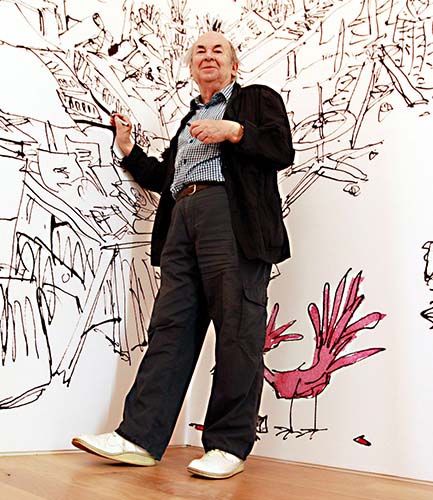 Sir Quentin Blake began draw­ing for Punch and other British magazines while still in his teens. After attending Downing Col­lege in Cambridge and the London University Institute of Education, he took life classes at the Chelsea School of Art and soon after began to illustrate children's books. As an award winning illustrator of two hundred books, Blake is a vis­iting tutor the Royal College of Art in London, where he was head of the illustration department for ten years.
Among the many esteemed writers and poets whose books Blake has illustrated are Joan Aiken, Russell Hoban, Margaret Mahy, Ed­ward Eager, Michael Rosen, and John Yeoman. Quentin Blake and Hoban received the Whitbread Literary Award for How Torn Beat Captain Najork and His Hired Sportsmen (1974), in which Blake's jaunty illustrations perfectly suit the story about Tom, whose aunt summons Captain Najork and his hired sportsmen to teach the boy to stop fooling around. Another made-in-heaven pair­ing was Blake's illustrations and Margaret Mahy's text in Nonstop Nonsense (1989), a col­lection of comic poems and stories enhanced by Blake's madcap drawings. In Yeoman's Wild Washerwomen (1979), Blake's art extends the understated humor of the narrative about seven discontented washerwomen who go on a rowdy rampage until they meet their match in seven woodcutters. They all then marry and share a contented life in which both men and women wash clothing and cut wood with gusto.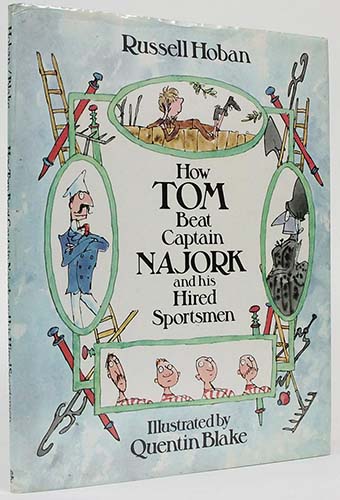 Sir Quentin Blake is perhaps most widely recognized among young readers for his long-term collabo­ration with the popular but sometimes contro­versial author Roald Dahl, with whom he pro­duced a number of books, including The Enormous Crocodile (1978), The Twits (1980), The B.F.G. (1982), and another Whitbread Award winner, The Witches (1983).
Blake's accomplishments as an author-illus­trator have also been highly praised by critics and appreciated by children. The Kate Green­away Medal was given to Mister Magnolia (1980), in which the utter absurdity of Blake's nonsense poem about a man with one shoe is further magnified by his hilarious color illustrations. In another picture book, Mrs. Armitage on Wheels (1987), Blake has told a cumulative story about an elderly woman who continues to add acces­sories to her bicycle until, inevitably, it crashes in a riotous ending. The art depicts a proper looking Mrs. Armitage, who sits primly atop her bike and then, following its sad demise, dons a pair of roller skates.
The unique appeal of Blake's art lies in his ability to create pictures that provide informa­tion not explicit in the story. The physical stances, facial expressions, and actions of his characters go beyond the text to tell the reader even more about their individual attitudes and personalities. Blake's spare sketches are decep­tive, for their appearance of having been hast­ily scribbled in a helter-skelter manner conceals the many hours spent in their planning. The exaggerated and zany sense of humor conveyed in all of Blake's art is something no reader, child or adult, can fail to see and appreciate.
J.M.B.
Source: Children's Books and their Creators, Anita Silvey.