Last Updated on
Yoshiko Uchida – American author and author-illustrator, 1921-199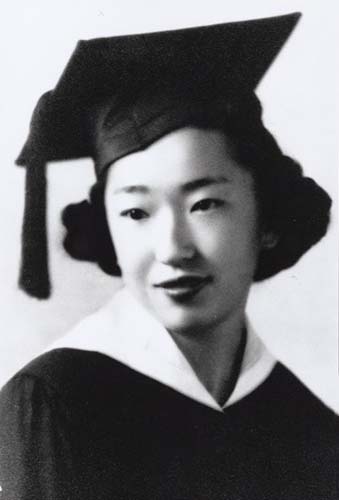 Yoshiko Uchida, author of more than twenty-five books for children, was born in Alameda and grew up in Berkeley, California, where she attended the Uni­versity of California. During her senior year of college, in 1942, Uchida and her family, along with 120,000 other Japanese Americans, were imprisoned in U.S. concen­tration camps following the bombing of Pearl Harbor. The Invisible Thread (1992), a moving memoir of Uchida's childhood and her time in the prison camps, de­scribes the influence this experience had on her writing.
In 1952 Uchida received a Ford Foundation research fellowship that allowed her to visit Japan for two years. Three collections of folktales resulted from her research there, the first of which was The Dancing Kettle and Other Japanese Folk Tales (1949), a book that received a warm welcome, especially since older translations of tales were out of print at the time. A glossary, pro­nunciation guide, and source notes on the folktales are included in this and each of her later collections. Among the stories retold in The Dancing Kettle are "The Tongue-Cut Sparrow," "Momotaro: The Peach Boy," and "The Wedding of the Mouse."
Yoshiko Uchida's best-known books are her five historical novels about Japanese Americans, all written for middle­ grade readers. Journey to Topaz: A Story of the Japanese- American Evacuation (1971), which was named an American Library Association Notable Book, and its sequel, Journey Home (1978), tell what happens to elev­en-year-old Yuki Sakane and her family during and fol­lowing their internment in the prison camps in World War II. Based on Uchida's own experiences, Journey to Topaz conveys—with an astonishing lack of bitterness— the quiet dignity and strength demonstrated by the prisoners, especially the first-generation Japanese, the Issei. The sequel depicts the difficulties individuals and families faced in rebuilding their lives amid a climate of distrust and fear.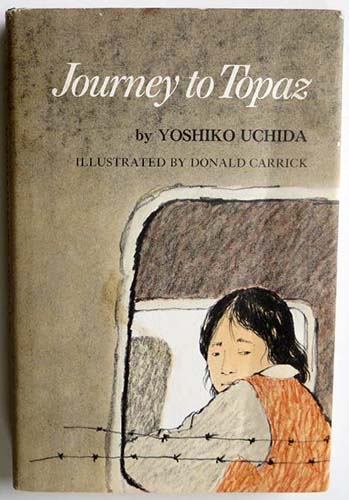 A Japanese-American girl growing up during the Depression is the heroine of three more acclaimed books: A Jar of Dreams (1981), The Best Bad Thing (1983), and The Happiest Ending (1985). The first of these novels depicts eleven-year-old Rinko's changing attitude about her heritage during the summer her aunt from Japan visits. Aunt Waka gives Rinko and her family the cour­age to follow their dreams despite the prejudice they must endure. Filled with details of Japanese-American life in the 1930s, the book contains humor, sensitivity, and drama.
Yoshiko Uchida retold Japanese folktales and wrote stories about children living in Japan in order to share with American children the beauty of that country's culture and to dispel racist stereotypes. She wrote historical fiction about Japanese Americans to give children of Japanese descent pride in their ancestry and to inform all children about the past. She told about her wartime experiences as a testimony to those who survived the internment and to prevent the same tragedy from ever occurring again. But in all of her writing, Uchida hoped to show that people are the same, no matter where they live Or what they look like—a goal she has admirably fulfilled.
§ J.M.B.
Source: Children's Books and their Creators, Anita Silvey.
---
Yoshiko Uchida Selected Works
The Dancing Kettle and Other Japanese Folk Tales (1949)
New Friends for Susan (1951)
The Magic Listening Cap: More Folk Tales from Japan (1955)
The Full Circle (1957)
Takao and Grandfather's Sword (1958)
The Promised Year (1959)
Mik and the Prowler (1960)
Rokubei and the Thousand Rice Bowls (1962)
The Forever Christmas Tree (1963)
Sumi's Prize (1964)
The Sea of Gold, and Other Tales from Japan (1965)
In-Between Miya (1967)
Hisako's Mysteries (1969)
Sumi and the Goat and the Tokyo Express (1969)
Makoto, The Smallest Boy (1970)
Journey to Topaz: A Story of the Japanese American Evacuation (1971)
Samurai of Gold Hill (1972)
The Birthday Visitor (1975)
The Rooster who Understood Japanese (1976)
The Bracelet (1976)
Journey Home (1978) (originally published as a short story)
Jar of Dreams (1981)
Desert Exile: The Uprooting of a Japanese-American Family (Autobiography) (1982)
The Best Bad Thing (1983)
The Happiest Ending (1985)
Picture Bride (1987)
Two Foolish Cats (1987)
The Terrible Leak (1990)
The Big Book for Peace (1990) (Illustrated by Allen Say)
Invisible Thread: An Autobiography (1991)
The Magic Purse (1993)
The Wise Old Woman (1994)