Edward Ardizzone – British author and illustrator, 1900-1979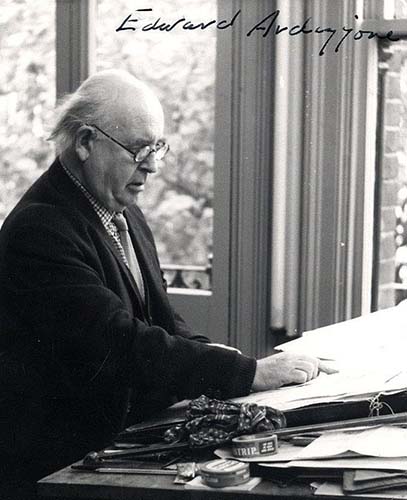 With the publication of Little Tim and the Brave Sea Captain in 1936, Edward Ardizzone launched the suc­cessful picture-book series that was to assure his international reputation as an eminent children s author and illustrator. Although he had little art school train­ing, he illustrated over one hundred and seventy books.
Edward Ardizzone's vigorous pen-and-ink sketches and water­color illustrations make distinctive use of line to express movement, form, character, and atmosphere. Illustrator Maurice Sendak wrote that Edward Ardizzone's art "harks back to the great nineteenth-century watercolorists" and to the innovative picture books of British author and illustrator William Nicholson. Incorporating humor and drama, Ardizzone developed a style unique­ly his own.
Born in Indochina at the turn of the century, at age five Ardizzone moved to England, traveling by sea with his mother and siblings. Time spent living in Ipswich, a busy seaport town, allowed young Ardizzone and his cousin Arthur to spend many hours roaming the docks and exploring the holds of the small coastal steamers and barges anchored there.
Years later, Ardizzone drew upon these adventures for Little Tim and the Brave Sea Captain, first told to his own two small children. He dis- covered that the story improved with each retelling, as he perfected the timing and rhythm and his children "added those wonderful inconsequential details" which can enrich a narrative. Tim, the intrepid young hero, lives in a small seaside cottage ideally situated for his numerous seafaring adventures; it was, in feet, the same house that Ardizzone had once lived in as a child. Endearingly modest, Tim bravely encounters ship- wrecks, storms, fire, and villains. Ardizzone sparingly used word balloons in his illustrations to help convey the personalities of characters and to lend humor, famil­iarity, and at times drama to his narrative.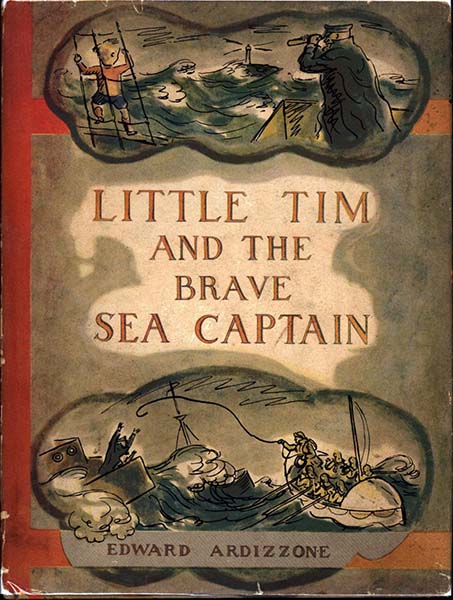 In the four decades that followed, Ardizzone went on to create ten more picture books, which make up the Tim adventure series. The first volume was published in a large format with watercolor illustrations throughout and a text hand-lettered by Ardizzone. A few years later the book was reissued. This edition set the standard for the other books in the series with its smaller size and alternating pages of watercolor and black-and-white illustrations. In his books Ardizzone created what he termed a "visual background" for his characters by including detailed settings in his drawings.
In Little Tim and the Brave Sea Captain, for example, Captain McFee entertains Tim with seafaring yarns one cold, blustery afternoon. Ardizzone pictures the pair comfortably seated before a cozy fire, teakettle boiling and Captain McFee's rum tucked conveniently at his side. With apparent ease and a quick scratch of the pen, Ardizzone achieved movement and tone through intricate cross­hatch patterns and beautifully animated curves. He pre­ferred sketching the whole human figure and thought the back view of his protagonists revealed more about character than did their faces.
Edward Ardizzone was among the first authors to break with the traditional picture-book format of alternating pages of picture and text; he incor­porated his straightforward prose over, around, and under the soft-edged illustrations, a technique that add­ed energy and excitement to the narrative. In 1956, Tim All Alone was awarded the first Kate Greenaway medal— England's most prestigious award for illustration.
In addition to his own books, Ardizzone illustrated works for children and adults by Eleanor Farjeon, James Reeves, Walter de la Mare, and others. Ard­izzone once said that a good picture book author-artist
"must create a world in which, in spite of all sorts of improbabilities from an adult point of view, he can believe in one part of himself, the childish part."
Edward Ardizzone, in creating the Little Tim books, gave chil­dren such a world.
S.M.G.
Source: Children's Books and their Creators, Anita Silvey.
---
Books written and illustrated by Edward Ardizzone
Little Tim and the Brave Sea Captain (1936)
Lucy Brown and Mr Grimes (1937)
Tim and Lucy Go to Sea (1938)
Baggage to the Enemy (1941)
Nicholas and the Fast-Moving Diesel (1947)
Paul, the Hero of the Fire (1948)
Tim to the Rescue (1949)
Tim and Charlotte (1951)
Tim in Danger (1953)
Tim All Alone (1956)
John the Clockmaker (1960)
Tim's Friend Towser (1962)
Peter the Wanderer (1963)
Diana and her Rhinoceros (1964)
Tim and Ginger (1965)
Sarah and Simon and No Red Paint (1966)
The Little Girl and the Tiny Doll (with Aingelda Ardizzone) (1966)
Tim to the Lighthouse (1968)
The Young Ardizzone – An Autobiographical Fragment (1970)
The Wrong Side of the Bed (1970)
Johnny's Bad Day (1970)
Tim's Last Voyage (1972)
The Old Ballard of the Babes in the Wood (1972)
Diary of a War Artist (1974)
Ship's Cook Ginger (1977)
Indian Diary (1984)