Evaline Ness – American illustrator and author, 1911-1986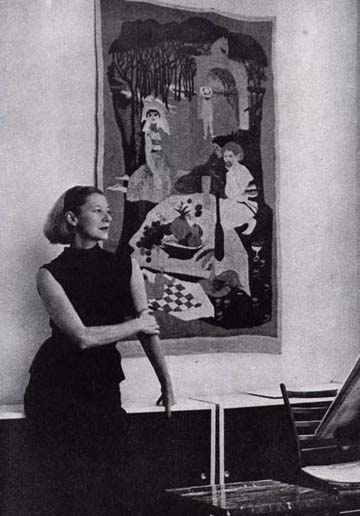 Evaline Ness, author and illustrator of the 1967 Calde­cott Medal-winning Sam, Bangs, and Moonshine, was a well-established studio artist and a highly paid com­mercial artist when she was first asked to illustrate a children's manuscript. She recalled, "[It was] so unlike the frantic hot-air environment of advertising produc­tion [that] I never went back to the 'rat-race' again."
She found that every manuscript—like Sorche Nic Leodhas's All in the Morning Early (1963) and Rebec­ca Caudill's A Pocketful of Cricket (1964)—offered new challenges, new opportunities to strengthen exist­ing skills and experiment with new techniques. But this outpouring of originality was a far cry from her youth­ful efforts in Pontiac, Michigan: "As soon as I was able to read and write, I copied down my favorite stories on the hundred-yard rolls of white paper that backs rib­bons. … And with that same critical industry, I searched through magazines to find appropriate pictures to illus­trate stories … [a] sister turned out daily. It never oc­curred to me to compete with ready-made words and pictures."
It was only as a young woman that Evaline Ness decided, on a whim, to be a commercial artist. She took several wrong turns—most notably enrolling in the fine arts depart­ment of the Art Institute of Chicago instead of the com­mercial art department because she didn't know the difference—before beginning a limping artistic career. There followed years of apprenticeship, course work, and learning fundamentals, in Chicago, New York, and Washington, D.C., but as her skills grew, so did her ambition. Eventually the effort paid off: Evaline Ness got her break back in New York illustrating for Seventeen maga­zine and then fashion drawing for Saks Fifth Avenue department store. She became successful and her work was very well paid, but it was grueling. No wonder she found such relief in children's books.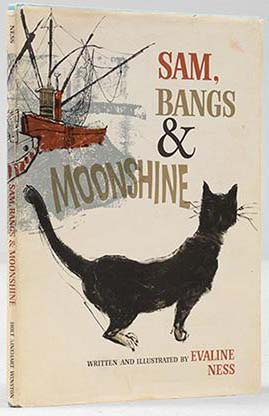 Evaline Ness began writing when she created a text for some woodcuts set in Haiti: Josefina February (1963) is the simple tale of a girl's search for a lost burro. Sam, Bangs, and Moonshine began with some portfolio drawings, one of a "shabby misplaced child" and several of fishing boats. The story came from nowhere: the tale of a girl whose "reckless habit of lying" almost causes a tragedy. The daughter of a fisherman, motherless Samantha ("always called Sam") lives in a fantasy world with her talking cat Bangs. But her announcement that a pet kangaroo is visiting her mermaid-mother at Blue Rock almost causes the drowning of her gullible young friend, Thomas. The scare finally enables Sam to distinguish between reality and "moonshine."
Some Ness texts, like the English folktale retellings Mr. Miacca (1967) and The Girl and the Goatherd (1970), are criticized for their weak plots, but she gets praise, especially with her origi­nal tales, for economical language, sprightly storytell­ing) and skillful interweaving of art and words. A Ness hallmark is the uncanny match between story and technique—whether in the woodcuts of Josefina Febru­ary, set in the Caribbean; the ink and color wash of Sam, Bangs, and Moonshine, with its Mediterranean setting; or the Contemporary world of Lucille Cliftons Some of the Days of Everett Anderson (1970). Evaline Ness's selection of medium is skillful whether she is work­ing with her own text or the words of others. The child once content to play with copied words and pasted pic­tures became an artist admired for her range of skill and craftsmanship, her continual experimentation and growth, and her freshness and originality.
S.A.B.
Source: Children's Books and their Creators, Anita Silvey.