James Joyce – Irish novelist, poet 1882-1941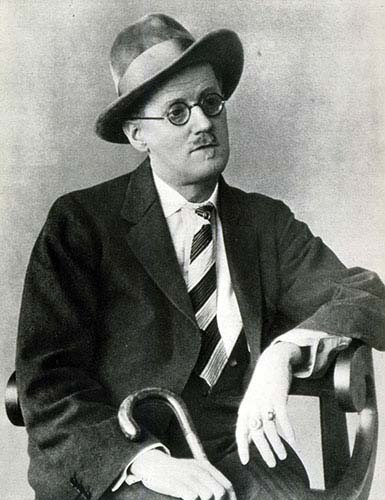 James Augustine Joyce was born in Rathmines, a suburb of Dublin, on Feb­ruary 2, 1882. He was the eldest son of John Stanislaus Joyce, a gentleman from Cork who has been described as an Irish Micawber, notorious in Dublin for his reckless extravagance, his biting wit, and his monocle. The mother, Mary Jane, was a brilliant pianist and a fine, sensi­tive woman to whom James was deeply attached.
At the age of six he went to the best Jesuit school in Ireland, Clongowes Wood College, where he spent three un­forgettable years. Later, at Belvedere College in Dublin (also run by the order), he wrote some essays that re­vealed his talent.
Young Joyce was a good scholar, an omnivorous reader, a writer of prose and poetry, and a student of many lan­guages. At sixteen he entered Dublin's University College, where he took up Aristotle, Aquinas, Latin, French, Italian—and even Norwegian, because he wanted to read Ibsen.
After earning his bachelor's degree in 1902, Joyce departed for Paris, carrying a letter of introduction from the Lord Mayor of Dublin, one pound in cash, and some poems. (In Portrait young Stephen says, "I will not serve that in which I no longer believe, whether it call itself my home, my fatherland, or my church. . . .") He attended one class at the College de Medecine but dropped out when asked to pay cash in advance. He was soon practically starving, getting mixed up in various adventures, includ­ing a near-duel with a pro-Aryan Ger­man. (Joyce hated that kind of preju­dice.) In April 1903 he had to return to Dublin to his dying mother's bedside; not long after her death he left home to live in rented rooms around town.
In the spring of 1904, James Joyce was teach­ing school when he met Nora Barnacle, a witty, auburn-haired Galway girl; by Oc­tober they were on their way to Zurich, supposedly married. Nora remained at his side throughout his life; a son, Gior­gio, was born in 1905 and a daughter, Lucia, in 1907. (In 1931 they were "re­married" for legal reasons.)
For the next few years Joyce made a modest living on the Continent teaching English at Berlitz schools and picking up change in other ways. They lived mostly in Trieste, although when World War I broke out they returned to neutral Zu­rich. Joyce revisited Dublin three times, the last time in 1912. After the war he settled in Paris, where things improved slightly as his writings began to earn meager royalties. Yet he was always one jump from the poorhouse; the tragic thing is that his life was a long battle to get his work published. When the cli­mate changed, the author wasn't here to reap the rewards.
James Joyce's first publication was Chamber Music, a small volume of poems rejected by four Irish publishers, the last of whom failed to return the manuscript.
When it finally saw the light of day in 1907, Chamber Music (named in mockery after the sound Joyce made by kicking a nightjar) received favorable notices and at least five composers made settings of the songs. Joyce never earned a penny from the book. Though he had finished Dubliners, his highly acclaimed collection of short stories, in 1904, the squeamish­ness of the Edwardian era made publica­tion impossible till 1914. One printer had even set the type, but had a change of heart and deliberately destroyed the pages.
In 1914 A Portrait of the Artist as a Young Man was completed. As usual, no takers. In the same year Ezra Pound included a poem from Chamber Music in an anthol­ogy, prompting Joyce to send him the manuscript of Portrait. Pound saw to its serialization in the Egoist, a new maga­zine; but when the Egoist tried to print Portrait in book form, no printer in the British Isles would touch it. It was finally brought out in the United States by B. W. Huebsch (now Viking Press), and im­ported from there by the Egoist Press.
James Joyce made corrections and changes in the text after this and other editions were printed. Some of these included certain of his suggestions and some never did. In 1962 Chester G. Anderson made a study of the original handwritten manuscript, now in the National Library of Ireland, comparing it with published editions of Portrait and with the author's suggestions. That study, Anderson's doctoral thesis at Columbia University, became the basis for the current version of A Portrait of the Artist as a Young Man, which is the first to come so close to the way James Joyce finally wanted it published.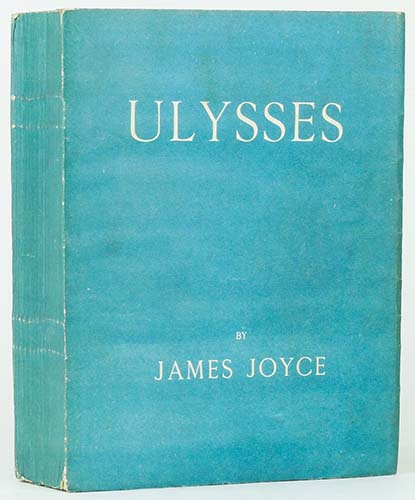 "Yes"—the final word of Ulysses—was put down by Joyce in 1921, after seven years of labor. There was no chance of its seeing print in Britain or America; it re­mained for Miss Sylvia Beach to bring it out in Paris. The reactions of critics ranged from "greatest" to "foulest." In England and the United States there was great indignation.
It wasn't until 1933 that Judge John M. Woolsey's landmark ruling made it possible for Random House to bring out Ulysses here, and for Joyce to make some money on it, rather than sitting in frus­tration and watching the pirates clean up on illegal editions. Yet Joyce didn't be­come wealthy by a long shot.
He was spending most of his time on his last book, Finnegan's Wake, which he began in 1923 and completed in 1938. It came out the following year, and the year after that the Germans invaded France. Joyce asked for a visa from the Swiss, who demanded a bond of $7,000 which the indigent author couldn't sup­ply. His friends raised $3,500, which was accepted, and the Joyces went back to Zurich—except for Lucia, ill in a sanato­rium, who remained in occupied France. That, plus constant worries over his fail­ing eyesight and his struggles with pub­lishers, was more than enough for the frail man. An ulcer became malignant and he died on January 13, 1941.
Source: Heritage Press
James Joyce Bibliography
Prose
Dubliners (short-story collection, Grant Richards, London 1914)
A Portrait of the Artist as a Young Man (novel, The Egoist Ltd, London, 1916)
Ulysses (novel, Shakespeare Press, Paris1922)
Finnegans Wake (Faber & Faber, London 1939, restored 2012)
James Joyce – A Collector's Guide