Robinson, Heath William – English cartoonist, illustrator and artist, (1872-1944)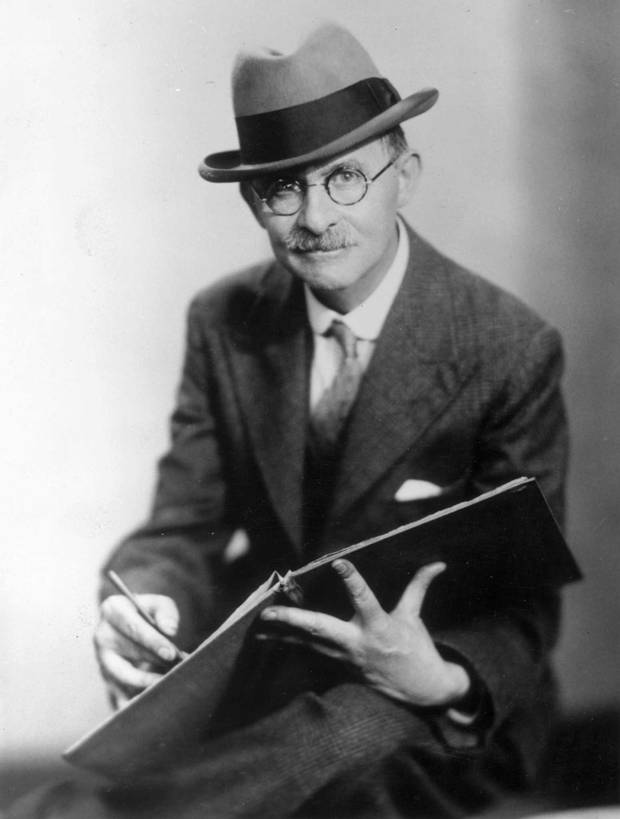 Bom in Hornsey on 31 May 1872, William Heath Robinson was one of six children of Thomas and Eliza Robinson (she was the daughter of a William Heath).
His father Thomas was a wood engraver and illustrator, deriving his income mostly from his illus­trations to the Penny Illustrated Paper, his grandfather, also a Thomas Robinson, began as a bookbinder and later became a wood engraver; his uncle Charles was an engraver for the Illustrated London News. It is small wonder that he and two of his brothers, Charles Robinson and Thomas Heath Robinson became illustrators. William was educated at the Islington High School and studied at Islington School of Art and briefly at the RA Schools.
After leaving school Heath Robinson first tried, unsuccessfully, to make a living as a landscape painter before some of his drawings were accepted by Cassell's Little Folks magazine and Good Words. His first book illustrations were published in 1897 in Danish Fairy Tales, The Giant Crab and Other Tales from India and Don Quixote, but it was not until the publication of Uncle Lubin in 1902 and the start of his advertising work for commerce and industry in the same year that Robinson's financial position was assured.
For his early books, Robinson worked in black and white, but his devel­opment as an artist reached true accomplishment during the first twenty years of the twentieth century when the lavishly-produced gift-book flourished, with its tipped-in colour plates and gilt, deco­rated binding. Twelfth Night was the first gift-book that Robinson illustrated (1908) and it had to compete with two immensely popu­lar illustrators who produced books in the same year — Arthur Rackham's Midsummer Night's Dream and Edmund Dulac's The Tempest. Other gift-books which Robinson illustrated include A Song of the English (1909), Bill the Minder (1912), Hans Andersen's Fairy Tales (1914) and Charles Perrault's Old Time Stories (1921).
Perhaps Heath Robinson's best work was done for the 1913 Andersen, for A Midsummer Night's Dream and for two books for children which he wrote as well as illustrated — The Adventures of Uncle Lubin (1902) and Bill the Minder (1912). These stories are simple, funny, absurd and quite charming. The two-page openings of Uncle Lubin are designed as a whole, the text and the black and white pictures ideally complementing each other.
Colour plates are used as well as black and white illustrations in Bill the Minder, and though these plates are among Robinson's best, they seem less a part of the book than the black and white illustrations which are treated in the sim­plest fashion, perfectly suiting the naive tides. The Hans Andersen is a total success, with exquisite, well-printed plates and black and white illustrations either absurdly humorous or endowed with deco­rative charm and gaiety.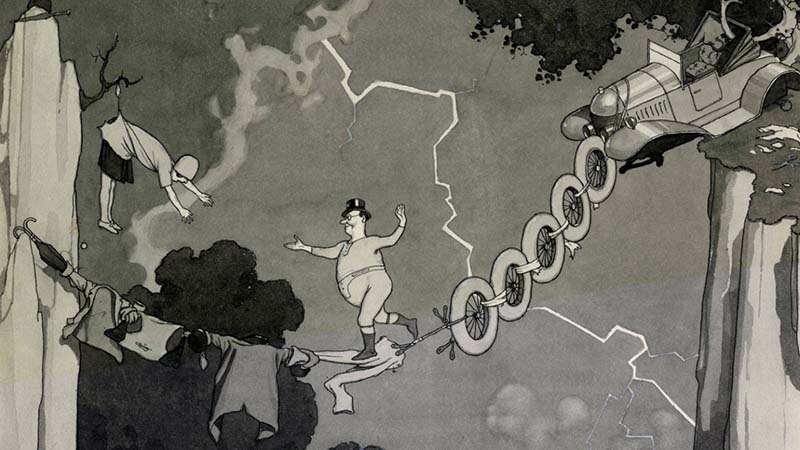 Even before the publication of Bill the Minder, Robinson had begun drawing cartoons and depicting the sort of comic contraptions which we now call by his name. These drawings first appeared in magazines such as the Sketch, Bystander, Pall Mall Magazine, and the London Magazine — "Seeing London" and "How To Agricult" are typical of these and were in sections in the London Magazine in 1908. After the outbreak of WW1, most of his illustrations were of this type and books of comic drawings appeared such as Hunlikely (1916) and Railway Ribaldry (1935).
William Heath Robinson used this sort of drawing also to illustrate many advertising and publicity booklets. He began this long and fascinating relationship with commerce and industry in 1903 by agreeing to produce some drawings for the Lamson Paragon Supply Company, a company which supplied duplicate books, printed stationery and other printed material.
He produced booklets for many other companies such as Moss Brothers (Behind the Scenes at Moss Bros), Connolly Bros., Curriers (Heath Robinson on Leather) and Ruston-Bucyrus (The Gentle Art of Excavating), Robinson described the reason for the success of his comic drawings thus —"Whatever success these drawings may have had was not only due to the fantastic machinery and devices, the absurd situations, but to the style in which they were drawn.
This was designed to imply that the artist had complete belief in what he was drawing. He was seeing no joke in the matter, in fact he was part of the joke." (Robinson: My Line of Life. 1938.t) In addition to drawing for books and journals and for his com­mercial employers, Robinson appeared on radio and television; he produced scenery for the old Empire and Alhambra theatres which used to stand in Leicester Square; he painted murals for the Knickerbocker Bar and the children's room on the liner the Empress of Britain; and in 1934 he designed a "Heath Robinson" house for the "Daily Mail Ideal Homes Exhibition" in London. He worked right through to the end of his life, mixing the serious with the comic, and died in Highgate, London, on 13 September 1944.
---
Other Resources