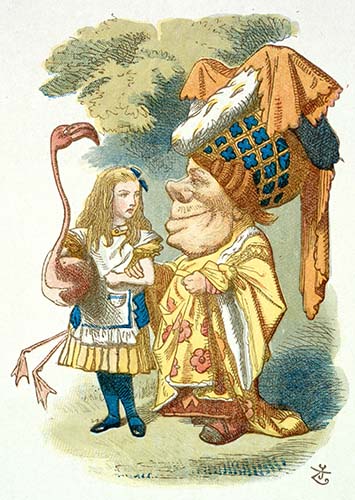 Alice's Adventures in Wonderland (commonly shortened to Alice in Wonderland) is an 1865 novel by English author Lewis Carroll (the pseudonym of Charles Dodgson). It tells of a young girl named Alice, who falls through a rabbit hole into a subterranean fantasy world populated by peculiar, anthropomorphic creatures. It is considered to be one of the best examples of the literary nonsense genre. The tale plays with logic, giving the story lasting popularity with adults as well as with children.
Alice's Adventures in Wonderland was first published in 1865 by MacMilllan of London, but it was withdrawn as the illustrator, Tenniel, was unhappy with the quality of the printing. The text blocks were sent to America where they were bound with a new title page and sold there.
The manuscript was illustrated by Dodgson himself who added 37 illustrations—printed in a facsimile edition in 1887. John Tenniel provided 42 wood engraved illustrations for the published version of the book. The first print run of 2000 was held back/destroyed (or sold to the United States) at Carroll's request because he was dissatisfied with the quality. The book was reprinted and published in 1866.
One of the best-known and most popular works of English-language fiction, its narrative, structure, characters and imagery have been enormously influential in popular culture and literature, especially in the fantasy genre. The work has never been out of print and has been translated into at least 97 languages. Its ongoing legacy encompasses many adaptations for stage, screen, radio, art, ballet, theme parks, board games and video games. Carroll published a sequel in 1871, titled Through the Looking-Glass, and a shortened version for young children, The Nursery "Alice", in 1890.
The Illustrators of the Alice books, Alice's Adventures in Wonderland (1865) and Through the Looking-Glass (1871), number more than 100. The focus here is on English-language editions. Many other artists have created illustrations for non-English language editions. The illustrator for the original editions was John Tenniel, whose illustrations for Alice and Looking Glass are perhaps the best known illustrations ever published. This article is an ongoing attempt to list all major illustrators of the Alice books from 1899 to the present day.
| Year | Illustrator(s) | Publisher | Notes |
| --- | --- | --- | --- |
| 1865 | John Tenniel | Macmillan, London | Illustrator of the original editions of Alice (1865) & Looking Glass (1871) |
| 1899 | Blanche McManus | Mansfield & Wessels | First American editions of the Alice books with new illustrations |
| 1901 | Peter Newell | Harper & Brothers, NY | Also illustrated the Looking Glass in 1902 |
| 1902 | Fanny Y. Cory | Rand McNally, NY | And a combined Alice and Looking Glass in 1905 |
| 1904 | Maria L. Kirk | Frederick A. Stokes, NY | In addition with John Tenniel's illustrations |
| 1907 | Bessie Pease Gutmann | Dodge, NY | Also illustrated the Looking Glass in 1909 |
| | Millicent Sowerby | Chatto & Windus, London | A second set of eight, different illustrations appears in a completely separate edition published by Henry Frowde/Hodder and Stoughton (London) in 1908. |
| | Arthur Rackham | Heinemann, London | Limited edition of 1,130 copies; also a trade edition in a smaller format |
| | Charles Robinson | Cassell, London | |
| | W. H. Walker | John Lane, London | |
| 1908 | T. H. Robinson & Charles Pears | Collins, London | |
| | Harry Rountree | Nelson, London | |
| | John R. Neil | The Children's Red Books | The illustrator of Frank Baum's later Oz books |
| 1910 | Mabel Lucie Attwell | Raphael Tuck, London | |
| 1911 | George Soper | Headley, London | |
| | Gordon Robinson | Samuel Gabriel and Sons | |
| 1912 | Frank Adams | Blackie & Sons, London | |
| 1913 | Alice B. Woodward | George Bell & Sons, London | |
| | Millicent Sowerby | Hodder & Stoughton, London | New set of illustrations, differs from the 1907 edition |
| 1915 | A. E. Jackson | Humphrey Milford, London | |
| 1916 | Margaret W. Tarrant | Ward & Lock, London | |
| | Milo Winter | Rand McNally, NY | |
| 1922 | Gwynedd M. Hudson | Hodder & Stoughton, London | American edition published simultanously by Dodd Mead & Co |
| 1929 | Willy Pogany | E.P. Dutton, NY | |
| 1936 | Honor C. Appleton | Harrap, London | |
| 1946 | Mervyn Peake | Zephyr, Sweden | Then by Wingate, London in 1954 |
| 1947 | Eileen Soper | Harrap, London | |
| 1949 | Leonard Weisgard | Harper & Brothers, NY | |
| 1951 | Adrienne Ségur | Flamarion, Paris | French edition. |
| 1966 | Tove Jansson | Albert Bonniers, Stockholm | Swedish edition |
| 1967 | Ralph Steadman | Dennis Dobson, London | Also illustrated the Looking-Glass published by MacGibbon & Kee in 1972 |
| 1969 | Salvador Dali | Maecenas Press, NY | |
| 1971 | Moritz Kennel | Silva Verlag, Zurich | Swiss edition, reprinted in English published by Phaidon 1975 |
| [1972] | Nicole Claveloux | Grasset | A modernized, beautiful surealism interpretation of Alice's. |
| 1974 | Kuniyoshi Kaneko | Olivetti, Milan | A special limited gift edition, not sold to the public |
| 1982 | Charles Blackman | Reed | |
| | Barry Moser | Pennyroyal Press | Limited edition, also illustrated Looking-Glass same year. |
| 1985 | Anthony Browne | MacRae | Winner of the Kurt Maschler Award |
| | Michael Hague | Holt, Rinehart & Winston, NY | |
| 1988 | George A. Walker | Cheshire Cat Press | First Canadian artist to illustrate both books 1988 |
| 1989 | Marketa Prachaticka | Wellington Publishing, Chicago | |
| | Peter Weevers | Philomel Books, NY | |
| 1999 | Helen Oxenbury | Walker Books, London | In a signed limited edition in 1999 & Looking-Glass in 2005. Oxenbury won the Kate Greenaway Medal and the Kurt Maschler Award for Alice |
| | Lisbeth Zwerger | North-South Books | |
| 2000 | Iassen Ghiuselev | Aufbau-Verlag, Berlin | Abridged German edition. English edition by Simply Read Books, Vancouver in 2003 |
| 2003 | Robert Sabuda | Simon & Schuster, NY | A Pop-up book |
| 2004 | Greg Hildebrandt | Courage Books | |
| | Michael Foreman | Sterling | |
| 2005 | Anne Bachelier | Jerry N. Uelsmann | Several different editions, both commercial (published by CFM Gallery/Neil P. Zukerman) and limited. |
| 2006 | Pat Andrea | Diane de Selliers, Paris | Bilingual French and English edition of both Alice and Looking-Glass |
| 2008 | Rodney Matthews | Templar | |
| 2009 | John Vernon Lord | Artist's Choice | Also illustrated Looking-Glass in 2011 |
| | Robert Ingpen | Walker Books, London | Also illustrated Looking-Glas, published by Templar 2015 |
| 2012 | Yayoi Kusama | Penguin Press | |
| 2016 | Charles van Sandwyk | Folio Society, London | Limited edition of 1000 copies |
Lewis Carroll Collector's Guide