The Witch Tree Symbol is the thirty-third volume in the Nancy Drew Mystery Stories series. It was first published in 1955 by Grosset & Dunlap under the pseudonym Carolyn Keene. The actual author was Stratemeyer Syndicate executive, Harriet Stratemeyer Adams.
Summaries (original edition)
When a neighbor asks Nancy Drew to accompany her to an old uninhabited mansion, a new mystery opens up, and danger lurks on the second floor. Nancy finds a witch tree symbol that leads her to Pennsylvania Dutch country in pursuit of a cunning and ruthless thief.
The friendly welcome the young detective and her friends Bess and George receive from the Amish people soon changes to hostility when it is rumored that Nancy is a witch! Superstition helps her adversary in his attempt to get her off his trail, but Nancy does not give up. She persistently uncovers one clue after another.
Nancy's intelligence and sleuthing ability finally lead to the solution of this puzzling case.
Nancy Drew #33 The Witch Tree Symbol First Edition Book Identification Points
Only the first few printings of the first/second year are included. Printings codes are based on the Farrah Guide, 12th printing. Please refer to the guide for later printings.
How to Identify Nancy Drew - The Witch Tree Symbol First Edition Guide

| Printing | Frontis | Copyright Page | Notes |
| --- | --- | --- | --- |
| 1955C-1 | Plain | Nancy Drew #1-33, Dana Girls #1-17 | |
| 1956A-2 | Plain | Nancy Drew #1-33, Dana Girls #1-18 | |
| 1956B-3 | Plain | Nancy Drew #1-33, Dana Girls #1-18 | |
Nancy Drew #33 The Witch Tree Symbol First Edition Dust Jacket Identification Points
How to Identify Nancy Drew - The Witch Tree Symbol First Edition Dust Jacket

| Printing | Price | Front Flap | Rear Panel | Rear Flap | Format |
| --- | --- | --- | --- | --- | --- |
| 1955C-1 | 100100 | Nancy Drew #1-33 | Dana Girls #1-17 | Vicki Barr #1-10 | 15 |
| 1956A-2 | 100100 | Nancy Drew #1-33 | Dana Girls #1-17 | Vicki Barr #1-10 | 15 |
| 1956B-3 | 100100 | Nancy Drew #1-34 | Dana Girls #1-17 | Vicki Barr #1-11 | 15 |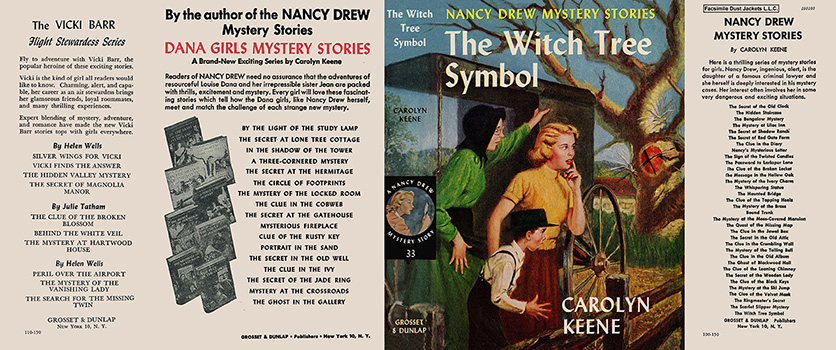 Reference:
Farah's Guide to Nancy Drew, 12th printing