The Haunted Showboat is the thirty-fifth book in the Nancy Drew mystery series. It was first published in 1957 under the pseudonym Carolyn Keene. The actual author was ghostwriter Harriet Stratemeyer Adams.
Summaries (original edition)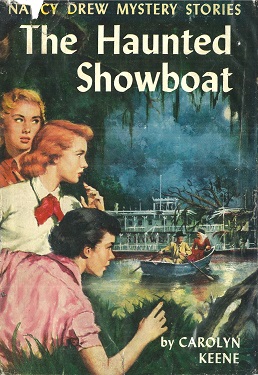 Nancy, Bess, and George travel to New Orleans for Mardi Gras, but they are then enveloped into a mystery involving an old showboat that is said to be haunted. Nancy then uncovers an imposter and searches for buried pirate gold.
Nancy Drew #35 The Haunted Showboat First Edition Book Identification Points
Only the first few printings of the first/second year are included. Printings codes are based on the Farrah Guide, 12th printing. Please refer to the guide for later printings.
How to Identify Nancy Drew -The Haunted Showboat First Edition Guide

| Printing | Frontis | Copyright Page | Notes |
| --- | --- | --- | --- |
| 1958A-1 | Plain | Nancy Drew #1-35, Dana Girls #1-19 | |
| 1958B-2 | Plain | Nancy Drew #1-35, Dana Girls #1-20 | |
Nancy Drew #35 The Haunted Showboat First Edition Dust Jacket Identification Points
How to Identify Nancy Drew - The Haunted Showboat First Edition Dust Jacket

| Printing | Price | Front Flap | Rear Panel | Rear Flap | Format |
| --- | --- | --- | --- | --- | --- |
| 1958A-1 | 100100 | Synopsis | Dana Girls #1 ad, small G&D | Nancy Drew #1-35 | 15 |
| 1958B-2 | 100100 | Synopsis | Dana Girls #1 ad, small G&D | Nancy Drew #1-35 | 15 |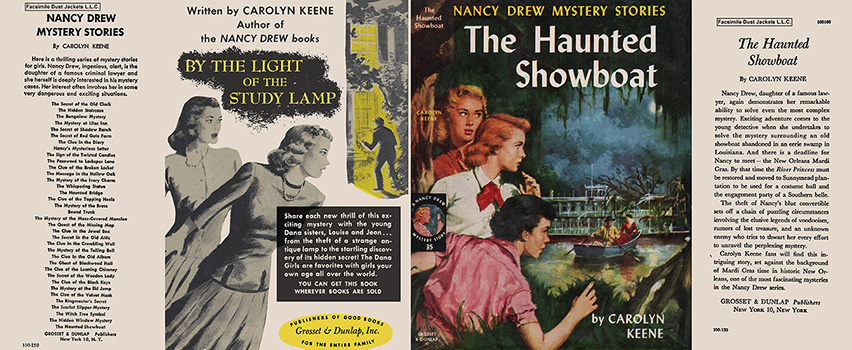 Reference:
Farah's Guide to Nancy Drew, 12th printing