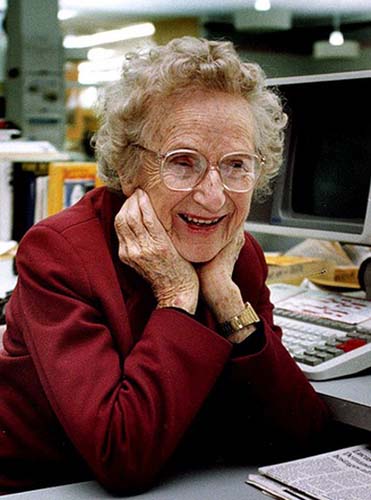 Many writers of popular culture have speculated about the success of the Nancy Drew series. It is the longest enduring girls series by many years. The first mystery. The Secret of the Old Clock, was first published in 1030. 1 he closest competitor in both years and popularity, Judy Bolton, lasted thirty-five years. This study concentrates only on the "Classic Nancy Drew' Mysteries," as the ones written since the last new hardback from Grosset & Dunlap (1979) have strayed farther and farther from the series conceived by Edward Stratemeyer and now bear only slight resemblance to the original volumes of the set. The series had to change to appeal to today's young readers, since it is and always was written to make money, not to establish literary precedents or to make artistic statements, but the Classic books are more desired by adult collectors.
The fact that the Nancy Drew books were attractively designed and priced also helped greatly with their success. The art on the dust jackets was always eye catching, especially so with the books up to the late 1940s with covers by R.H. Tandy whose palette was dominated by primary colors and who painted vivid scenes that "'told a story." In 1930, when the series began, each volume cost 50 cents; by 1950, they were 75 cents; and, in the year 2000, the Classic hard cover volumes were less than $5.00. It is estimated that about 100 mil­lion Nancy Drew books have been sold since 1930.
Supposedly the reason that the series has had so much appeal for young readers, especially girls, is because Nancy was mostly permitted to do as she pleased. The early books in the series state that Nancy is sixteen years old, yet there were never stories dealing with school life or school problems. Nancy is completely independent. Her father, Attorney Carson Drew, has no rules for her to follow, but it is also assumed that Nancy would only conduct herself properly anyhow. Housekeeper Hannah Gruen has no authority over the young detective either. Nancy has her own car; she dresses nicely; she has wonderful friends who all defer to her judgment; she is never afraid no matter how potentially dangerous the situation is; she is more clever than most adults and can translate ancient texts as well as tap dance in Morse code; and Nancy is very pretty.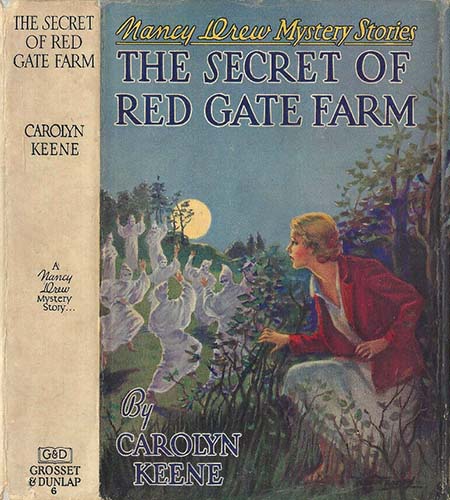 Right from the beginning, the Nancy Drew books were fast-paced and exciting and each chapter ended in a situation that demanded quick page turning. Nancy's mystery solving was almost always for the purpose of helping a person who had very little other recourse to aid, or who could not afford it. Those she aided the most were innocent young girls or pathetic elderly persons, examples being poor little Judy of Volume 1, The Secret of the Old Clock, and the aged Trumbull sisters in Volume 2, The Hidden Staircase.
Many of Nancy's mysteries involved going on vacations with her friends Bess and George, and these trips were usually to some exotic locale that young women their age would never visit, such as dude ranches, remote inns, resorts and such in the early books, and places like Scotland, France, Africa and Peru in the later volumes of the Classic series. Nancy got around even more than world traveler Beverly Gray who was much older than she.
The Nancy Drew series at its inception was probably conceived as just another girls' series that updated the problems encountered by former protagonists of Stratemeyer Syndicate books, such as schoolgirl and later moviemaker Ruth Fielding. But by 1930, Edward Stratemeyer had years of experience as to what it took to make a series successful and the first hired writer who filled in his plot outlines, Mildred Wirt Benson, was more experienced with the ghostwriting business and more imaginative in fleshing out Mr. Stratemeyer's and his daughters' outlines than Other Syndicate writers would I have been. One of the most clever elements of the series was that Nancy never aged or changed, except that in the updated versions of the books in the 1950s, she became eighteen instead of sixteen, primarily because a young lady of sixteen in the 1950s would not have been able to conduct herself as independently as Nancy still did.
The "updated" books were also shortened and speeded up in pace. They were modernized in that they eliminated the racial and ethnic stereotypes that were found in all fiction, including that written for adults, in the early years of the 20th century. And, most of all, they were geared to a younger audience than they had been in the 1930s and 1940s. By the late 1950s, series books had to compete with movies and television as entertainment for young people. Also, economics and not the "shorter attention spans" that readers of Nancy Drew books were accused of having, caused other changes. It is less expensive to produce a 180-page book than a 210-page one.
Probably the one factor that permitted Nancy Drew to reign as queen of all series books for so long is that the books carefully blended fantasy and reality in such a way that they were exciting to read and still believable in spite of all the criticism that could be leveled at their literary value. Much of the credit for this belongs to Edward Stratemeyer who had perfected all the techniques of juvenile book production and to his daughter, Harriet Stratemeyer Adams, who was able to continue these policies and at the same time streamline and modernize the process.
In the Ruth Fielding Series, it is reported how Stratemeyer developed many series books over a period of more than thirty years. His last girls' series, Nancy Drew, was the perfection of many different types of books for young people and all the elements that made juvenile mysteries exciting came together properly for this set. An enormous amount of credit must also go to Stratemeyer's daughter, Harriet Stratemeyer Adams (1892-1982), who protected the Nancy Drew image and led the public to believe that "Carolyn Keene" wrote the Nancy Drew books. In 1967, she "revealed" that her father had written the first three books and that she did the others. This was because of My Father was Uncle Wiggily, the biography of his father, Howard R. Garis (1873-1962), that Roger Garis published in 1966, in which many secrets of Stratemeyer Syndicate ghostwrit­ers were reported. More "secrets" were divulged when Leslie McFarlane published his autobiography, Ghost of the Hardy Boys', in 1976 and, another ten years later, when Carol Billman's Secret of the Stratemeyer Syndicate was released. By the time of Mrs. Adams' death, it was known that the Nancy Drew books had a different origin and development than she insisted, think­ing that her big "secret" would protect and preserve the series better than the truth. (Even by 1967, "Carolyn Keene" was getting pretty old anyhow.)
In the many editions of Farah's Guide, David Farah gives a very detailed report on who wrote the outlines, who filled in the story and who edited each volume in the Nancy Drew Series. The most important plot outline creators are Edward Stratemeyer for Volumes 1 to 3 and Harriet Adams and her sister, Edna Stratemeyer Squier (1895-1974), for Volumes 4 to 56, which encompasses all of the "Classic Nancy Drew" books.
Mildred A. Wirt (Benson) wrote Volumes 1 to 7, 11 to 25 and 30. Walter Karig did Volumes 8 to 10; others did Volumes 26 to 29 and 32; and Mrs. Adams wrote Volumes 31 and 33 to 56. This means that Mildred A. Wirt Benson wrote twenty-three Nancy Drew books and Harriet Adams wrote twenty-five Nancy Drew books, but Adams also created the plot outlines and edited most of the ones that she did not write. The first twenty-six Nancy Drew dust jacket illustrations and internal black and white pictures were done by Russell H. Tandy with the exception of the dust jacket for Volume 11, The Clue of the Broken Locket, which was done by Ferdinand E. Warren, or perhaps a different (unknown) artist. The revised covers for Volumes 1 to 9 and 11 and the new covers for Volumes 27 to 29 were done by Bill Gillies, who was born in 1911. Gillies also did Hardy Boys and Ken Holt covers from 1948 to 1952. He did not do the frontispieces, reportedly because Grosset & Dunlap paid too little for them. Each girl on the Nancy Drew covers was Gillies' wife, Mary Agnes (born 1912). The most prolific dust jacket/picture cover artist for the Nancy Drew books was Rudy Nappi, bom in 1923, who did sixty-four different covers. His work was one cover for Volumes 1 to 5; 8 to 9; 25 to 29; and 35 to 56 and he did two different covers for Volumes 10 to 24. The only Nancy Drew books that do not have Nappi Covers are Volumes 6 and 7 (The Secret of Red Gate Farm and The Clue in the Diary).
It seems that the dust jacket and/or picture covers that are the most liked by collectors are the ones that they remember as youngsters. Those who remember the Tandy covers from the time they first read the books like them the best, and those who first saw Nancy Drew books with Nappi covers like them the best. Russell H. Tandy's Nancy Drew dust jackets always showed an action scene with an attractive and contemporary Nancy. Her hair and her clothing were typical of the era, 1930 to 1940, a time period in which women's clothing and hairdos went through a huge change. The Gillies covers show a young woman of the early 1950s, but they are inconsistent in execution. Some covers, such as The Mystery al the Ski Jump, show an attractive Nancy in an exciting winter scene; others, such as The Mystery at Lilac Inn, depict a rather bug-eyed looking Nancy Drew eavesdropping on an uninteresting setting of three oddly dressed adults. The Rudy Nappi covers are the most varied and interesting from an artistic point of view. His early covers are a scene and are oftentimes just an updated copy of the Tandy art for the same cover. The last Nappi covers of the Classic Nancy Drew books usually show Nancy in close-up with objects around her reminiscent of the story of the book. These covers do not have the appearance of belonging to a specific time period although many of them date from the late 1960s.
The most collectible and desirable, hence valuable, of all Nancy Drew books are the regular Grosset & Dunlap "Classic" books, Volumes 1 to 56 from 1930 to 1979. These are the ones that collectors desire the most.
There are other Nancy Drew sets of books that were also available. The first group are the "Book Club Editions. See Farah's Guide for a more thorough breakdown of these books.
Nancy Drew Book Formats (First Edition Identification Guide)
I. 1930—1931
#1 – #7, including first editions #1 – #7
Thick light blue cloth cover with orange printing on front, dark blue printing on spine
Blank eps; Glossy frontis
Three glossy internals White spine DJ. Good paper
II. 1932 -1943
#1 — #20, including first editions #8 – #23
Thick blue cover with orange printing and silhouette of Nancy (cloth in earlier years)
Orange silhouette eps
#1 to # 13 have glossy frontis. Three glossy internals
#14 to #17 glossy frontis only
#17 through #20 frontis on plain paper; white spine DJs; symbol of Nancy on spine begins in 1941
#19 has good or poor paper
#20 has poor paper
III. 1944— 1946
#1 to #23, including first editions #21 -#23
Semi-thick blue cover with orange printing and silhouette
Cloth covers have been replaced with imitation materials
Orange silhouette eps Frontis on plain paper White spine dj w/spine symbol Wrap spine begins with #23 Poor paper
Variations: the covers are various shades of blue, have several types of finishes and are of poorer quality.
IV. 1946
1 – #23
Medium blue cover with dark blue printing and silhouette
Orange silhouette eps
Frontis on plain paper
1 – #22 white spine DJ w/symbol
23 wrap spine DJ. Poor paper
V. 1947- 1952
#1 – #30, including first editions #24 – #30
Medium blue cover with dark blue printing and silhouette
Blue tweed cover begins ca. 1952
1940s silhouette begins on front covers
Mostly blue silhouette eps
Frontis on plain paper (Reprints have spine symbol or wrap spine DJs)
1947 — early 1948, poor paper; after late 1948, good paper Variations: Some books have orange silhouette eps; some have maroon Dana Girls eps
VI. 1953- 1958
1 — #35, including first editions #31 -#35
Blue tweed cover with dark blue printing and silhouette
Blue "Digger" eps (Nancy watches man digging)
1 — #31 frontis on plain paper32 — #35 have frontis and five internals on plain paper(Reprints have spine symbol or wrap spine DJs)
Good paper
VII. 1959-1961
#1 -#38, including first editions #36 – #38
Blue tweed cover with dark blue printing and silhouette
Blue Multi-Scene eps (22 scenes based on dust jackets)
Frontis on plain paper; #32 – #38, revised texts of #1 — #4 and #6 have frontis and five internals on plain paper
(Reprints have spine symbol DJs or wrap DJs)
Good paper
VIII. 1962-1968
#1 – #45, including first editions #39 – #45
Yellow spine picture cover
On back cover picture of Nancy behind free
Blue Multi-Scene eps, #1 – #6 and #8 – #38
White Multi-Scene I eps (blue multi-scenes redrawn in ink), #39 – #45, revised texts #5, #7-#11, and #25-#29
White Multi-Scene II eps (fifteen black and white drawings from DJs and cover pictures) on some volumes
Frontis on plain paper, #5 and #8 – #31
Frontis and five internals on plain paper, #32 – #45 and revised texts #1 — #11 and #25 – #29
Good paper
Variations: Spines are various shades of yellow and some fade easily, turning almost white.
IX. 1969- 1981
#1 – #56, including first editions #46-#56
Yellow spine picture cover. On back cover, picture of Nancy with magnifying glass
Blue Multi-Scene eps #12 – #15, #17-#18, #20-#24 and #31 -#34
White Multi-Scene II eps #35 — #56 and revised texts of #1-#34
Frontis on plain paper, #12 – #15, #17 – #18, #20 – #24, and #31
Frontis and five internals on plain paper, #32 – #56 and revised texts #1 – #34
Good paper
Variations: Some volumes have White Multi-Scene I eps
X. 1982- 1986
#1 -#56
Yellow spine picture cover. On back cover, picture of Nancy with magnifying glass
Double Oval eps (two crude portraits of Nancy in ink)
Frontis and five internals on plain paper; #35 – #56 and revised texts of #1 -#34
Good paper
Note: Since 1987 the picture covers have been on smooth, shiny stock.
Nancy Drew Classic Book List
The Secret of the Old Clock (1930)
The Hidden Staircase (1930)
he Bungalow Mystery (1930)
The Mystery at Lilac Inn (1930)
The Secret of Shadow Ranch (1931)
The Secret of Red Gate Farm (1931)
The Clue in the Diary (1932)
Nancy's Mysterious Letter (1932)
The Sign of the Twisted Candles (1933)
Password to Larkspur Lane (1933)
The Clue of the Broken Locket (1934)
The Message in the Hollow Oak (1935)
Mystery of the Ivory Charm (1936)
The Whispering Statue (1937)
The Haunted Bridge (1937)
The Clue of the Tapping Heels (1939)
Mystery of the Brass-Bound Trunk (1940)
Mystery of the Moss-Covered Mansion (1941)
The Quest of the Missing Map (1942)
The Clue in the Jewel Box (1943)
The Secret in the Old Attic (1944)
The Clue in the Crumbling Wall (1945)
Mystery of the Tolling Bell (1946)
The Clue in the Old Album (1947)
The Ghost of Blackwood Hall (1948)
The Clue of the Leaning Chimney (1949)
The Secret of the Wooden Lady (1950)
The Clue of the Black Keys (1951)
Mystery at the Ski Jump (1952)
The Clue of the Velvet Mask (1953)
The Ringmaster's Secret (1953)
The Scarlet Slipper Mystery (1954)
The Witch Tree Symbol (1955)
The Hidden Window Mystery (1956)
The Haunted Showboat (1957)
The Secret of the Golden Pavilion (1959)
The Clue in the Old Stagecoach (1960)
The Mystery of the Fire Dragon (1961)
The Clue of the Dancing Puppet (1962)
The Moonstone Castle Mystery (1963)
The Clue of the Whistling Bagpipes (1964)
The Phantom of Pine Hill (1965)
The Mystery of the 99 Steps (1966)
The Clue in the Crossword Cipher (1967)
The Spider Sapphire Mystery (1968)
The Invisible Intruder (1969)
The Mysterious Mannequin (1970)
The Crooked Banister (1971)
The Secret of Mirror Bay (1972)
The Double Jinx Mystery (1973)
Mystery of the Glowing Eye (1974)
The Secret of the Forgotten City (1975)
The Sky Phantom (1976)
The Strange Message in the Parchment (1977)
Mystery of Crocodile Island (1978)
The Thirteenth Pearl (1979)