The Ghost of Blackwood Hall is the twenty-fifth volume in the Nancy Drew Mystery Stories series. It was first published in 1948 under the pseudonym Carolyn Keene. The actual author was ghostwriter Mildred Wirt Benson.
Summaries (original edition)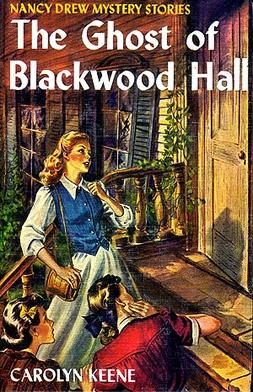 When Mrs. Putney seeks Nancy Drew's help in recovering her stolen jewelry, the search for the thieves takes the teen-age detective and her friends Bess and George to the colorful French Quarter of New Orleans.
But the quest is hampered by the strange behavior of Mrs. Putney, and two young women who are being victimized by so-called spirits. How can Nancy fight these unseen perpetrators of a cruel hoax? And how can she help the gullible victims when the spirits warn them not to have anything to do with Nancy?
Nancy Drew #25 The Ghost of Blackwood Hall First Edition Book Identification Points
Only the first few printings of the first/second year are included. Printings codes are based on the Farrah Guide, 12th printing. Please refer to the guide for later printings.
How to Identify Nancy Drew - The Ghost of Blackwood Hall First Edition Guide

| Printing | Frontis | Copyright Page | Notes |
| --- | --- | --- | --- |
| 1948A-1 | Plain | No List | |
| 1948B-2 | Plain | No List | |
| 1948C-3 | Plain | No List | |
| 1948D-4 | Plain | No List | |
| 1948E-5 | Plain | No List | |
Nancy Drew #25 The Ghost of Blackwood Hall First Edition Dust Jacket Identification Points
How to Identify Nancy Drew - The Ghost of Blackwood Hall First Edition Dust Jacket

| Printing | Price | Front Flap | Rear Panel | Rear Flap | Format |
| --- | --- | --- | --- | --- | --- |
| 1948A-1 | 7575 | Nancy Drew #1-25 | Vicki Barr #1-3 | Connie Blair #1 ad, BLK Ink | 12 |
| 1948B-2 | 7575 | Nancy Drew #1-25 | Vicki Barr #1-3 | Connie Blair #1 ad, BLK Ink | 12 |
| 1948C-3 | 7575 | Nancy Drew #1-25 | Vicki Barr #1-3 | Connie Blair #1 ad, RED & BLK Ink | 12 |
| 1948D-4 | 7575 | Nancy Drew #1-25 | Vicki Barr #1-3 | Connie Blair #1 ad, RED & BLK Ink | 12 |
| 1948E-5 | 7575 | Nancy Drew #1-25 | Vicki Barr #1-3 | Connie Blair #1 ad, RED & BLK Ink | 12 |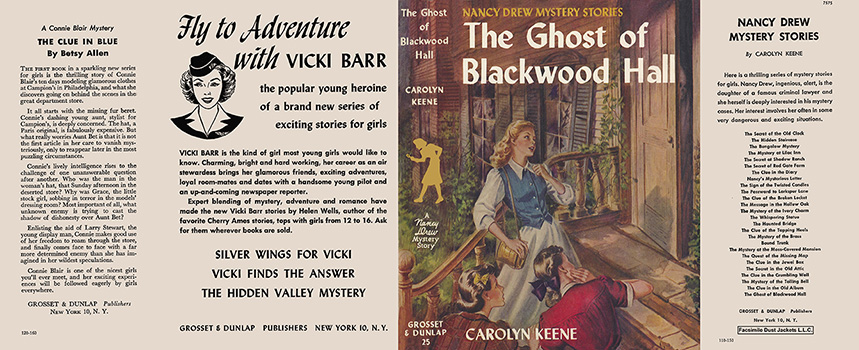 Reference:
Farah's Guide to Nancy Drew, 12th printing