The Clue in the Old Album is the twenty-fourth volume in the Nancy Drew Mystery Stories series. It was first published in 1947 by Grosset & Dunlap under the pseudonym Carolyn Keene. The actual author was ghostwriter Mildred Wirt Benson.
Summaries (original edition)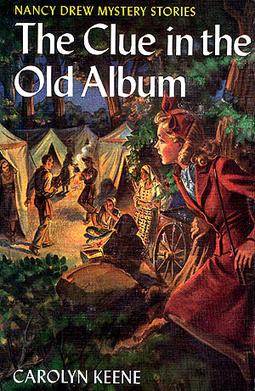 Nancy witnesses a purse snatching and pursues the thief. She rescues the purse, but not its contents, then is asked by the owner, a doll collector, to do some detective work. "The source of light will heal all ills, but a curse will follow him who takes it from the gypsies." This is one of the clues Nancy is given to find an old album, a lost doll, and a missing gypsy violinist.
The young sleuth never gives up her search, though Nancy faints after being injected with poison by a French-swordsman doll, run off the road in her car by an enemy, and sent many warnings to give up the case.
Nancy Drew #24 The Clue in the Old Album First Edition Book Identification Points
Only the first few printings of the first/second year are included. Printings codes are based on the Farrah Guide, 12th printing. Please refer to the guide for later printings.
How to Identify Nancy Drew - The Clue in the Old Album First Edition Guide

| Printing | Frontis | Copyright Page | Notes |
| --- | --- | --- | --- |
| 1947A-1 | Plain | No List | |
| 1947B-2 | Plain | No List | |
| 1947C-3 | Plain | No List | |
Nancy Drew #24 The Clue in the Old Album First Edition Dust Jacket Identification Points
How to Identify Nancy Drew - The Clue in the Old Album First Edition Dust Jacket

| Printing | Price | Front Flap | Rear Panel | Rear Flap | Format |
| --- | --- | --- | --- | --- | --- |
| 1947A-1 | 6565 | Nancy Drew #1-23 | Cherry Ames #1-6 | Judy Bolton #1-17 | 12 |
| 1947B-2 | 6565 | Nancy Drew #1-23 | Cherry Ames #1-6 | Judy Bolton #1-17 | 12 |
| 1947C-3 | 6565 | Nancy Drew #1-23 | Cherry Ames #1-8 | Judy Bolton #1-17 | 12 |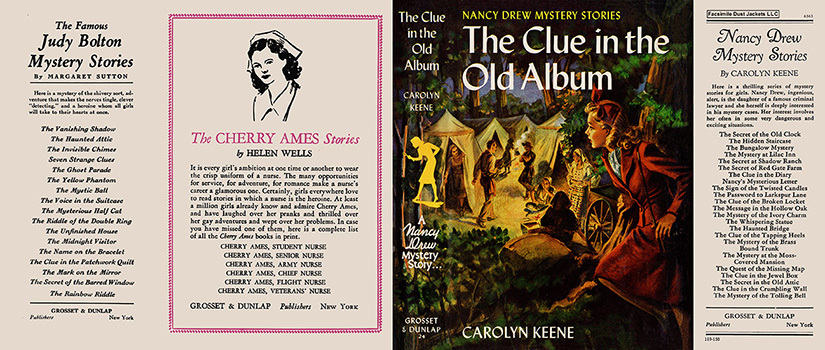 Reference:
Farah's Guide to Nancy Drew, 12th printing