Feodor Stepanovich Rojankovsky – Russian illustrator, 1891-1970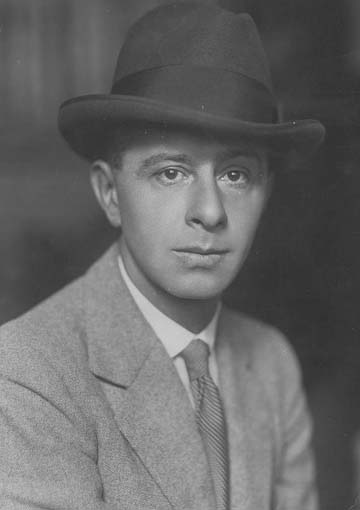 About his youth, the Russian-born Feodor Rojankovsky re­marked: "Two great events determined the course of my childhood, I was taken to the zoo and saw the most marvelous creatures on earth: bears, tigers, monkeys and reindeer; and, while my admiration was running high, I was given a set of color crayons." Passionate about nature and drawing, Rojankovsky honed skills and techniques that allowed him to matriculate at the Moscow Fine Arts Academy in 1912. His studies ended two years later with military service in World War I, fol­lowed by the Russian Revolution, in which he first began to illustrate Russian children's books.
After the war, Rojankovsky lived in Paris, where he worked for Domino Press, a small publishing firm owned by two American women. Daniel Boone (1931), Domino Press's first publication, was America's introduction to Rojankovsky's talent as an illustrator. Emblazoned with brilliant colors and an impeccable sense of design, Daniel Boone was hailed by Anne Carroll Moore as "a unique first book in American history." The spirit­ed lithographs spoke of Rojankovsky's affinity for the American frontier, and critics lauded him as a fine col­orist With unusual color schemes that combined red, yellow, purple, and green, the illustrations in Daniel Boone conveyed a liveliness and a daring befitting their subject.
Feodor Rojankovsky emigrated to America in 1941, where he joined the Artists and Writers Guild, then headed by Georges Duplaix. One year later, Duplaix arranged with Ursula Nordstrom, the gifted Harper juveniles editor, to publish Rojankovsky's Tall Book of Mother Goose (1942). Its elongated size—approximately five by twelve in­ches—ideal for presenting a great number of rhymes individually, each with its own illustration, was a new shape for "Mother Goose" books.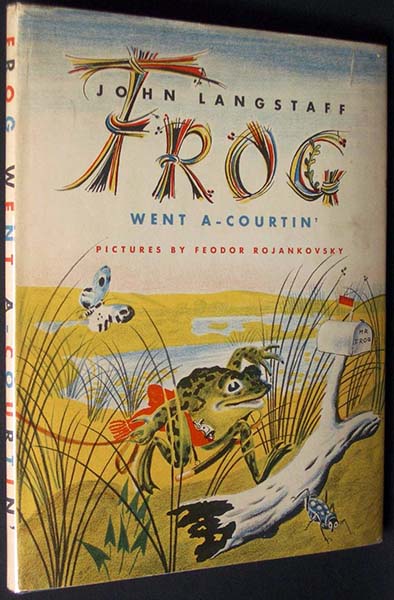 Also new was the look of Rojankovsky's goose. Late nineteenth-century collections often depicted a quaint, grandmotherly woman and her goose seated among dainty, well-be­haved children, or a saccharine twosome in flight across the sky. Rojankovsky's goose, cheery and colorful, was without its human counterpart, and the children he pic­tured were just as natural and homely as the ones next door. His penchant for highly vibrant colors injected a gaiety into his remarkably unsentimental drawings.
Feodor Rojankovsky also illustrated some of the first Golden Books for Duplaix, founder of that imprint. In more than twenty Golden Books, Rojankovsky used color, realistic animals, and lively children; all three became his trademarks. The Three Bears (1948), a Little Golden Book Classic still in print, displays his trademarks with exceptional distinction: a peasant cottage filled with a riot of colors and a great deal of Russian folk art; three husky, auburn bears; and one knavish Goldilocks whose braids are more red than blonde.
Equally respected in the trade-book field, Feodor Rojan­kovsky's talent for observing and drawing nature en­abled him to craft several other noteworthy titles; his illustrations for editor John Langstaff's Frog Went A-Courting (1955) earned him the Caldecott Medal in 1956. His choice of medium, crayon reinforced with pen-and-ink line, gave the drawings a rich grainy texture and con­veyed a characteristic childlike quality that flawlessly matched the simplicity and the cheerfulness of the Scot­tish children's ballad.
When he died in 1970, Feodor Rojankovsky had illustrated more than one hundred children's books; his flair for color, his vision of design, and his love of nature have greatly enriched American picture books.
§ S.L.S.
Source: Children's Books and their Creators, Anita Silvey.
---
Feodor Rojankovsky's Books
As writer and illustrator
Daniel Boone: les adventures d'un chasseur americain parmi les peaux-rouges (1931)
The Tall Book of Mother Goose (Simon & Schuster, 1942)
Grandfather's Farm Panorama: Ten Feet Long (Platt and Munk, 1943)
Choo-choo Panorama (Platt and Munk, 1945)
The Three Bears (Little Golden Books, 1948)
Favorite Fairy Tales (Simon & Schuster, 1949)
Farm Animals (Merrigold Press, 1950)
The Great Big Animal Book (Simon & Schuster, 1950)
The Great Big Wild Animal Book (Simon & Schuster, 1951)
The Great Big Animal Book (1952)
Little Golden Mother Goose (Golden Press, 1957)
The Outside Cat (Morrow, 1957)
Animals on the Farm (Knopf, 1962, 1967)
Animals in the Zoo (1962)
The Dog and Cat Book (Golden Pleasure Books, 1963)
An Alphabet of Many Things (Golden Press, 1970)
The Tall Book of Mother Goose (Harper and Brothers, 1942)
As Illustrator
Flash: The Story of a Horse, a Coach-Dog and the Gypsies, written by Esther Averill (Domino Press, 1934)
Bourru, the Brown Bear, Written by Rose Fyleman and Lida (George Allen & Unwin, 1936)
Fluff, the Little Wild Rabbit, written by Lida, translated by Georges Duplaix (Harper & Brothers, 1937)
The Children's Year, written by Y. Lacôte (Harper & Brothers, 1937)
Adventures of Dudley and Gilderoy, written by Algernon Blackwood and Marion B. Cothren (EP Dutton & Co, 1941)
Cuckoo, written by Lida (Harper & Brothers, 1942)
How the Camel Got His Hump, written by Rudyard Kipling (Garden City Publishing Co., 1942)
How the Leopard Got His Spots, written by Rudyard Kipling (Garden City Publishing Co., 1942)
How the Rhinoceros Got His Skin, written by Rudyard Kipling (Garden City Publishing Co., 1942)
The Cat That Walked by Himself, written by Rudyard Kipling (Garden City Publishing Co., 1942)
The Elephant's Child, written by Rudyard Kipling (Garden City Publishing Co., 1942), Junior Literary Guild Award
The Golden Book of Birds, written by Hazel Lockwood (Simon & Schuster, 1943)
Animal Stories, written by Georges Duplaix (Simon & Schuster, 1944)
Cortez the Conqueror, written by Covelle Newcomb (Random House, 1947)
The Butterfly that Stamped, written by Rudyard Kipling (Garden City Publishing Co., 1947)
Big Farmer Big and Little Farmer Little, written by Byron and Kathryn Jackson (Simon & Schuster, 1948)
Gaston and Josephine, written by Georges Duplaix (Simon and Schuster, 1948)
Our Puppy, written by Elsa Ruth Nast (Simon & Schuster, 1948)
The Big Elephant, written by Kathryn Jackson (Golden Book, 1949)
All Alone, written by Claire Huchet Bishop (Viking Press, 1953), Newbery Honor Book
The Giant Golden Book of Cat Stories, written by Elizabeth Coatsworth (Simon & Schuster, 1953)
The Giant Golden Book of Dog Stories, written by Elizabeth Coatsworth (Simon & Schuster, 1953)
Horse Stories, written by Kate Barnes and Elizabeth Coatsworth (Simon & Schuster, 1954)
Frog Went A-Courtin', written by John Langstaff (1955)
I Play at the Beach, written by Dorothy Koch (Holiday House, 1955)
Balboa, Swordsman an d Conquistador, written by Felix Riesenberg, Jr. (Random House, 1956)
Cartier Sails the St. Lawrence, written by Esther Averill (Harper & Row, 1956)
I Like the City, written by James L. Mursell (Silver Burdett Company, 1956)
I Like the Country, written by James L. Mursell (Silver Burdett Company, 1956)
Over in the Meadow, written by John Langstaff (Harcourt, Brace and Company, 1957)
The Giant Golden Book of Dogs, Cats and Horses, written by Kate Barnes and Elizabeth Coatsworth (Simon & Schuster, 1957)
The White Bunny and His Magic Nose, written by Lily Duplaix (Golden Press, 1957)
Baby Wild Animals, written by John Wallace Purcell (Simon & Schuster, 1958)
The Cabin Faced West, written by Jean Fritz (Puffin Books, 1958)
The Little River, written by Ann Rand (Harcourt, Brace and Company, 1959)
Animal Dictionary, written by Jane Werner Watson (Golden Press, 1960)
The Defender, written by Nicholas Kalashnikoff (Oxford University Press, 1961), Newbery Honor Book
The Whilry Bird, written by Dimitry Varley (Knopf, 1961)
Cricket in a Thicket, written by Aileen Fisher (Scribner, 1963)
I Can Count, written by Carl Memling (Merrigold Press, 1963)
The Cow Went Over the Mountain, written by Jeanette Krinsley (Golden Press, 1963)
Hop, Little Kangaroo, written by Patricia Scarry (Golden Press, 1965)
Christmas Bear, written by Marie Colmont, translated by Constance Hirsch (Golden Press, 1966)
I Am a Fox, written by Ole Risom (Golden Press, 1967)
A Crowd of Cows, written by John Graham (Harcourt, Brace and World, 1968)
The Falcon Under the Hat: Russian Merry Tales and Fairy Tales, selected and translated by Guy Daniels (Funk & Wagnalls, 1969)
To Make a Duck Happy, written by Carol E. Lester (Harper & Row, 1969)
The Giant Golden Bible, written by Elsa Jane Werner (Simon & Schuster, 1946)