Edward Gorey – American author and illustrator 1925-2000
American author and illustrator, b. 1925. As an illustrator of books for adults, Edward Gorey has a distinctive, instantly recognizable style: intricately de­tailed pen-and-ink drawings capture characters, fur- coated, turtle-necked, or dressed in 1920s or Edwardian garb, frozen in moments of stoicism. Somewhat Gothic and ostensibly grim, these images are usually accompa­nied by macabre stories of death, dread, and gore or by humorous verses detailing situations of horror. Gorey's unique character is most pervasive in the works of which he is both author and illustrator. Though largely out of print, many of his books have been made avail­able in the collections Amphigorey (1972), Amphigorey Too (1975), and Amphigorey Also (1983).
Born in Chicago, Gorey attended the Art Institute of Chicago, served a short time in the U.S. Army, and received a B.A. in French from Harvard. After working in Boston at various jobs, including bookstore clerk and book jacket designer, he moved to New York in 1953 to become a staff artist at Doubleday. That same year, his first book, The Unstrung Harp, was published. It was followed by a succession of books, many of which were published under a variety of humorously anagrammatic pseudonyms such as Mrs. Regera Dowdy, Ogdred Wea­ry, and Dreary Wodge.
Though critics and fans are apt to analyze the dark humor in his work, Gorey maintains that his stories are simply entertainments in the nonsense tradition of Lewis Carroll and Edward Lear. His attraction to this genre is perhaps more evident in his work for children. In addition to illustrating a few of Edward Lear's poems, including The Dong with the Luminous Nose (1969), Gorey wrote and illustrated The Wuggly Ump (1963), a story in verse about a group of carefree children who end up in the belly of an obscure dragon­like creature.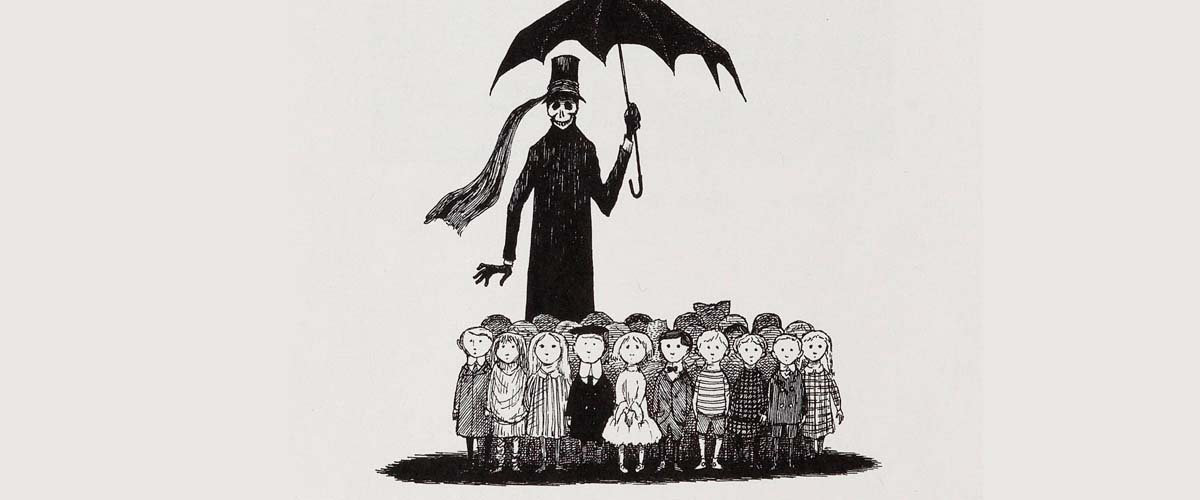 Gorey's ability to bring visual humor to a text has made him the appropriate illustrator of several collections of poetry, such as The Monster Den (1966) and You Read to Me, Til Read to You (1962), by John Ciard. His intuitive illustrations and graphic design added a narrative dimension to the witty text of Flo­rence Parry Heide to create the award-winning The Shrinking of Treehorn (1971).
With expressive visual detail, Gorey's line drawings add further dimension to parallel the story of an endearing, if slightly odd, only child who independently and rather ably copes with his mysterious condition of shrinking while his emotionally aloof parents carry on their trivial tasks with devout attention, ignorant of his diminishing stature. In a more traditional vein, Gorey produced illustrations for two versions of classic fairy tales: Red Riding Hood (1972), retold in verse by Beatrice Schenk de Regniers, and Rumpelstiltskin (1974), retold by Edith Tarcov.
Reaching a wide audience through passions from picture books and book jackets to the theater—one of the passions that he cites as among his main influences—Edward Gorey's work appeals to a main­stream audience as well as to devotees by bringing a lighthearted quality to dark humor.
E.K.E.
Source: Children's Books and their Creators, Anita Silvey.