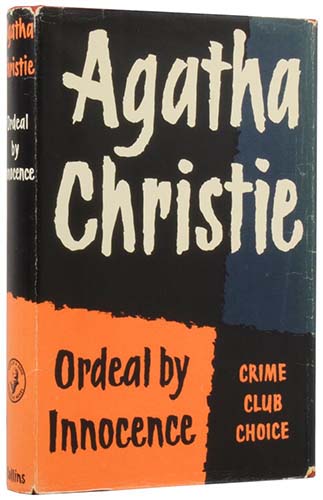 Ordeal by Innocence is a work of detective fiction by British writer Agatha Christie, first published in the UK by the Collins Crime Club on 3 November 1958 and in the US by Dodd, Mead and Company the following year. The UK edition retailed at twelve shillings and sixpence (12/6) and the US edition at $2.95.
A crucial witness is unaware of his role as such until two years after a man is found guilty of a murder. When he realizes the information he holds, he re-opens the pain of loss in a family, and re-opens the question of who was the murderer two years ago.
Plot Summary
[SPOILER ALERT]
Geologist Arthur Calgary appears at the Argyle home Sunny Point two years after Rachel Argyle, wife and mother of five adopted children, was bludgeoned to death. Her son Jacko was tried and imprisoned, and he died after 6 months in prison. Calgary explains that Jacko is innocent of murder, because his alibi was true. Calgary is the man who gave Jacko a ride to town and talked with him, when the murder was known to happen. Calgary is confused by the family's reaction to his news. It had been difficult to face them with his failure to appear by the time of the trial, yet no one is pleased at his effort for justice. Brother Mickey Argyle realises immediately that there is a murderer among them still, and visits Calgary in his hotel room to tell him. As the new police investigations proceed, they suspect in turn his father Leo, his brother Mickey, his sisters Mary, Tina and Hester, his father's secretary Gwenda, and the long-time housekeeper Kirsten. Calgary visits the defense lawyer, who gives him more details of the event and some insights into the family, and the position in which the news puts them. Calgary feels he must now assist the family in the new situation.
Dr Calgary was unaware of the trial because he was hit by a truck within hours after meeting Jacko, and a concussion blocked Calgary's recent memory. He left the country on a lengthy polar expedition when police were seeking the driver of the car. Jacko's photo jogs his memory upon Calgary's return to England; he recalls conversing with Jacko. Calgary feels his duty to justice to come forward late, and the police accept his reasons for not appearing earlier.
Calgary next visits retired local doctor, Dr MacMaster, to ask him about Jacko. MacMaster was surprised when Jacko was convicted for killing Rachel, not because murder was outside Jacko's 'moral range'. He sees Jacko as one too cowardly to kill another; instead, he would direct an accomplice. Calgary speaks to Maureen, who reveals Jacko's persuasive ways with older women: initiating affairs and then taking money from them. Hester visits Calgary in London, as she cannot take the tension at home. Each returns to Sunny Point. Calgary meets with one older woman who had fallen for Jacko's compliments and given him money. The police gather new information from family members as they seek the murderer. Mickey plans to meet with Tina, to learn what she did the night of the murder and tell her of his new job out of England. Mary Argyle and her husband Philip Durrant stay at Sunny Point during this period of upset. Philip tries to find the guilty one among them and his efforts spur the killer to strike again.
At Philip's request, Tina comes to Sunny Point. As she reaches his room, Kirsten is at the door with a tray, and they see that Philip is dead at his desk. Tina walks away until she collapses outdoors, where Mickey sees her fall and he carries her inside. Doctor Craig arrives and says that Tina has been stabbed in the back and must go to hospital.
Hester tells Calgary about Philip and Tina. Calgary heads to Superintendent Huish, who repeats the words Tina spoke in hospital, that the cup was empty, Philip's cup, meaning Kirsten was leaving not entering the room. At Sunny Point, Calgary reveals to all, in the library, that the killer is the housekeeper, Kirsten. Jacko had persuaded the plain Kirsten that he was in love with her, and persuaded her to murder Mrs Argyle to steal some money he wants, money his mother would not give him. Kirsten learns that Jacko was secretly married, by meeting his wife the day after the murder. Kirsten realises what a fool she has been and sees the evil in Jacko.
Once accused, Kirsten runs away from Sunny Point. The family expect the police will nab her. While Mary mourns her beloved husband, her sister Hester professes her love for Arthur Calgary. She suspects that Tina and Mickey will get together once Tina recovers. Leo feels free to remarry.
Publication history
1958, Collins Crime Club (London), 3 November 1958, Hardcover, 256 pp
1959, Dodd Mead and Company (New York), 1959, Hardcover, 247 pp
1960, Pocket Books (New York), Paperback, 211 pp
1961, Fontana Books (Imprint of HarperCollins), Paperback, 192 pp
In the UK the novel was first serialised in the weekly magazine John Bull in two abridged instalments from 20 September (Volume 104, Number 2725) to 27 September 1958 (Volume 104, Number 2726) with illustrations by "Fancett".
In the US, the first publication was in the Chicago Tribune in thirty-six parts from Sunday, 1 February to Saturday, 14 March 1959 under the title of The Innocent.
An abridged version of the novel was also published in the 21 February 1959 issue of the Star Weekly Complete Novel, a Toronto newspaper supplement, with a cover illustration by Russell Maebus.
Ordeal by Innocence – First Edition Book Identification Guide
The books are listed in the order of publication. While the majority of Agatha Christie's books were first published in the UK. There are many titles that were first published in the US. The title of the book may differs from the UK edition in some cases.
| Year | Title | Publisher | First edition/printing identification points |
| --- | --- | --- | --- |
| 1958 | Ordeal by Innocence | William Collins & Sons, London, [1958] | First edition. "© Agatha Christie 1958" stated on the copyright page. No statement of later printings. Red cloth lettered in black. Price 12/6. |
| 1959 | Ordeal by Innocence | Dodd, Mead & Co, NY, [1958] | First American edition. Copyright 1958 stated on the copyright page. No statement of later printings. Red boards lettered in silver. First published in 1959, but copyright date 1958. Price $ 2.95. |
Note about Book Club Editions (BCE) and reprints:
UK: You can see statements of later reprint dates or of book club on the copyright page.
US: The US reprint publishers usually use the same sheets as the first edition and are harder to identify by looking at the title page or the copyright page. One may identify a BCE by looking at the DJ, which doesn't have a price on top of the front flap and a "Book Club Edition" imprint at the bottom. If the dust jacked is clipped at both the top/bottom of the front flap. You can safely assume it's a BCE . If the book is missing the dust jacket. Later BCE editions can be identified by its plain boards, while first printings are issued in quarter cloth.
Please refer to the gallery for detailed images of true first edition bindings and dust jackets.
Ordeal by Innocence – First Edition Dust Jacket Identification Guide
First edition bindings and various dust jacket printings identification.
Reference:
---