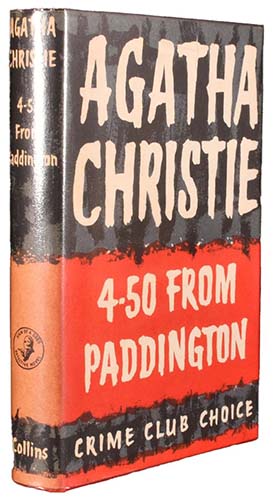 4.50 from Paddington is a detective fiction novel by Agatha Christie, first published in November 1957 by Collins Crime Club. This work was published in the United States at the same time as What Mrs McGillicuddy Saw!, by Dodd, Mead. The novel was published in serial form before the book was released in each nation, and under different titles. The US edition retailed at $2.95.
The UK title 4.50 from Paddington, specifies a train time departing in the afternoon from Paddington station, a major station in central London. In British style, the time is written as 4.50 (in later timetables it would be 16.50). The London railway stations were perhaps not considered well known by the US publisher, and thus the title in the US was changed to What Mrs McGillicuddy Saw!, which also refers to the moment on the train when the murder was seen. Oddly, Mrs. McGillicuddy was on the 4:54 train and the murder took place on the 4:33. There is no reference in the book to a train departing Paddington at 4:50.
Plot Summary
[SPOILER ALERT]
Mrs Elspeth McGillicuddy is on her way from a shopping expedition to visit her old friend Jane Marple for Christmas. Her train passes another train running parallel and in the same direction as her train. A blind in a compartment on the other train flies up, and she sees a man with his back to her strangling a woman. She reports it to a sceptical ticket collector who passes the report for investigation. When arriving at Miss Marple's cottage, she tells her everything. Mrs McGillicuddy describes the dying woman as having blonde hair and wearing a fur coat and the man as tall and dark, though she saw only his back. Miss Marple believes her story, knowing her friend to be trustworthy in description. With no report of a body found in the next day's news, Miss Marple sets out to determine where the body is. With a good map and several rides by train to feel the effect of a sharp curve on standing passengers, she determines that the body is probably in the grounds of Rutherford Hall. Miss Marple sends Lucy Eyelesbarrow, a young professional cook and housekeeper of her acquaintance, to work at Rutherford Hall and find the body.
Luther Crackenthorpe is a semi-invalid widower who lives at Rutherford Hall with his daughter Emma. Luther's father, not liking his son, wrote a will which left his property for his eldest grandson. Luther receives the income for life. After Luther's death, the capital is to be divided equally among Luther's surviving children, not unlike a tontine pension. The share of cash due to the living children rises as each sibling dies before their father.
Edmund, the firstborn son, died during World War II. Youngest daughter Edith ("Edie"), died four years before the novel begins, leaving a son, Alexander. The remaining children are Cedric, an Ibiza-based bohemian painter; Harold, a married businessman in the City of London; Alfred, who engages in shady business dealings; and Emma. Others at the family home include Alexander's father Bryan Eastley, and Alexander's school friend James Stoddart-West. Another character is local physician Dr Quimper, who looks after Luther and is in love with Emma.
Lucy uses golf practice as a cover for searching the grounds. She discovers fur from a woman's coat caught on a bush. Then she finds a cheap compact. Lucy takes these to Miss Marple, who believes the murderer knew all about Rutherford Hall, and had removed the body from the embankment where it had fallen away from the railway, driven a car outside the grounds at night and hidden the body. Lucy finds the woman's body hidden in a sarcophagus in the old stables containing Luther's collection of dubious antiques. Who was she?
The police, led by Inspector Craddock, identify the victim's clothing as purchased in Paris. Emma tells the police of two letters, one from her brother Edmund written shortly before his death in the retreat to Dunkirk, and another received a few weeks before the woman's body is found. Her brother said that he would marry a woman named Martine. The recent letter seemed to be from Martine, wanting to connect with the family of her son's father. There was no second letter, nor a meeting with Martine. The police conclude that the body in the sarcophagus is that of Martine until Lady Stoddart-West, mother of James, reveals her identity. She confirms that Edmund's letter spoke of her, but he died before they could marry. She spoke up only because her son told her of the letter supposedly from Martine.
The whole family, apart from the absent Bryan and Alexander, take ill suddenly, and before long, Alfred is found dead at his residence. Later, the curry made by Lucy on the fateful day is found to contain arsenic. Some days later, Harold, after returning home to London, receives a delivery of tablets from Dr Quimper, who had told him not to take more, yet sends him more. Harold takes them; they are poisoned with aconitine, and he dies whilst being watched taking the tablets by Lady Alice, his wife.
Lucy arranges an afternoon-tea visit to Rutherford Hall for Miss Marple and Mrs McGillicuddy. Miss Marple instructs Mrs McGillicuddy to ask to use the lavatory as soon as they arrive. Miss Marple is eating a fish-paste sandwich when she begins to choke on a fish bone. Dr Quimper moves to assist her. Mrs McGillicuddy enters the room at that moment, sees the doctor's hands at Miss Marple's throat, and cries out, "But that's him – that's the man on the train!"
Miss Marple realised that her friend would recognise the real murderer if she saw him again in a similar pose. The dead woman was Quimper's wife, who would not divorce him, so he killed her to be free to marry Emma. After the Quimpers separated, she had joined a ballet troupe as Anna Stravinska. Quimper's scheme grew to killing Emma's brothers Alfred and Harold, so that the inheritance need not be shared.
He poisoned the cocktail jug, not the dinner, and added arsenic to the sample of curry he took before he gave it in for testing. He added a second dose of arsenic to Alfred's tea. He sent the poisoned tablets to Harold, explaining their deaths. Miss Marple then tells Mrs McGillicuddy and Inspector Craddock that Luther Crackenthorpe may die soon, that Emma will get over the doctor, and that there will be wedding bells for Lucy – though she refuses to be drawn on the identity of the groom (it turns out to be Cedric, as mentioned in 'Agatha Christie's Secret Notebooks').
Publication history
1957, Collins Crime Club (London), 4 November 1957, Hardcover, 256 pp.
1957, Dodd Mead and Company (New York), November 1957, Hardcover, 192 pp.
1958, Pocket Books (New York), Paperback, 185 pp.
1960, Fontana Books (Imprint of HarperCollins), Paperback, 190 pp.
In the UK the novel was first serialised in the weekly magazine John Bull in five abridged instalments from 5 October (volume 102 number 2675) to 2 November 1957 (volume 102 number 2679) with illustrations by K. J. Petts.
The novel was first serialised in the US in the Chicago Tribune in thirty six instalments from Sunday 27 October to Saturday 7 December 1957 under title Eyewitness to Death.
The novel was published in the US under the title What Mrs McGillicuddy Saw! by Dodd Mead and Co. The UK version was to be titled 4.54 from Paddington until the last minute, when the title and text references were changed to 4.50 from Paddington. This change was not communicated to Dodd Mead until after the book was being printed, so the text references to the time show 4:54 rather than 4:50.
An abridged version of the novel was also published in the 28 December 1957 issue of the Star Weekly Complete Novel, a Toronto newspaper supplement, under the title Eye Witness to Death with a cover illustration by Maxine McCaffrey.
4.50 from Paddington – First Edition Book Identification Guide
The books are listed in the order of publication. While the majority of Agatha Christie's books were first published in the UK. There are many titles that were first published in the US. The title of the book may differs from the UK edition in some cases.
| Year | Title | Publisher | First edition/printing identification points |
| --- | --- | --- | --- |
| 1957 | 4.50 from Paddington | William Collins & Sons, London, [1957] | First edition. "© Agatha Christie 1957" stated on the copyright page. No statement of later printings. Red cloth lettered in black. Price 12/6. |
| 1957 | What Mrs McGillicuddy Saw! | Dodd, Mead & Co, NY, [1957] | First American edition. Copyright 1957 stated on the copyright page. No statement of later printings. Orange boards lettered in yellow. Price $ 2.95, |
Note about Book Club Editions (BCE) and reprints:
UK: You can see statements of later reprint dates or of book club on the copyright page.
US: The US reprint publishers usually use the same sheets as the first edition and are harder to identify by looking at the title page or the copyright page. One may identify a BCE by looking at the DJ, which doesn't have a price on top of the front flap and a "Book Club Edition" imprint at the bottom. If the dust jacked is clipped at both the top/bottom of the front flap. You can safely assume it's a BCE . If the book is missing the dust jacket. Later BCE editions can be identified by its plain boards, while first printings are issued in quarter cloth.
Please refer to the gallery for detailed images of true first edition bindings and dust jackets.
4.50 from Paddington – First Edition Dust Jacket Identification Guide
First edition bindings and various dust jacket printings identification.
Reference: