Hergé – Belgian author and artist, 1907-1983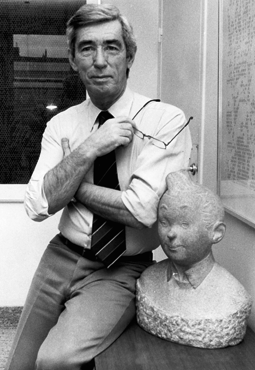 Belgian author and artist, 1907-1983. Translated into over thirty languages, Hergé's adventure stories about the brave and resourceful young reporter Tintin are popular with both children and adults throughout the world In twenty-four book-length comic strips, Tintin and his faithful fox terrier, Snowy, embark on a series of thrilling global adventures set in remarkably detailed, meticulously researched landscapes.
Hergé. whose real name is Georges Remi the devised his pen name by inverting his initials to R.G.), pub­lished the first Tintin adventure in Le Petit Vingtième, the children's supplement to Le Vingtieme Siecle, in 1929. Published in book form in 1930 as Tintin in the Land of the Soviets, this primitive work is the only one of the series that was not later translated into color, with the exception of Tintin and the Alpha-Art, a work unfin­ished when Herge died and left in sketch form at his request.
The second adventure, Tintin in the Congo (1931), reflects a contemporary European view of Africa based on ignorance and portrays the African people as gullible and naive. Neither Congo nor the fanatically anti-Communist Soviets has yet been published in the United States.
In Tintin in America (1932), Tintin takes on Chicago mobster Al Capone, and Hergé's sociopolitical satire becomes more sophisticated as he depicts the National Guard driving the Blackfoot Indians away from their ancestral lands. But it is probably The Blue Lotus (1936) that marks Hergé's refinement of detail and concern for accuracy.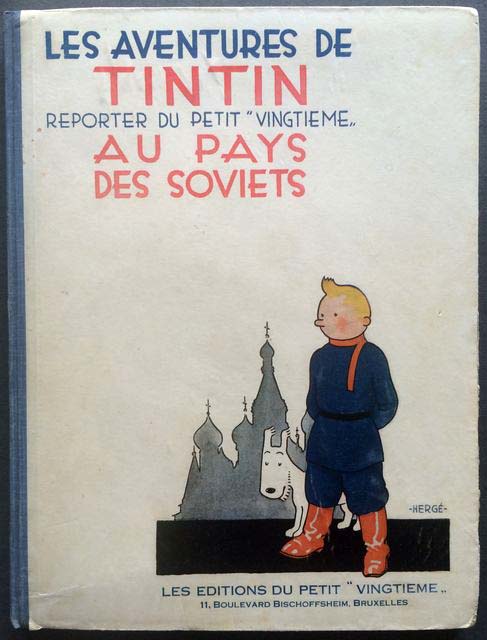 After befriending a young Chinese student who urged him to avoid common stereotypes, Hergé began to delve further into research of the physical and cultural landscape. The story is a clear protest of Japa­nese expansionism on the Chinese mainland and of the treatment of the Chinese people by many Westerners. Hergé's friend appears as young Chang in The Blue Lotus and later in Tintin in Tibet (i960), a story of true friendship Hergé claims as his favorite.
Ostensibly a journalist, Tintin is seen reporting to his editor only once in the series and follows his sense of adventure and justice rather than any particular assign­ment. In the course of his adventures he encounters a colorful cast of characters who become his cohorts: The bumbling, ineffectual detectives Thompson and Thom­son, the rough old sea dog Captain Haddock with his legendary penchant for drinking whiskey and hurling passionate but innocent insults, and the absent-minded but ingenious Professor Cuthbert Calculus provide both help and hindrance throughout Tintin's travels.
All of these characters find their way aboard the first manned rocket bound, for the moon in Destination Moon (1953) and Explorers on the Moon (1954), in which Tintin, Snowy Captain Haddock, and Thompson and Thomson set foot on the moon fifteen years before Neil Armstrong landed in Apollo 11.
Hergé constructed a detailed scale model of a German U2 rocket to create the drawings, and his extensive scientific research gives the books remarkable accuracy and foresight. While most of the Tintin stories are noticeably devoid of women, opera singer Bianca Castafiore takes center stage as a strong female character in The Castafiore Emerald (1963).
Charles de Gaulle once remarked, "My only interna­tional rival is Tintin." Intelligent, courageous, and kind- hearted, Tintin is a seemingly invincible but human hero who has blazed a trail around the world.
L.A.
Source: Children's Books and their Creators, Anita Silvey.
---
Hergé's Tintin Books List
Production order
Tintin in the Land of the Soviets – (Tintin au pays des Soviets) (1929–1930)
Tintin in the Congo – (Tintin au Congo) (1930–1931)
Tintin in America – (Tintin en Amérique) (1931–1932)
Cigars of the Pharaoh – (Les Cigares du Pharaon) (1932–1934)
The Blue Lotus – (Le Lotus bleu) (1934–1935)
The Broken Ear – (L'Oreille cassée) (1935–1937)
The Black Island – (L'Ile noire) (1937–1938)
King Ottokar's Sceptre – (Le Sceptre d'Ottokar) (1938–1939)
The Crab with the Golden Claws – (Le Crabe aux pinces d'or) (1940–1941)
The Shooting Star – (L'Etoile mystérieuse) (1941–1942)
The Secret of the Unicorn – (Le Secret de la Licorne) (1942–1943)
Red Rackham's Treasure – (Le Trésor de Rackam le Rouge) (1943)
The Seven Crystal Balls – (Les Sept boules de cristal) (1943–1946)
Prisoners of the Sun – (Le Temple du soleil) (1946–1948)
Land of Black Gold – (Tintin au pays de l'or noir) (1948–1950) 1
Destination Moon – (Objectif Lune) (1950–1953)
Explorers on the Moon – (On a marché sur la Lune) (1950–1953)
The Calculus Affair – (L'Affaire Tournesol) (1954–1956)
The Red Sea Sharks – (Coke en stock) (1956–1958)
Tintin in Tibet – (Tintin au Tibet) (1958–1959)
The Castafiore Emerald – (Les Bijoux de la Castafiore) (1961–1962)
Flight 714 to Sydney – (Vol 714 pour Sydney) (1966–1967)
Tintin and the Picaros – (Tintin et les Picaros) (1975–1976)
Tintin and Alph-Art – (Tintin et l'Alph-Art): Unfinished work, published posthumously in 1986, and republished with more material in 2004.