The Magical Mimics in Oz (1946) is the thirty-seventh in the series of Oz books created by L. Frank Baum and his successors, and the first written by Jack Snow. It was illustrated by Frank G. Kramer. The book entered the Public Domain in the United States, when its copyright was not renewed as required.
Summary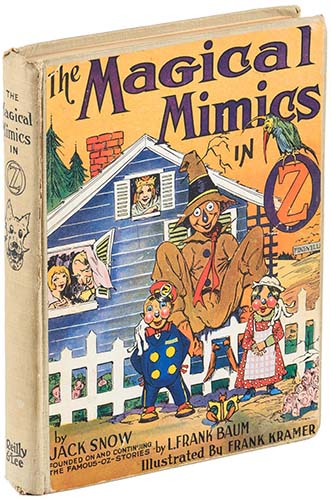 At the start of Snow's story, Princess Ozma and Glinda the Good are planning to leave Oz, to attend the Grand Council of the fairy queen Lurline, held in the Forest of Burzee every 200 years. Dorothy Gale is surprised when Ozma appoints her to rule Oz during their absence; but Ozma reminds Dorothy that she is a princess of Oz. (Ozma's choice is not well-motivated; but it is in keeping with Snow's "Baum-centric" approach, in that it places Baum's primary heroine Dorothy at the center of the coming action.)
Chapter 3 shifts attention to the evil Mimics in their lair in Mount Illuso. The Mimics habitually shift "from one loathsome shape to another" — an ape body with a head of an alligator, and a serpent with black butterfly wings, and a toad with a hyena's head are a few of their choices. Their rulers, King Umb and Queen Ra (a play on "umbra"), reveal their plan to counter Lurline's controlling magic and attack Oz. The shape-shifting royals and their minions fly to Oz as big black birds, and waylay Dorothy and the Wizard of Oz. By stepping into their shadows, Ra and Umb take the shapes of Dorothy and the Wizard; the originals are paralyzed by the magic, and are carried off to Mount Illuso by Mimics. Ra and Umb, in their stolen forms, search Ozma's library for the antidote to Lurline's magic spell.
Umb and Ra are not capable of imitating the Wizard and Dorothy convincingly; people become suspicious, and Toto exposes them — but not before the Mimic royals find what they are looking for. Back in Mount Illuso, they conjure a gigantic red spider that spins a magic web; this negates the influence of Lurline's spell, and allows the Mimics to launch a mass attack against Oz.
Dorothy and the Wizard are imprisoned in a cave deep within Mount Illuso. There, however, they see a blaze of brilliant fairy light that restores their power of motion. The light stems from a button on the cave wall. They press the button, and a hidden door opens to expose an elevator and its attendant. Hi-Lo, a living wooden puppet, takes them to the top of the mountain. There, the two Ozites discover Pineville and are led to the fairy Ozana, who had been delegated by Lurline to watch over the malicious Mimics. Ozana has spent her lonely days and years creating her Story Blossom Garden and her wooden puppet people (one of whom has escaped to the outer world, to become Charlie McCarthy). Ozana is shocked to discover that the Mimics have evaded her guardianship; she leads Dorothy and the Wizard back to Oz, flying on giant swans.
The attacking Mimics arrive in Oz disguised as beautiful birds, with gorgeous plumage of "Red, blue, green and gold…." The residents are seduced by their beauty, and the Mimics quickly duplicate and paralyze them. The trick works only on humans; fierce beasts like the Cowardly Lion and Hungry Tiger are magically sedated, while the Scarecrow, the Patchwork Girl and other non-human creatures are simply tied up.
The Mimics have largely accomplished their ends when they confront the simultaneous arrivals of Ozma and Glinda, and Ozana, Dorothy, and the Wizard. Ozana's magic is powerful enough to subdue Ra and Umb and reverse their spells. The Mimics, back in their grotesque forms, are herded into the mirrored grand ballroom of Ozma's palace; good magic imprisons them in the ballroom's many mirrors, from where they are sent back to the interior of Mount Illuso. Order is restored to Oz, and celebrated with the usual concluding banquet. Ozana is rewarded with an invitation to live in Oz; her Pineville people and her Story Blossom Garden are magically transported to Oz so that she will not miss them.
The Magical Mimics in Oz First Edition Book Identification Points
Please refer to the gallery for detailed images of binding(s) and dust jackets.
Jack Snow - The Magical Mimics in Oz 1946 First Edition Identification Guide
Year
Title
Publisher
First edition/printing identification points
1946
The Magical Mimics in Oz
Reilly & Lee Co., [1946]
First edition. Illustrated by Frank Kramer, 242 pages.


Textual points: 16-page gatherings. The text is printed on white stock. Inserted pictorial endpapers printed in green on pale-yellow stock.

Binding: light-gray cloth, with a pictorial paper label in colors. Spine imprint is in semi-script, "fancy" letters. The dust jacket has, instead of a list of Oz books on the back flap, a long statement about Jack Snow, Frank Kramer, and Frank Baum's literary importance.

Size of leaf: 8 7/8 by 6 5/8 inches. Thickness of volume: Varies from 1 1/16 to 1 3/16 inches (text sheets including the free endpapers measure 15/16 to 1 1/16 inches thick from copy to copy). The height of the cover varies from 9 1/8 to 9 1/4 inches. (Copies have been seen bound in orange and in blue cloth, with the cover only 9 1/16 inches tall; they are probably later, perhaps around 1951.)

NOTE: Why first-printing copies vary in thickness is indicated by an inscription from publisher to author in an unbound, advance copy of The Magical Mimics in Oz: "Jack, Thought you would like to have this No. 1 — Mimics —even though this particular book does have two weights of paper—through press room error. " This copy is exactly 1 inch thick without covers. Both paper stocks are white.


Later Printings

All subsequent printings retain the 16-page gatherings, but they are printed on a light-gray stock which is thinner than the white stocks used on the first state: the volume is only 7/8 inch thick. Earlier reprints retain the pictorial label and the illustrated endpapers.

In 1950, a "Popular Edition" appeared. It is printed on the light-gray paper stock and bound in light-brown paper- covered boards stamped in dark brown; there is no pictorial label (plate 101). The illustrated endpapers have been omitted, and the first page of the first gathering and the last page of the final gathering are pasted to the covers.
The Magical Mimics in Oz First Edition Dust Jacket Identification Points
First edition binding(s) and various dust jacket printings identification.
References:
Bibliographia Oziana – Haff, Greeme, Martin. 2002