Lucky Bucky in Oz (1942) is the thirty-sixth in the series of Oz books created by L. Frank Baum and his successors, and the third and last written and illustrated solely by John R. Neill. (He wrote a fourth, The Runaway in Oz, but died before illustrating it.)
Summary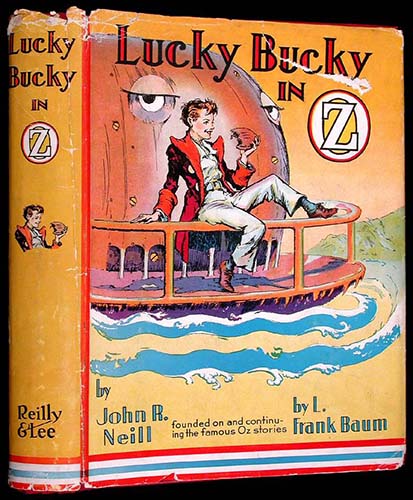 Bucky Jones is aboard a tugboat in New York Harbor when the boiler blows up. He is soon blown into the Nonestic Ocean where he meets Davy Jones, a wooden whale. The pair take an undersea route to the Emerald City, and have many adventures along the way.
Lucky Bucky in Oz First Edition Book Identification Points
Please refer to the gallery for detailed images of binding(s) and dust jackets.
John R. Neill - Lucky Bucky in Oz 1942 First Edition Identification Guide
Year
Title
Publisher
First edition/printing identification points
1942
Lucky Bucky in Oz
Reilly & Lee, [1942]
First edition. Illustrated by John R. Neill, 289 pages.


Textual points: 16-page gatherings. Inserted pictorial end­papers.

Binding: various colors of cloth: tan, turquoise, light tannish-green, dark green, light green (textured and untextured), light gray, sky-blue, bright blue, orange, light orange-tan, yellow, and red have been reported. No priority is known.
Pictorial paper label in colors. The spine title is printed in plain, unserifed letters, with the word "OZ" as a stylized device, the "Z" within the "O". The publisher's imprint on the spine is in the semi-script, "fancy" letters. The jacket on the first state does not have the usual list of Oz books on the back flap; instead, it has a letter from "Bucky of Oz" asking readers to buy Victory Bonds and Stamps.

Size of leaf: 8 7/8 by 6 5/8 inches. Thickness of volume: 1 3/8 inches.


Later Printings

Several copies have been seen printed on thinner stock, measuring only one inch thick. They have 16-page gatherings and blank endpapers. All the printing on the spine is plain, unserifed square-cut capital letters with the "OZ" printed as a word in conventional style rather than as a device. This early printing, ca. 1944-1946, is bound in light-tan cloth.

All subsequent printings are made up of 32-page gatherings and have the spine printing as on the first state described above. The earlier of these have pictorial endpapers; later copies have blank endpapers.

A British edition was published by Hutchinson's Books for Young People (London). It is a larger book: size of leaf is 9 3/4 by 7 5/8 inches. The type has been completely reset and some of the illustrations omitted, with the result that the book contains only 128 pages. Chapter 14 has been retitled from "Tea and Thunderbugs" to "Tea and Thunderbeetles" (and all references in chapters 14 and 15 altered accordingly) in keeping with modem British usage which does not recognize "bug" as a synonym for "insect." The endpapers of the American edition are replaced by reproductions of two of the double-page illustrations. The cover is red cloth, without a pictorial label (plate 98). The book is undated but was published in 1945.

Lucky Bucky in Oz First Edition Dust Jacket Identification Points
First edition binding(s) and various dust jacket printings identification.
References:
Bibliographia Oziana – Haff, Greeme, Martin. 2002