L. Frank Baum – American author, 1856-1919.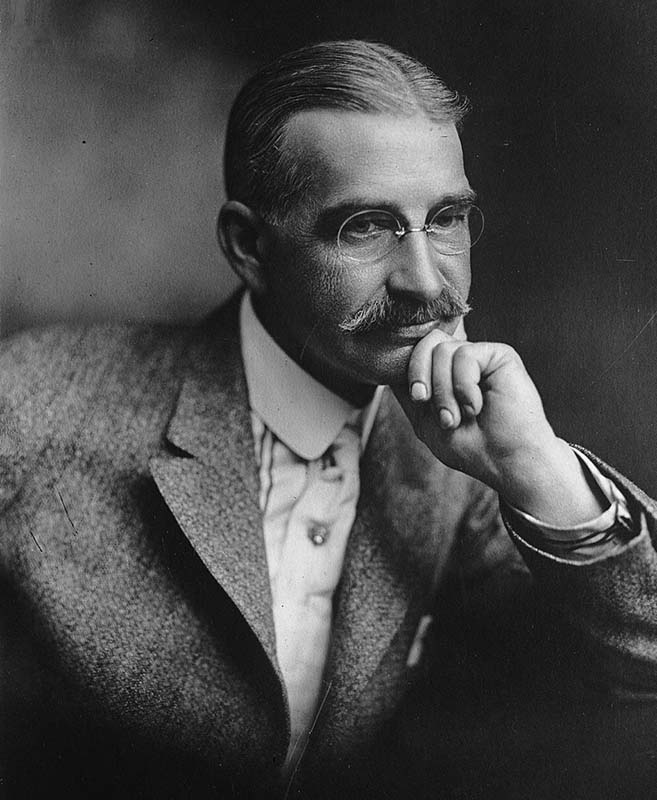 Baum, L. Frank – American author, 1856-1919. With more than one hundred and fifty books, plays, songs, poems, and es­says to his credit—many written under pseudonyms— Lyman Frank Baum is best known as the creator of The Wonderful Wizard of Oz (1900), which has been called "America's first fairy tale."
His place in the history of children's books is firm; in the realm of children's litera­ture it is less so. Whatever strengths the best of his work for children possesses, whatever flashes of humor and storytelling genius shine through, however popular his books may have been, his prose style remains ordinary. It is not his words but the land of Oz and its characters that endure in the affectionate memories of long-ago readers and that are immortalized in the classic 1939 film The Wizard of Oz, an ironic yet fitting tribute to Baum's own theatrical vision.
Frank Baum was a man of many talents and accomplish­ments whose direction in life took many turns before ending in the world of books. Born and raised in upstate New York, he lived briefly in South Dakota and for many years in Chicago and finally in Hollywood. In his lifetime he was a journalist, poet, playwright, actor, composer, salesman, business manager, theater manag­er, filmmaker, showman, master storyteller, prodigious author, and happy family man who has been compared to P. T. Barnum, Walt Disney, and his own creation, the Wizard of Oz.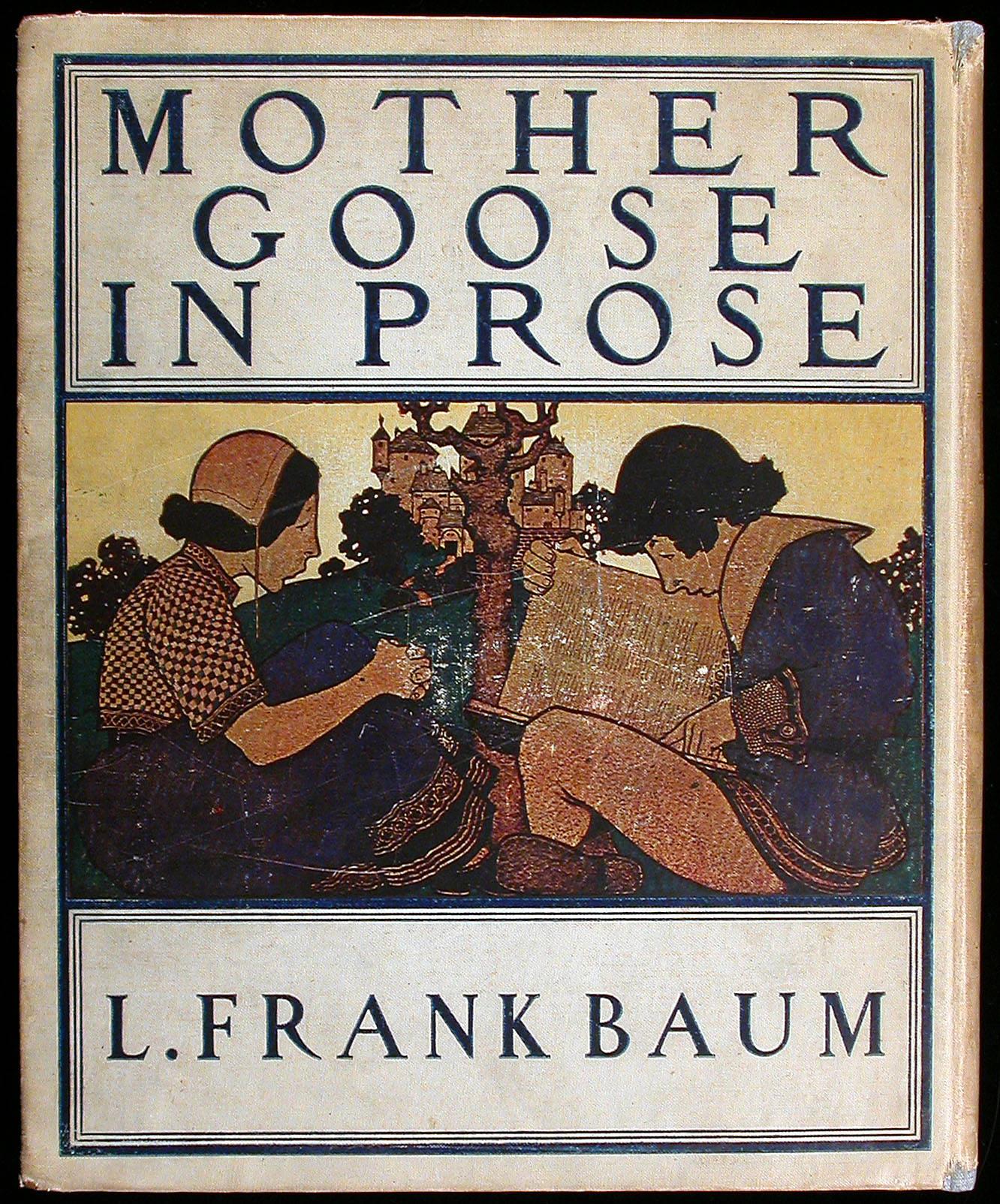 It was to amuse his children that he elaborated on familiar Mother Goose rhymes, resulting in Mother Goose in Prose (1897), illustrated by Maxfield Par­rish and the first book for both men. Father Goose, His Book followed in 1899 to become the best-selling book of the year. Baum's friend W. W Denslow did the col­ored illustrations that appeared on every page—an innovation in children's books of the time, author and artist sharing the high cost of reproduction.
Baum much admired the work of the cartoonists of his day, wanting the pictures for his books to be colorfill and humorous. Denslow also illustrated The Wonderful Wiz­ard of Oz, which tells of practical, honest, kind-hearted Dorothy Gale (her name itself typical of Baum's pen­chant for punning), who is swept away by a cyclone from her beloved Kansas home into the magical land of Oz and who journeys to the Emerald City to seek the wizard's help in getting home again.
In a land filled with magic, talking animals, witches good and bad, winged monkeys, and friendly characters such as the Scarecrow, the Tin Woodman, and the Cowardly Lion, Oz the Great and Terrible turns out to be merely a humbug wizard whose "magic" is based on technology and psy­chology. In the end, magical silver shoes take Dorothy and her dog, Toto, back home to Aunt Em and Uncle Henry, while a real gas-filled balloon carries the wizard off to his native Omaha and Dorothy's friends remain behind, happy to believe that through the wizard's mag­ic they now possess the things they thought they had lacked: a brain, a heart, and courage. The Wonderful Wizard of Oz is not a literary masterpiece, but it is a highly original, imaginative, and enduring story for children, laced with humor and excitement.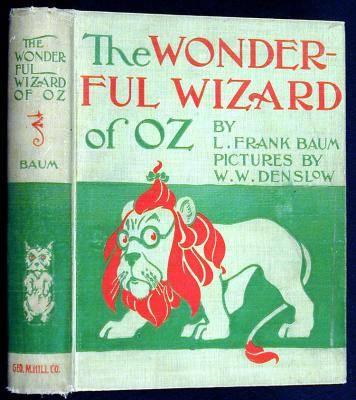 Baum's approach to writing was strongly visual, and after the publication of The Wonderful Wizard of Oz, his theatrical bent took over. His musical extravaganza of 1902, The Wizard of Oz, was a great success, but it was written and staged for adults. The writing of the thir­teen Oz sequels (all illustrated by John R. Neill) was influenced by Baum's simultaneous absorption with the stage and the new technology of film.
It was through his investment in film that he lost the modest fortune he had earned with his early books, forcing him to concen­trate on turning out series books for children. Writ­ten under various pseudonyms, these included The Boy Fortune Hunters in Alaska (1908) by "Floyd Akers," Flying Girl (1911) and Mary Louise (1916) by "Edith Van Dyne," and Sam Steele's Adventures on Land and Sea (1906) by "Capt. Hugh Fitzgerald."
The best books in the "Oz" series—after the first- are considered to be The Marvelous Land of Oz (1904), Ozma of Oz (1907), and the last one, Glinda of Oz (1920), which some regard, along with his 1901 story for boys, The Master Key: An Electrical Tale, as early science fiction. His wildly popular series of ten adventure stories for girls (1906-1915), which began with Aunt Fane's Nieces, was written under the pseudonym Edith Van Dyne and, like the "Oz" books, was continued by others after his death.
Baum set out to do two things in his writing for chil­dren: to entertain them and to write "modern" fairy tales, merging magic with technology in a world with­out violence or any emphasis on romantic love—a world solidly based on American idealism, virtues, and homely realism. In this he succeeded.
§ S.L.R.
Source: Children's Books and their Creators, Anita Silvey.
---
L. Frank Baum Books
Publication Order of Oz Books
The Wonderful Wizard of Oz (1900)
The Marvelous Land of Oz (1904)
Ozma of Oz (1907)
Dorothy and the Wizard of Oz (1908)
The Road to Oz (1909)
The Emerald City of Oz (1910)
The Patchwork Girl of Oz (1913)
Tik-Tok of Oz (1914)
The Scarecrow of Oz (1915)
Rinkitink in Oz (1916)
The Lost Princess of Oz (1917)
The Tin Woodman of Oz (1918)
The Magic of Oz (1919)
Glinda of Oz (1920)
Publication Order of Oz Children's Books
The Woggle-Bug Book (1905)
Publication Order of Oz Collections
Queer Visitors from the Marvelous Land of Oz (1905)
Little Wizard Stories of Oz (1913)
Publication Order of Aunt Jane's Nieces Books (under the pseudonym of Edith Van Dyne)
Aunt Jane's Nieces (1906)
Aunt Jane's Nieces Abroad (1907)
Aunt Jane's Nieces at Millville (1908)
Aunt Jane's Nieces at Work (1909)
Aunt Jane's Nieces in Society (1910)
Aunt Jane's Nieces and Uncle John (1911)
Aunt Jane's Nieces on Vacation (1912)
Aunt Jane's Nieces on the Ranch (1913)
Aunt Jane's Nieces Out West (1914)
Aunt Jane's Nieces in the Red Cross (1915)
Publication Order of Boy Fortune Hunters Books (under the pseudonym of Floyd Akers)
The Boy Fortune Hunters in Alaska (1906)
The Boy Fortune Hunters in Panama (1907)
The Boy Fortune Hunters in Egypt (1908)
The Boy Fortune Hunters in China (1909)
The Boy Fortune Hunters in Yucatan (1910)
The Boy Fortune Hunters in the South Seas (1911)
Publication Order of Trot & Cap'n Bill Books
The Sea Fairies (1911)
Sky Island (1912)
Publication Order of Flying Girl Books
The Flying Girl (1911)
The Flying Girl and Her Chum (1912)
Publication Order of Mary Louise Books
Mary Louise (1916)
Mary Louise in the Country (1916)
Mary Louise Solves a Mystery (1917)
Mary Louise and the Liberty Girls (1918)
Mary Louise Adopts a Soldier (1919)
Publication Order of Standalone Novels
Dot and Tot of Merryland (1901)
The Life and Adventures of Santa Claus (1902)
The Master Key (1902)
The Enchanted Island of Yew (1903)
Queen Zixi of Ix (1905)
The Fate of a Crown (1905) (under nom de plume Schyuler Staunton)
John Dough and the Cherub (1906)
Daughters of Destiny (1906) (under nom de plume Schyuler Staunton)
Annabel (1906)
Tamawaca Folks (1907)
Policeman Bluejay (1907)
The Last Egyptian (1908)
The Daring Twins (1911)
Jaglon and the Tiger Fairies (1953)
The Surprising Adventures of the Magical Monarch of Mo and His People (1968)
Our Landlady (1996)
Publication Order of Short Story Collections
Mother Goose in Prose (1897)
By the Candelabra's Glare (1898)
Father Goose (1899)
A New Wonderland (1900)
The Navy Alphabet (1900)
American Fairy Tales (1901)
The Twinkle Tales (1906) (under the pseudonym Laura Bancroft)
Father Goose's Year Book (1907)
L. Frank Baum's Juvenile Speaker (1910)
Animal Fairy Tales (1969)
The Purple Dragon and Other Fantasies (1976)