Peter Dickinson British Author 1927-2015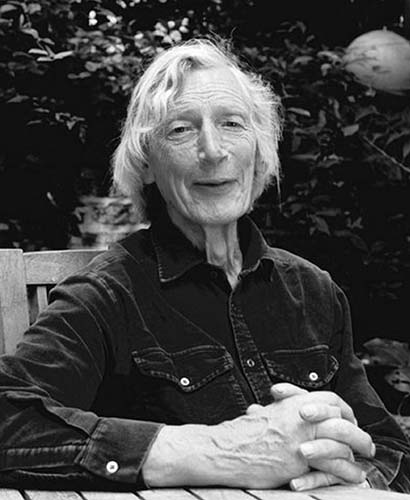 Sometimes referred to as a fantasy or science fiction writer, Peter Dickinson is a difficult author to charac­terize. Amazingly prolific and versatile, he has published over twenty books for children, with settings ranging from contemporary England to the Byzantine Empire. Although his subject matter varies considerably, critics and young readers alike appreciate the consistently high quality of his writing and his unerring ability to tell exciting stories rich with detail. Born in Zambia, Peter Dickinson was educated at Eton and Cambridge, where he received his B.A. in English literature. He worked for seventeen years on the editorial staff of Punch, the British humor magazine, and didn't begin writing un­til he was in his forties. He has been writing steadily ever since, alternating books for chil­dren with adult thrillers.
His first novel for children, The Weather­monger (1968), eventually became part of The Changes trilogy, which explores the time of The Changes, when the people of England have been possessed by a mysterious aversion to machines. The Changes trilogy received critical acclaim, and both Heartsease (1969) and The Devil's Children (1970) were nominated for awards. Al­though Dickinson's full power as a writer of young adult novels isn't fully realized in these first books, his gifts as a writer are apparent. His mastery of the English language sets him apart from many other children's book authors. His flawless prose can be heart-stoppingly beautiful, with an unusual attention to landscape. Dick­inson's characters are unusual, fascinating, and despite their eccentricity, utterly believable and lovable.
Dickinson has said that "the intricate explo­ration and development of character play no great part in my stories." Yet it is the remarkable people one finds between the covers of his books that make them unforgettable. His protagonists tend to be quiet, self-contained personalities whose inner strengths are drawn out by the re­markable situations they find themselves in. In Emma Tupper's Diary (1971) Emma finds herself on vacation at a remote Scottish loch with four flamboyant cousins. When her cousins dream up a scheme to fake the appearance of a Loch Ness-type monster, sensible Emma plays along with them. But when the young people find real prehistoric creatures living in the Loch, Emma reveals her deeply passionate nature in her ef­forts to protect the secret of the animals' exis­tence. The Dancing Bear (1972), a historical novel set in the Byzantine Empire, follows the adventures of the young slave Sylvester. When Sylvester's beloved mistress and childhood friend is captured by invading Huns, Sylvester sets out to rescue her, accompanied by Holy John, a decrepit prophet, and Bubba, a dancing bear.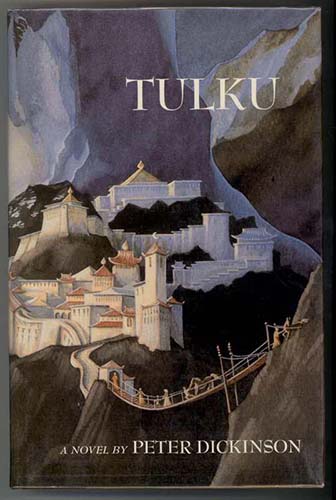 Many of Dickinson's characters are intensely spiritual or possessed of paranormal abilities. Set in an imaginary world, The Blue Hawk, which won the Guardian Award in 1977, tells the story of a young priest whose true religious call­ing leads him to defy the priesthood that holds his country in an iron grip of servitude and stagnation. In Tulku, which won the Carnegie Medal and the Whitbread Award in 1979, the de­voutly Christian son of an American missionary killed in the Boxer Rebellion is befriended by an unconventional British botanist and her Chi­nese lover and travels with them to Tibet, where they eventually find themselves virtually impris­oned in a Buddhist monastery, awaiting the birth of Mrs. Jones's child, believed to be the next Tulku. In Eva (1989) Dickinson explored what might happen when a human's brain is grafted onto a chimpanzee's body; in The Rope­maker (2001) he combined fantasy with a com­pelling coming-of-age story.
Dickinson's work resonates with affection and pity for the human condition, with its star­tling capacity for both cruelty and compassion, stupidity and intelligence. His books are infec­tiously joyful in their celebration of humanity and love for all living creatures.
K.T.
Source: Children's Books and their Creators, Anita Silvey.
---
Peter Dickinson Bibliography
Novels for children and young adults
Changes trilogy
The Weathermonger (1968)
Heartsease (1969)
The Devil's Children (Gollancz, 1970), illus. Robert Hales
Other novels
Emma Tupper's Diary (1970)
Mandog (BBC, 1972)
The Dancing Bear (Gollancz, 1972), illus. David Smee
The Gift (1973)
The Blue Hawk (Gollancz, 1976), illus. David Smee —winner of the 1977 Guardian Prize
Annerton Pit (1977), illus. Anne Yvonne Gilbert
Tulku (1979) —winner of the 1979 Carnegie Medal
The Seventh Raven (1981) —winner of the 2001 Phoenix Award
Healer (1983)
Eva (1988) —highly commended for the Carnegie Medal and winner of the 2008 Phoenix Award
AK (1990)
A Bone from a Dry Sea (1992)
Shadow of a Hero (1993)
Time and the Clock Mice, Etcetera (1993), illus. Jane Chichester Clark
The Lion Tamer's Daughter (1999)[c]
The Ropemaker (2001)
The Tears of the Salamander (2003)
The Gift Boat (2004); US title: Inside Granddad
Angel Isle (2006); a sequel to The Ropemaker
In the Palace of the Khans (2012)
Mystery fiction for adults
James Pibble series
Skin Deep (1968); US: The Glass-Sided Ants' Nest
A Pride of Heroes (1969); US: The Old English Peep-Show
The Seals (1970); US: The Sinful Stones
Sleep and His Brother (1971)
The Lizard in the Cup (1972)
One Foot in the Grave (1979)
Other novels
The Green Gene (1973)
The Poison Oracle (1974)
The Lively Dead (1975)
King and Joker (1976)
Walking Dead (1977)
A Summer in the Twenties (1981)
The Last Houseparty (1982)
Hindsight (1983)
Death of a Unicorn (1984)
Tefuga (1985)
Skeleton-in-Waiting (1987)
Perfect Gallows (1988)
Play Dead (1991)
The Yellow Room Conspiracy (1992)
Some Deaths Before Dying (1999)
Children's picture books
The Iron Lion (1973), illus. Marc Brown, later Pauline Baynes
Hepzibah (1978), illustrated by Sue Porter
Giant Cold (1984), illus. Alan Cober
A Box of Nothing (1985)
Mole Hole (1987)
Chuck and Danielle (1996)