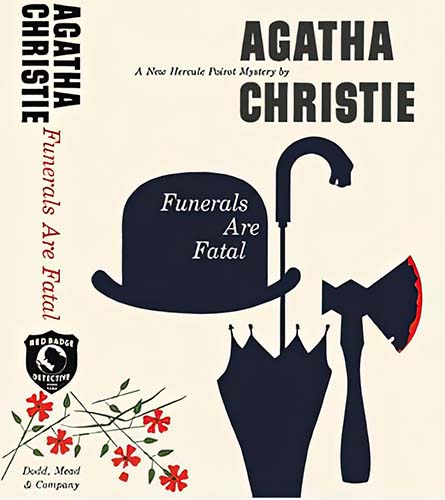 After the Funeral is a work of detective fiction by Agatha Christie and first published in the US by Dodd, Mead and Company in March 1953 under the title of Funerals are Fatal and in UK by the Collins Crime Club on 18 May of the same year under Christie's original title. The US edition retailed at $2.50 and the UK edition at ten shillings and sixpence (10/6).
A 1963 UK paperback issued by Fontana Books changed the title to Murder at the Gallop to tie in with the film version. The book features the author's Belgian detective Hercule Poirot, but the Murder at the Gallop film adaptation instead featured her amateur sleuth, Miss Marple.
A wealthy man dies at home. His relatives gather after his funeral for the reading of his will, during which his sister states that he was murdered. The next day, she herself is found murdered. Poirot is called in to solve the mystery.
References to other works:
In chapter 12, Poirot mentions the case handled in Lord Edgware Dies as being one in which he was "nearly defeated".
In Chapter 13, Poirot's valet is referred to in the narrative as Georges. His actual name is George, but Poirot always addresses him directly as Georges. This is the first (and only?) time that he is referred to by the French version in narration.
Plot Summary
[SPOILER ALERT]
Following the funeral of Richard Abernethie, his family assemble at Enderby Hall for the reading of the will by his lawyer, Mr Entwhistle. His wealth is to be divided up between his surviving family: his brother Timothy Abernethie and his wife Maud; his sister Cora Lansquenet; his nephew George Crossfield; his first niece Rosamund Shane, and her husband Michael; his second niece Susan Banks, and her husband Gregory; and Helen Abernethie, the wife of his brother Leo before his death during the war. Although Richard died of natural causes and his death was expected, Cora makes a chance remark that he was murdered. The day after the funeral, she is found dead, having been violently murdered in her sleep. No motive is obvious in Inspector Morton's investigations – while Cora's life income reverts to the Abernethie estate, her property goes to Susan, while her companion Miss Gilchrist receives a number of her paintings she made. However, doubts soon arise about Richard's death in the wake of her murder. Seeking help, Entwhistle contacts his friend, Hercule Poirot, to resolve the matter. Poirot contacts his old friend Mr Goby to investigate the family.
Each family member had their own reason for wanting Richard's wealth, and thus become a suspect in the murder. On the day of the inquest, Susan visits Cora's home to clean up her possessions for auction. She learns from Gilchrist that her aunt always painted from life, and that she collected paintings from local sales in the hopes of finding a valuable piece. The day after Cora's funeral, art critic Alexander Guthrie arrives to look through Cora's recent purchases as previously scheduled, but finds nothing of value there. That evening, Gilchrist is poisoned with a slice of arsenic-laced wedding cake sent in the post; she survives, mainly from eating a small portion. Gathering to select items from Richard's estate before its sale, the family are joined by Poirot and Gilchrist. During discussions, Helen comments about believing there was something odd on the day of the funeral, Gilchrist makes a remark about one of the decorations in Enderby, while Susan recalls finding a painting in Cora's possession, which she believed had been copied from a picture postcard and not painted from life, Cora's usual style.
Early the next morning, Helen telephones Entwhistle to inform him what she had realised was odd during Richard's funeral, but is struck savagely on the head before she can say more. Helen suffers a concussion, and is taken away for her safety. As Inspector Morton prepares to ask each family member about their movements on the day of Cora's murder, Poirot startles everyone by revealing to them that her murderer was Miss Gilchrist. She had recognised a Vermeer amongst Cora's recent purchases that her employer had not, and knew it was her chance to rebuild her beloved tea shop that she lost in the war. She painted over the Vermeer painting with a scene of a pier from a postcard, unaware it had been destroyed in the war. Afterwards, she put a sedative in Cora's tea so she would be asleep, while Gilchrist posed as her at the funeral. None of the family had seen Cora for more than two decades, which made her deception easier. After leaving suggestions that Richard had been murdered, Gilchrist killed Cora the following day so that police would believe it was connected to Richard's death. To divert suspicion from herself, Gilchrist faked the attempt on her life.
Gilchrist had to copy Cora's characteristic turn of her head, but failed to realise one of these was wrong when she rehearsed it in front of a mirror. Helen was attacked because she eventually realised this. Furthermore, Poirot knew she had posed as Cora because she made a reference to a piece of decoration, which could only have been seen within Enderby Hall on the day of Richard's funeral. The Vermeer was hidden by Gilchrist so that Guthrie did not find it during his scheduled visit. Her claim that Cora painted the pier scene from life was countered by Susan finding a pre-war postcard of the pier in the cottage, along with Entwhistle recollecting that he smelt oil when he visited Cora's home after her murder when he contacted Poirot for help. Poirot then reveals that two nuns visited Cora's cottage on the day of the funeral, who believed someone was inside. Once accused, Gilchrist breaks down into a flood of complaints about the hardships of her life, but quietly goes with the police. During legal proceedings before her trial, she eventually becomes insane, planning one tea shop after another, though Poirot and Entwhistle have no doubt she was in full possession of her faculties during her crime.
Publication history
1953, Dodd Mead and Company (New York), March 1953, Hardback, 243 pp
1953, Collins Crime Club (London), 18 May 1953, Hardback, 192 pp
1954, Pocket Books (New York), Paperback, 224 pp
1956, Fontana Books (Imprint of HarperCollins), Paperback, 191 pp
The novel was first serialised in the US in the Chicago Tribune in forty-seven parts from Tuesday, 20 January to Saturday, 14 March 1953. In the UK the novel was first serialised in the weekly magazine John Bull in seven abridged instalments from 21 March (Volume 93, Number 2438) to 2 May 1953 (Volume 93, Number 2444) with illustrations by William Little.
Funerals are Fatal – First Edition Book Identification Guide
The books are listed in the order of publication. While the majority of Agatha Christie's books were first published in the UK. There are many titles that were first published in the US. The title of the book may differs from the UK edition in some cases.
| Year | Title | Publisher | First edition/printing identification points |
| --- | --- | --- | --- |
| 1953 | Funerals are Fatal | Dodd, Mead & Co, NY, [1953] | First edition. Copyright 1953 stated on the copyright page. No statement of later printings. Black boards lettered in silver. Price $2.50. |
| 1953 | After the Funeral | William Collins & Sons, London, [1953] | First English edition. "1952" on single line stated on the copyright page. No statement of later printings. Red cloth lettered in black. Price 10/6. |
Note about Book Club Editions (BCE) and reprints:
UK: You can see statements of later reprint dates or of book club on the copyright page.
US: The US reprint publishers usually use the same sheets as the first edition and are harder to identify by looking at the title page or the copyright page. One may identify a BCE by looking at the DJ, which doesn't have a price on top of the front flap and a "Book Club Edition" imprint at the bottom. If the dust jacked is clipped at both the top/bottom of the front flap. You can safely assume it's a BCE . If the book is missing the dust jacket. Later BCE editions can be identified by its plain boards, while first printings are issued in quarter cloth.
Please refer to the gallery for detailed images of true first edition bindings and dust jackets.
Funerals are Fatal – First Edition Dust Jacket Identification Guide
First edition bindings and various dust jacket printings identification.
Reference: