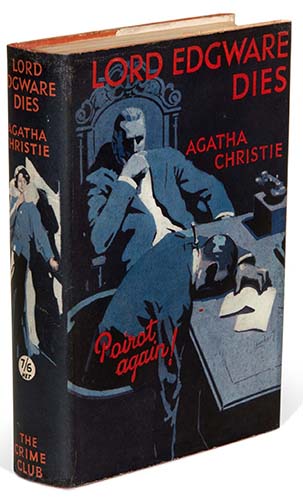 Lord Edgware Dies is a work of detective fiction by British writer Agatha Christie, published in the UK by the Collins Crime Club in September 1933 and in the US by Dodd, Mead and Company later in the same year under the title of Thirteen at Dinner. Before its book publication, the novel was serialised in six issues (March–August 1933) of The American Magazine as 13 For Dinner. The UK edition at eight shillings and sixpence (7/6) and the US edition retailed at $2.00.
The novel features Hercule Poirot, Arthur Hastings and Chief Inspector Japp. An American actress married to Lord Edgware asks Poirot to aid her in getting a divorce from her husband. Poirot agrees to help her, meeting her husband. That evening, the actress is seen at a dinner with thirteen guests, which has an associated superstition. By the next morning Lord Edgware and another American actress are found murdered, each at their own homes. Poirot investigates.
Lord Edgware Dies is alternatively titled Thirteen at Dinner. This second title, used on American editions, arises from a superstition that sitting down thirteen to dinner means bad luck to the person who first leaves the table. The dinner at which Carlotta successfully impersonated Jane Wilkinson had an unexpected missing guest, leaving them thirteen instead of the invited fourteen. The superstition weighs heavily on young actor Donald Ross, but plays out for both him and Jane Wilkinson, and her impersonator.
References to other works
In chapter 7, Poirot mentions that he once found a clue, but since it was four feet long instead of four centimetres, nobody would believe in it. This is probably a reference to a situation which occurred in The Murder on the Links, where Poirot found a piece of lead-piping which he concluded was used to disfigure the victim's face so that it would be unrecognisable. Nevertheless, the artefact was described in that novel as a piece of lead-piping only two feet long.
In chapter 19, the Duchess of Merton tells Poirot that Lady Yardly had told her about him. Lady Yardly had previously appeared in the short story, "The Adventure of the Western Star" from the Poirot Investigates collection.
In chapter 25, Hastings tells Donald Ross that Poirot has left for an appointment relating to his investigation of another case, "the strange disappearance of an Ambassador's boots". When Poirot returns from the appointment, he tells Hastings that it was a case of cocaine smuggling, and that he had spent the last hour in a ladies' beauty parlour. This case sounds identical to the one in the Tommy and Tuppence story, "The Ambassador's Boots" from Partners in Crime (1929), except that Poirot mentions a girl with red hair (Hastings is often described by Poirot as partial to redheads), while the girl in "The Ambassador's Boots" has blonde hair, or black hair when in disguise.
Plot Summary
[SPOILER ALERT]
Attending a performance by impressionist Carlotta Adams, Hercule Poirot is approached by actress Jane Wilkinson. She requests his help in asking her husband, Lord Edgware, to divorce her. Although a Catholic, Poirot agrees but is surprised to learn Edgware has already agreed to a divorce and sent a letter to his wife confirming this; Wilkinson denies receiving it. The following morning, Inspector Japp informs Poirot and his friend Arthur Hastings that Edgware was murdered at his home in Regent Gates the previous evening, stabbed in the neck. While Wilkinson was witnessed by Edgware's butler and his secretary visiting her husband that night, a morning newspaper reveals she attended a dinner party that evening, whose guests confirm this. Poirot soon becomes concerned for Adams' safety, recalling she could impersonate Wilkinson. Adams is found dead that same morning from an overdose of Veronal.
Seeking answers, Poirot notes a few facts: Bryan Martin, a former lover of Wilkinson before she met the wealthy Duke of Merton, bitterly describes her as an amoral person; Donald Ross, a guest at the party, witnessed her take a telephone call from someone that night; Adams possessed a pair of pince-nez, along with a gold case that contained the drug, which has a puzzling inscription in it; Edgware's nephew, Ronald Marsh, had been cut off from his allowance by his uncle three months earlier; a sum of francs formerly in Edgware's possession has disappeared, along with the butler. Learning Adams had sent a letter to her sister in America before her death, Poirot makes a request for it. A copy is sent via telegram, revealing Adams was offered $10,000 for an undisclosed endeavour. Poirot suspects she was hired to impersonate Wilkinson.
Japp soon arrests Marsh, based on this letter. Marsh denies hiring Adams or killing his uncle but states that he and his cousin Geraldine went to Regent Gates on the night of the murder, where he spotted Martin entering the house although Geraldine did not as she was retrieving something for him. Poirot later receives the original letter in the post and notes some oddities with it. Hastings attends a luncheon party along with Wilkinson and Ross, in which the guests talk about Paris of Troy. Wilkinson presumes they are talking of the French capital and begins discussing fashion. Ross, puzzled by this, considering how clever Wilkinson had been the last time he met her, confides his concerns to Hastings. He later telephones Poirot but is fatally stabbed before he can explain in detail. Seeking a theory, Poirot overhears a chance remark from a crowd leaving a theatre, which leads him to talk with Ellis, Wilkinson's maid.
Gathering the suspects together, Poirot reveals that the killer in all three murders is Jane Wilkinson. Her motive in killing Lord Edgware is that the devout Duke of Merton would not marry a divorced woman. A widow, however, is a different matter. She recruited Adams to impersonate her at the dinner party, while she killed her husband and then killed Adams afterwards with a fatal dose of Veronal. The women met at a hotel to exchange clothing before and after the party. While waiting for Adams to return from the party, Wilkinson discovers a letter among Adams's belongings that had yet to be posted and tampers with the letter to implicate the last man it mentions for the murders. Ross was killed because he realised that Wilkinson did not attend the dinner party; her ignorance of Greek mythology gave her away, as Adams had been knowledgeable on the subject and thus talked about it while impersonating her.
Poirot reveals what led him to his theory: Wilkinson lied about receiving her husband's letter and used Poirot to prove she had no motive for his murder; the telephone call to Adams was to confirm if their deception had yet to be exposed; the pince-nez belong to Ellis, used in a disguise that she and Wilkinson wore to keep their hotel meetings secret; the gold case was created a week before the murder, not nine months as its inscription implied – Wilkinson had it made under a false name and then sent Ellis to collect it; a corner of a page in Adams' letter was torn by Wilkinson, changing the word "she" to "he", to imply that a man hired Adams. Poirot reveals that the butler stole the missing money, whom Marsh had witnessed entering Regent Gates to hide it elsewhere; his disappearance was because he panicked when the police sought another suspect.
Wilkinson is arrested and writes to Poirot from prison about wishing an audience for her hanging, surprisingly evincing no anger at being foiled by him – nor any remorse.
Publication history
1933, The American Magazine, serialised in six issues (March–August 1933) as 13 For Dinner
Illustrations by Weldon Trench
1933, Collins Crime Club (London), September 1933, Hardcover, 256 pp
1933, Dodd Mead and Company (New York), 1933, Hardcover, 305 pp
1944, Dell Books (New York), Paperback, (Dell number 60 [mapback]), 224 pp
1948, Penguin Books, Paperback, (Penguin number 685), 251 pp
1954, Fontana Books (Imprint of HarperCollins), Paperback, 192 pp
Lord Edgware Dies – First Edition Book Identification Guide
The books are listed in the order of publication. While the majority of Agatha Christie's books were first published in the UK. There are many titles that were first published in the US. The title of the book may differs from the UK edition in some cases.
| Year | Title | Publisher | First edition/printing identification points |
| --- | --- | --- | --- |
| 1933 | Lord Edgware Dies | William Collins & Sons, London, [1933] | First edition. "Copyright, 1933" stated on the copyright page. No statement of later printings Orange cloth lettered in black. Price 7/6. |
| 1933 | Thirteen at Dinner | Dodd, Mead & Co, NY, 1933 | First American edition. Date on the title & copyright page matches. No statement of later printings. Brown cloth lettered in black. Price $ 2.00. |
Note about Book Club Editions (BCE) and reprints:
UK: You can see statements of later reprint dates or of book club on the copyright page.
US: The US reprint publishers usually use the same sheets as the first edition and are harder to identify by looking at the title page or the copyright page. One may identify a BCE by looking at the DJ, which doesn't have a price on top of the front flap and a "Book Club Edition" imprint at the bottom. If the dust jacked is clipped at both the top/bottom of the front flap. You can safely assume it's a BCE . If the book is missing the dust jacket. Later BCE editions can be identified by its plain boards, while first printings are issued in quarter cloth.
Please refer to the gallery for detailed images of true first edition bindings and dust jackets.
Lord Edgware Dies – First Edition Dust Jacket Identification Guide
First edition bindings and various dust jacket printings identification.
Reference: