The Clue in the Jewel Box is the twentieth volume in the Nancy Drew Mystery Stories series. It was first published in 1943 under the pseudonym Carolyn Keene. The actual author was ghostwriter Mildred Wirt Benson.
Summaries (original edition)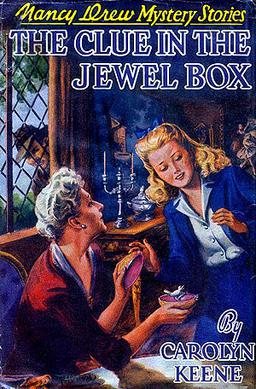 An antique dealer's revelation about a former queen's priceless heirloom starts Nancy on a trail of exciting adventures. Madame Alexandra, now living incognito in River Heights, asks Nancy to find her missing grandson.
With only one clue to go on – a faded photograph of the prince at the age of four – the young detective begins her search. Nancy's investigation unmasks a slick imposter and reunites the long-separated family in this suspense-filled story.
Nancy Drew #20 The Clue in the Jewel Box First Edition Book Identification Points
Only the first few printings of the first/second year are included. Printings codes are based on the Farrah Guide, 12th printing. Please refer to the guide for later printings.
How to Identify Nancy Drew - The Clue in the Jewel Box First Edition Guide

| Printing | Frontis | Copyright Page | Rear Book Ads |
| --- | --- | --- | --- |
| 1943A-1 | Plain | No List | None|Thick Printing |
| 1943B-2 | Plain | No List | None/Semi-thick |
| 1943C-3 | Plain | No List | None |
Nancy Drew #20 The Clue in the Jewel Box First Edition Dust Jacket Identification Points
How to Identify Nancy Drew - The Clue in the Jewel Box First Edition Dust Jacket

| Printing | Price | Front Flap | Rear Panel | Rear Flap | Format |
| --- | --- | --- | --- | --- | --- |
| 1943A-1 | 5050 | Nancy Drew #1-19 | Judy Bolton #1-15 | Dana Girls #1-10 | 5 |
| 1943B-2 | 5050 | Nancy Drew #1-19 | Judy Bolton #1-15 | Dana Girls #1-11 | 5 |
| 1943C-3 | PJC | Nancy Drew #1-19 | Judy Bolton #1-15 | Dana Girls #1-12 | 5 |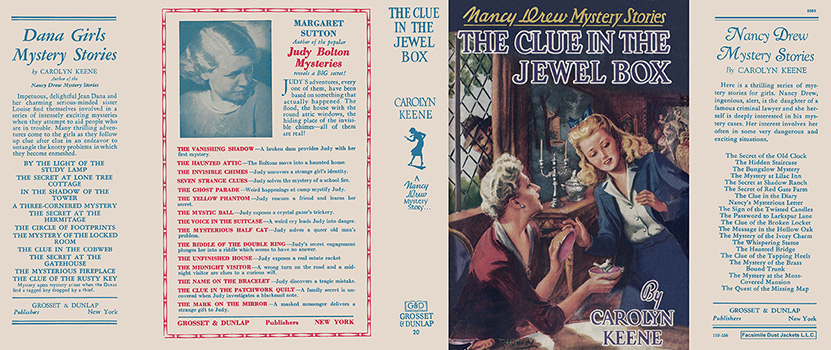 Reference:
Farah's Guide to Nancy Drew, 12th printing