Ezra Jack Keats – American Author & Illustrator (1916-1983)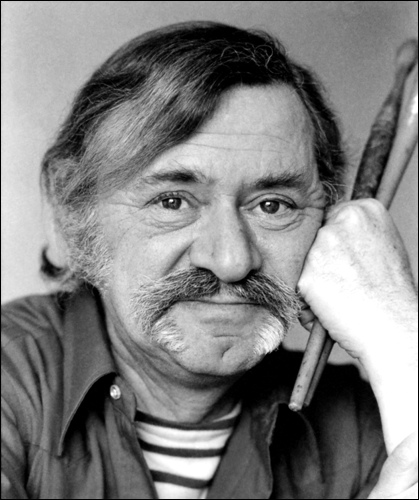 Whether Ezra Jack Keats used Matisse-colored collages or expressionistic blends of dark acrylic paints, he successfully Illustrated the emotive landscape of an urban child's life, re­flecting both its exuberance and squalor. Boldly stylistic, Keats's early work was marked by strong graphics and vibrant colors and his later work by intense and dramatic contrasts of lights and darks. His picture book portrayal of the city moved it beyond mere setting into the realm of characterization so that it, too, grew and changed along with his stock company of char­acters,
Born in Brooklyn (né Jacob Ezra Katz), Erra Jack Keats, the son of Polish immigrants, was himself a child of the city. He began drawing at the age of five and remem­bered covering the enamel-topped table in his mother's kitchen with doodles and drawings. He expected his mother to react in anger, but in­stead she exclaimed with obvious delight. Keats remembered, "She got out the tablecloth which we used only on Friday nights, and she covered the whole little mural, and every time a neigh­bor would come in, she'd unveil it to show what I had done." His father, Benjamin, warned his son, "Never be an artist; you'll be a bum, you'll starve, you'll have a terrible life." Despite his father's criticism and ridicule from the neigh­borhood toughs, Keats taught himself to paint. Upon graduation from public high school, he won three scholarships to art schools. After serv­ing In the Air Force in World War II, he worked as an illustrator, receiving his first assignment from Collier's Magazine. He spent a year in Paris, came home, and began illustrating adult and children's book jackets, which quickly led to a career in children's picture books.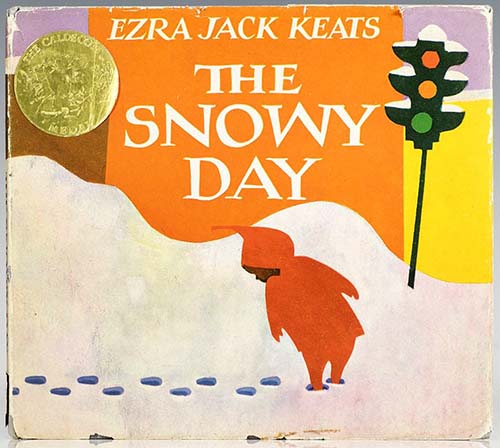 Ezra Keats illustrated nearly a dozen books before writing his first, The Snowy day, which won the 1963 Caldecott Medal. A celebration of color texture, design, and childhood wonder, The Snowy day is a significant in that it was one of the first picture books hi which a minority child is seen as Everychild. Years before, Keats had come across photos of a young boy, and he recanted that "his expressive face, his body attitude, the very way he wore his clothes, totally captivated me." This boy was to become Peter, who, in his red snowsuit, discovers the joys of dragging sticks and making tracks in the snow. After its publication, Keats found out that the photos had come from 1940 Life magazine — he had retained the images for over twenty years.
With solid and patterned paper as wedges of color, Keats used collage to create endearing characters and energetic cityscapes, not only in The Snowy Day (1962) but also in Whittle for Willie (1964) and Peter's Chair (1967). In Whittle for Willie, Keats took the act of learning to whis­tle and, with his superb designing ability, created a book that delights the eye and engages the senses. In his later books, Goggles! (1969), Hi, Cat! (1970), Pet Show! (1972), and Dreams (1974), Keats allowed Peter and his friend Archie to grow up and explore the city. Keats's palette grew darker as his characters' experiences broadened, and his use of patterned papers be­came accents in illustrations thick with paint Apt. 3 (1971), with its somber and unflinching view of urban apartment life, prompted some critics to ask, "For whom do we create children's picture books and why?"
For Ezra Jack Keats, honesty was the priority; reality was beautiful. His philosophy remains with us: "If we all could see each other exactly as the other is, this would be a different world. But first I think we have to begin to see each other.
M.B.R.
Source: Children's Books and their Creators, Anita Silvey.
Books written and illustrated
My Dog Is Lost (1960)
The Snowy Day (1962) — Caldecott Medal winner
Whistle for Willie (1964)
John Henry, An American Legend (1965)
Jennie's Hat (1966)
Peter's Chair (1967)
A Letter to Amy (1968)
Goggles! (1969) — a Caldecott runner-up
Hi, Cat! (1970)
Apt. 3 (1971)
Pet Show! (1972)
Skates! (1973)
Pssst! Doggie- (1973)
Dreams (1974)
Kitten for a Day (1974)
Louie (1975)
The Trip (1978)
Maggie and the Pirate (1979)
Louie's Search (1980)
Regards to the Man in the Moon (1981)
Clementina's Cactus (1982)
One Red Sun, A Counting Book (1998)