The Secret in the Old Attic is the twenty-first volume in the Nancy Drew Mystery Stories series. It was first published in 1944 under the pseudonym Carolyn Keene. The actual author was ghostwriter Mildred Wirt Benson.
Summaries (original edition)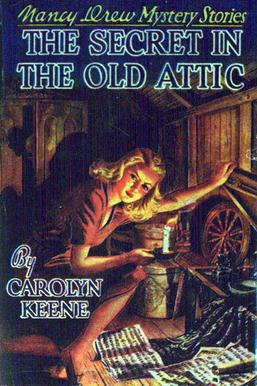 Nancy searches for clues to missing music manuscripts written by the late soldier Philip March. March's daughter and his father, living together on the family estate, are rapidly running out of money, and believe some of Philip's music is being sold and played on the radio. Nancy goes to his estate, Pleasant Hedges, to investigate, with the assistance of her good friends, Bess and George. They search the estate, for clues, and also find valuable antiques that they sell for Mr. March so he can get some money in the meantime. Also, her father's client, Mr. Booker, solicits her aid in his investigation of a rival company, the Dight plant, which seems to be manufacturing silk cloth using his patented methods. And what is Bushy Trott, manic scientist, doing at the Dight plant?
There is also a subplot in the original text in which Nancy is confused as to why Ned hasn't asked her out to a dance. It turns out that Diane Dight, daughter of the owner of the Dight plant, intercepts his communication asking Nancy out so that she can date Ned and another boy, also involved in the mystery, can date Nancy. At the end, Nancy is imprisioned in a room with a black widow spider, about to give her a deadly bite. But Ned and Effie Schnieder, the maid, rescue her just in time. Nancy and Ned figure out how they were tricked, and make up.
Nancy continues trying to solve both mysteries, discovering hidden songs in the process. The resolution of both cases are quite climactic.
Nancy Drew #21 The Secret in the Old Attic First Edition Book Identification Points
Only the first few printings of the first/second year are included. Printings codes are based on the Farrah Guide, 12th printing. Please refer to the guide for later printings.
How to Identify Nancy Drew - The Secret in the Old Attic First Edition Guide

| Printing | Frontis | Copyright Page | Rear Book Ads |
| --- | --- | --- | --- |
| 1944A-1 | Plain | | None/Format 5 |
| 1944B-2 | Plain | | None |
Nancy Drew #21 The Secret in the Old Attic First Edition Dust Jacket Identification Points
How to Identify Nancy Drew - The Secret in the Old Attic First Edition Dust Jacket

| Printing | Price | Front Flap | Rear Panel | Rear Flap | Format |
| --- | --- | --- | --- | --- | --- |
| 1944A-1 | PJC | Nancy Drew #1-21 | Judy Bolton #1-15 | Dana Girls #1-12 | 6 |
| 1944B-2 | PJC | Nancy Drew #1-21 | Beverly Gray #1-13 | Dana Girls #1-12 | 6 |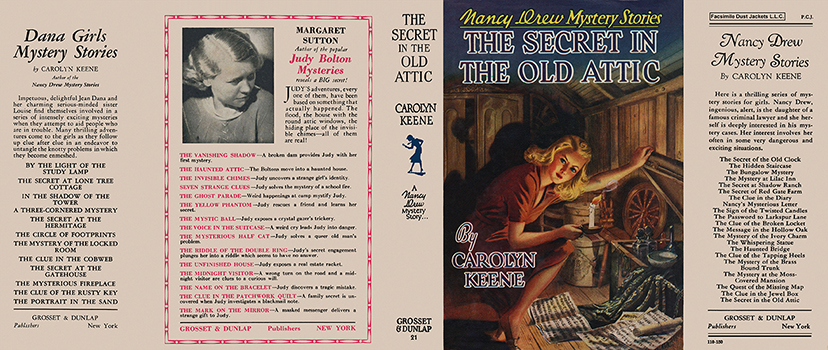 Reference:
Farah's Guide to Nancy Drew, 12th printing