The Clue in the Crumbling Wall is the twenty-second volume in the Nancy Drew Mystery Stories series. It was first published in 1945 under Carolyn Keene, a pseudonym of the ghostwriter Mildred Wirt Benson.
Summaries (original edition)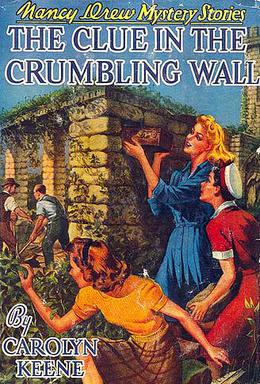 When Nancy is asked to find a professional dancer who disappeared several years before, the young detective becomes involved in a mystery reaching far beyond a missing-person's case. During Nancy's investigation at Heath Castle, she and her friends Bess and George realize that its crumbling walls contain a secret, but what is it?
And who are their enemies that try to foil their every attempt to unravel the intricate puzzle? Danger lurks in a castle tower and throughout the vine-tangled grounds of the estate. The girls' gripping adventures culminate in a dramatic climax when Nancy exposes a sinister plot to defraud the dancer of her inheritance.
Nancy Drew #22 The Clue in the Crumbling Wall First Edition Book Identification Points
Only the first few printings of the first/second year are included. Printings codes are based on the Farrah Guide, 12th printing. Please refer to the guide for later printings.
How to Identify Nancy Drew - The Clue in the Crumbling Wall First Edition Guide

| Printing | Frontis | Copyright Page | Notes |
| --- | --- | --- | --- |
| 1945A-1 | Plain | No List | War Time Notice on title page |
| 1945B-2 | Plain | No List | War Time Notice on title page |
| 1945C-3 | Plain | No List | |
| 1945D-4 | Plain | No List | |
Nancy Drew #22 The Clue in the Crumbling Wall First Edition Dust Jacket Identification Points
How to Identify Nancy Drew - The Clue in the Crumbling Wall First Edition Dust Jacket

| Printing | Price | Front Flap | Rear Panel | Rear Flap | Format |
| --- | --- | --- | --- | --- | --- |
| 1945A-1 | PJC | Nancy Drew #1-21 | Judy Bolton #1-15 | Dana Girls #1-12 | 7 |
| 1945B-2 | PJC | Nancy Drew #1-21 | Beverly Gray #1-13 | Dana Girls #1-12 | 7 |
| 1945C-3 | PJC | Nancy Drew #1-21 | Beverly Gray #1-13 | Dana Girls #1-12 | 7 |
| 1945D-4 | PJC | Nancy Drew #1-21 | Beverly Gray #1-13 | Dana Girls #1-12 | 7 |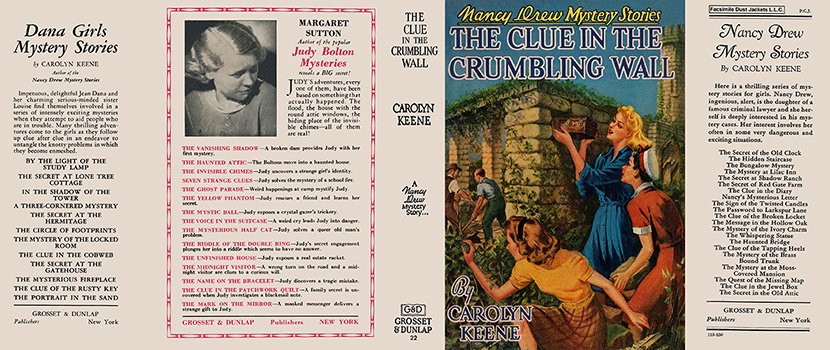 Reference:
Farah's Guide to Nancy Drew, 12th printing